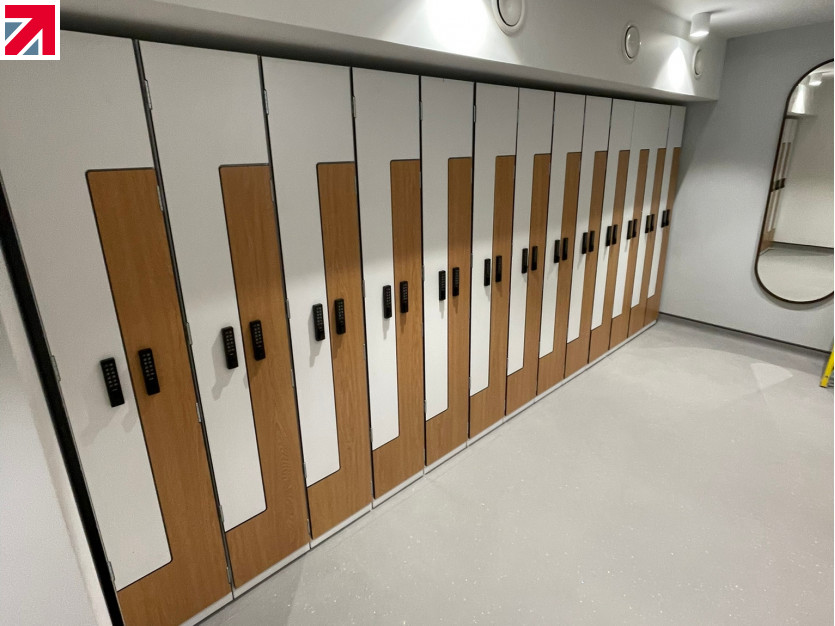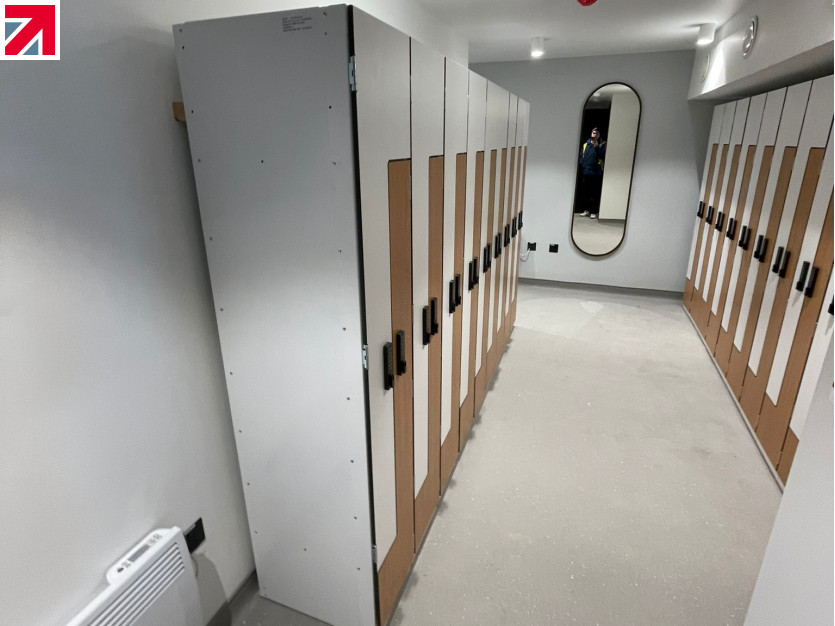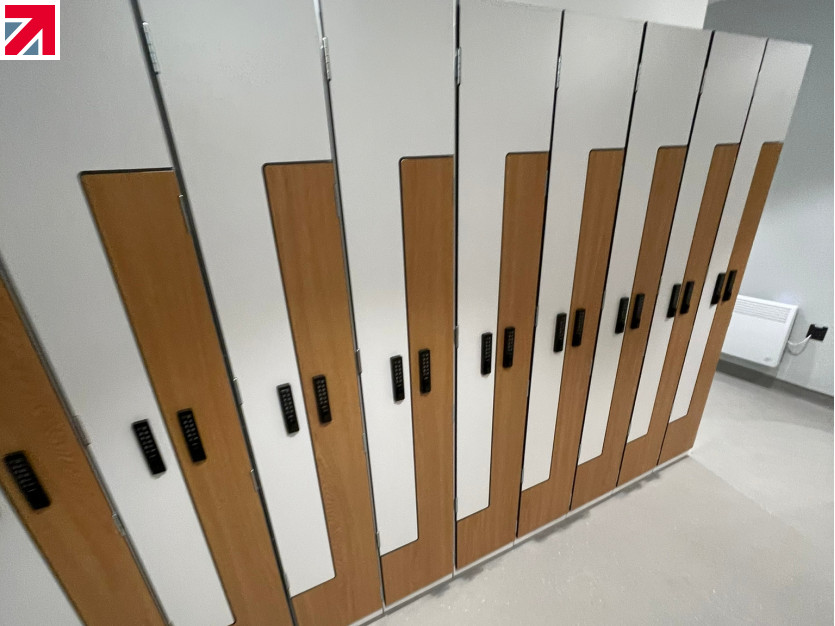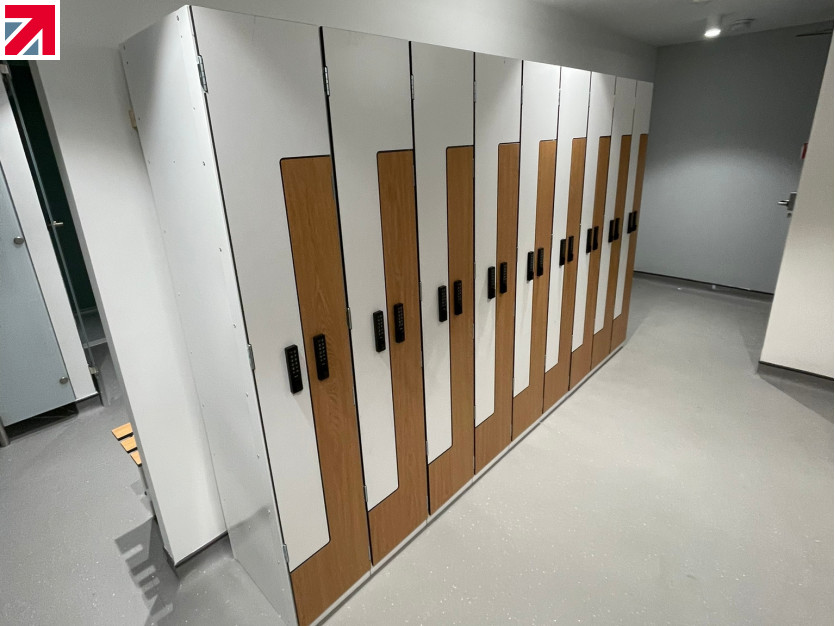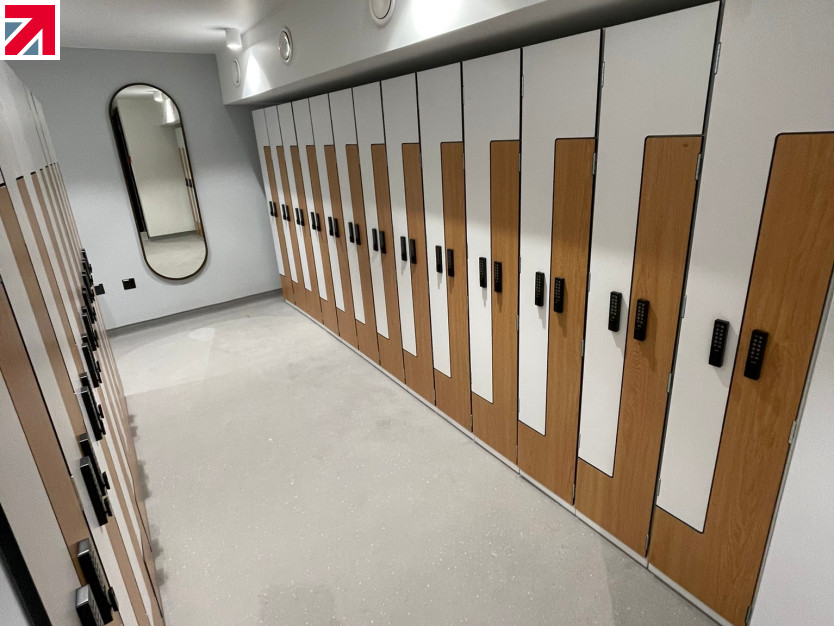 Meadows Business Park is undergoing a major repositioning, providing modern working for a post covid-19 world. With 3 refurbished buildings positioned in landscaped grounds, providing workspaces, offices, central café, gym, cycle storage and showers. Located next to Blackwater Railway station, tenants of Meadows Business Park can enjoy pop up shops, street food markets, walks around the 100 acre shepherds meadow and even Peloton bikes, as well as a range of classes in the gym.
As part of the refurbishment of these buildings, we worked alongside OD Interiors to manufacture and install the lockers and bench seating for the cycle storage and shower areas. As part of the project, we provided 22 wet specification Laminate Z Lockers for the male changing rooms, 22 wet specification Laminate Z Lockers for the female changing rooms and bench seating for both changing areas and the cycle storeroom.
The stunning Laminate Z Lockers were manufactured with an aluminium body, stainless steel door frame and Abet Laminate doors. The colours chosen were Mountain Oak and Ice White from Abet's range of laminate colours. We work with a variety of suppliers of laminate, allowing us to offer a large selection of colours and finishes, from carbon-neutral options, wood effect styles, through to bright pops of colour.
In each changing room, 13 of the 22 Z Lockers were fitted with seat stands, with the remaining 9 lockers fitted to stands. The frames for the stands and seat stands are powder coated in RAL colour white, with the seat slats in Mountain Oak laminate to match the locker doors. To keep the project slick and uniform, the end panels, infills and the cladding to hide the stands are in the Ice White laminate, also matching the doors.
The locks chosen for the project were the Digilock Versa Keypad locks. These are a great choice for both assigned, or shared use, and so were perfect for the shared changing rooms at Meadow Business Centre. Plus, they look great as a contrasting matt black colour against the light doors of the Z Lockers.
It was great to work alongside OD Interiors again on this project and look forward to some more exciting projects in the future.
If you are looking for Z Lockers, or have a similar project you need help with. Our sales team can help. Give us a call on 01284 727626 or click here to get a quote.
Find out more about Helmsman Lockers and Cubicles on their member profile page here