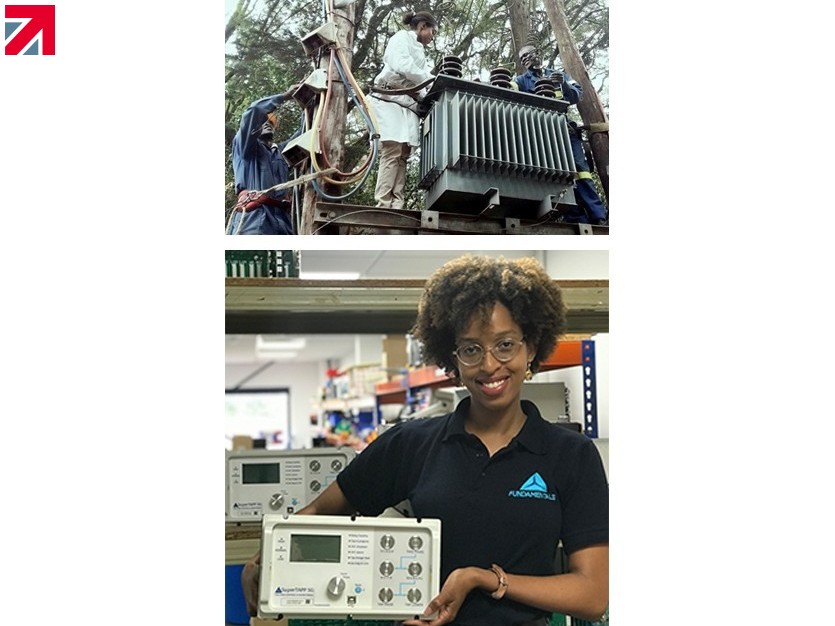 WHEN Elizabeth Macharia came to the UK from her hometown of Karen, a leafy suburb of Kenya's capital Nairobi, she brought with her a drive for change, an open mind and a passion for innovation.
Talking to the recently recruited product application engineer at Made in Britain member Fundamentals, provides a view of the future. Not just for the energy distribution sector, but of a generation that is already starting to accelerate change to our planet.
Elizabeth sees Fundamentals' products and services, and her role in their development, as "not only making a positive change in managing energy distribution, but also on a larger scale of mitigating and slowing the effects of climate change now and for future generations". She adds: "I'm not a campaigner but it's something I'm passionate about. And when I was looking for somewhere to work, I wanted a role where I could make a change."
A pathway to the future
Her journey to Fundamentals' Swindon office began in her early years in Kenya. "I loved science but also reading. My parents bought me a 'Little Professor' Texas Instruments kids' calculator. But I also had a shelf full of books including Enid Blyton and the Harry Potter series, so I had a broad interest from an early age. A lot starts at school and home. I was lucky, my parents didn't put me in a box and I felt my opportunities were endless."
One incident in particular, literally sparked her passion for all things electrical. Elizabeth recalls: "My bedside lamp stopped working. I tried replacing the lightbulb. That didn't work and for various reasons I couldn't ask anyone else so I had to repair it myself. I opened the fuse box using scissors - not very safe I know - but the wires had come loose and I fixed it with tape. And that, literally and metaphorically, lit a bulb and this is when I decided to put my focus into electricity."
School also helped: "I had a physics tutor - now a Doctor of Physics - who happened to be a woman; this was very encouraging. She noticed I was good at understanding electricity and encouraged me to follow the path of electrical engineering."
Out of the box thinking
In fact, Elizabeth believes people as much as technology are critical in developing an interest in STEM subjects at an early age: "The teacher is very important in STEM. Students tend to find these subjects hard, but giving adequate support, mentoring and tutoring will help to increase numbers. Also, a love of the subject. You can tell when someone's passionate about what they do and that enthuses students.
"I had an excellent Maths teacher who was most patient and attentive. He'd go over problems again and again until we understood them. This played a big part in me focusing on STEM.
"I also had a very animated physics teacher in year ten. That made me and other students more interested and he also enjoyed seeing us understand. Quite a few of the girls in my class were enthused by science (five or six out of 20) and they've all gone into something science-based including architecture, aviation, environmental sciences, and medicine.
"I've attended workshops where children have been asked "what does an engineer look like?" and they draw a man in a hard hat holding a spanner, because there's not much visibility of what an engineer can actually do. The recent, sad passing of Black Panther star Chadwick Boseman reminded me of his 'on-screen sister' engineer Shuri, who makes their country Wakanda the most technologically advanced on the planet. OK, it's fiction, but she's a cool role model. We need better representation in the media; real engineers coming to speak to students and giving them a day-in-the-life view."
Elizabeth's own entry into electrical and electronics engineering was via a BEng. at Brighton University, followed by an MSc in Electrical Power Systems at University of Bath. Her first role was with an Edinburgh-based start-up creating smart transformers for clean and renewable energy integration. She then joined Fundamentals in August 2019.
A change for the better
Specifically, Elizabeth's role is communicating specialist knowledge of Fundamentals' products through support and training for both clients and colleagues.
"Essentially, I'm putting myself in customers' shoes to interpret what they want and need from Fundamentals to specify a solution. It's about looking at things from a different perspective; looking at the end goal for something that will make a bigger impact, rather than through a narrow lens. I'm always looking for more benefits than a single outcome."
This desire for making a greater difference is what brought her to Fundamentals in the first place. "I wanted to work with a company that had good values and was making changes in the energy distribution industry."
She continues: "Fundamentals' values are about knowledge-sharing and there's a great culture here which gives you a lot of room to grow and develop as an individual. As you grow, so does the company. I don't feel tied down or boxed in terms of innovation. If we see an opportunity for improvement, we take it. I admire that and that we've tried and tested the methods. We're comfortable in stating we're experts."
COVID has brought those strengths into stark relief. "I've been working from home throughout lockdown. Because of our technology we can use virtual relays [an interactive computer simulation] for problem-solving. We can re-create the issue, replicate the settings and help clients rectify the problem in real life. Working from home hasn't been difficult and that's because of my very supportive and helpful colleagues. We're all different, but this means we bring a variety of strengths to make a great team."
The technical details
Elizabeth believes she is at the heart of rapid change in the energy sector. "Voltage regulators are particularly important, especially now with measures being put in place to slow down effects of climate change and integrate renewables. I think, until fairly recently, it's been a case of "if it ain't broke don't fix it"! The industry has been working in a certain way for so many years it will take time to change, but it gives a lot of room for improvement and innovation.
And she is certainly aware of the scale of the task: "There's a lot to be done, but with the shift to more renewables, more people using EVs, the aim for the UK to be fully renewable by 2050 or sooner, we've a major job in enhancing the grid to allow it to cope. You don't want the whole grid to collapse under the stress. A reversable grid means fundamental change.
"With the timelines that have been set, making this system work has to be our priority. Automatic voltage relays, battery storage, smart inverters and LV regulators that can be installed in rural areas or where solar energy is being generated; all are key innovations in making this transition effective. As an engineer, my role is defining new features and refining products that would allow these technologies to be incorporated into the grid."
A drive for diversity
As for the people driving this change, Elizabeth believes there is a major role for women. Her first internship, with a Kenyan power distribution company, included climbing telegraph poles to install cabling. "It was here that I realised attitudes to women in the industry had made some progress. One of the older women employees told me a story from her early days. A man had seen her climbing a telegraph pole and shouted "have you no shame?", saying it was not a role for women. I was able to do the job without people being shocked and there were three other women in the workforce.
"Since I started working, I've met incredible, successful women engineers who've become my mentors and dear friends. Although we're all at different stages of our careers, we've experienced the same issues so the advice and support they've shown me has been very much appreciated and has helped me grow and develop into the engineer that I am today. I hope to do the same for future engineers.
"There's still a way to go. As of 2018 there were just 12 per cent of women making up the engineering workforce. At university I was one of only two or three women on my courses. I met a man last year who, when I told him I was an electrical engineer, was surprised and hadn't realised there were women in the industry. Although initially sceptical, he said he was encouraged because his daughter wanted to enter the industry."
But Elizabeth sees a wider landscape. "We need to be encouraging more diversity - not just for women, but also different races and nationalities. There's definitely a socio-economic imbalance. I'm certain there are thousands of people who come from a poorer background who've great ideas that they can't implement simply because they haven't been given a chance.
Be proud of being different
"I recently watched a video of a group of boys in Kenya, led by 17 year-old Leroy Masawaru, who'd made a biomass cooker at their school. The outcomes were amazing and it goes to show that age, race, socio-economic background or location don't matter." Other examples she cites include William Kamkwamba, who inspired the feature film The Boy Who Harnessed The Wind. "Everyone can make an impact, they just have to be given a chance. It empowers me to see people of my age driving for change."
For Elizabeth, the most important element is acknowledging difference. "Engineers get to do cool things; we get to innovate, make changes and make a positive impact on the world. But who's to say the person doing the bricklaying is less skilled than the person who designed the building? They're different talents and skills, but one can't work without the other and that's why you need diversity. It helps create a better product.
"We need to encourage differences, not be afraid to be different. I'm a geek and there's nothing wrong with being geeky. That's what we need to tell kids; our engineers of the future."
Find out more about Fundamentals Ltd on their member profile page here