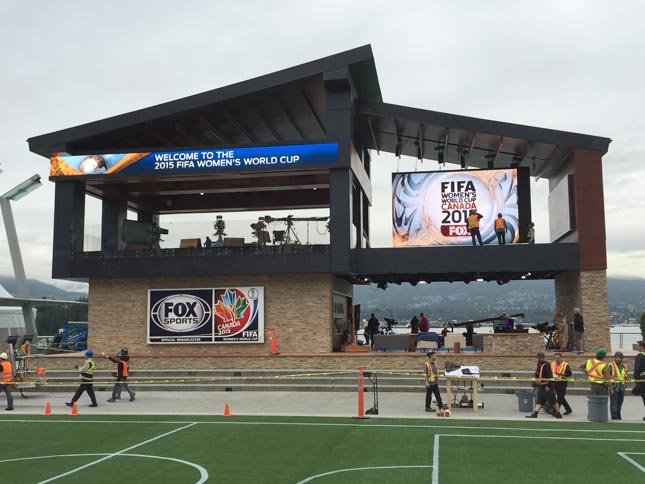 Made in Britain member, Apollo Scaffold Services, has recently supplied the structure for Fox Sports' radical temporary broadcast studio for coverage of the 2015 FIFA Women's World Cup in Vancouver.
The striking two-storey building providing the base for Fox Sports' broadcasts throughout the tournament was designed and assembled by Matakana Scaffolding Group using Apollo's X-Beam system built in the UK at Apollo's Barnsley factory.
However, it wasn't all smooth sailing, at the eleventh hour Apollo had to manufacture a complete second structure which was airfreighted at short notice to Vancouver after the original container travelling by sea became seriously delayed on its journey.
With the ship and its cargo not due to dock in Vancouver until well after the completion date of the structure, this could have spelled disaster. But thanks to the work and dedication of Apollo Scaffold Services team, the new structure was manufactured in Barnsley in record time and landed in Vancouver on 13th May to be received by a very relieved team at Matakana Scaffolding Group, before being erected a full day ahead of schedule.
This project has been the first association between Matakana Scaffolding Group in Vancouver and Apollo Scaffold Services, but the company hopes this will be the first of many as Matakana Scaffolding Group is presently in talks to become the agents for Apollo's British-made products in North America.
For more information about Apollo Scaffold Services click here.