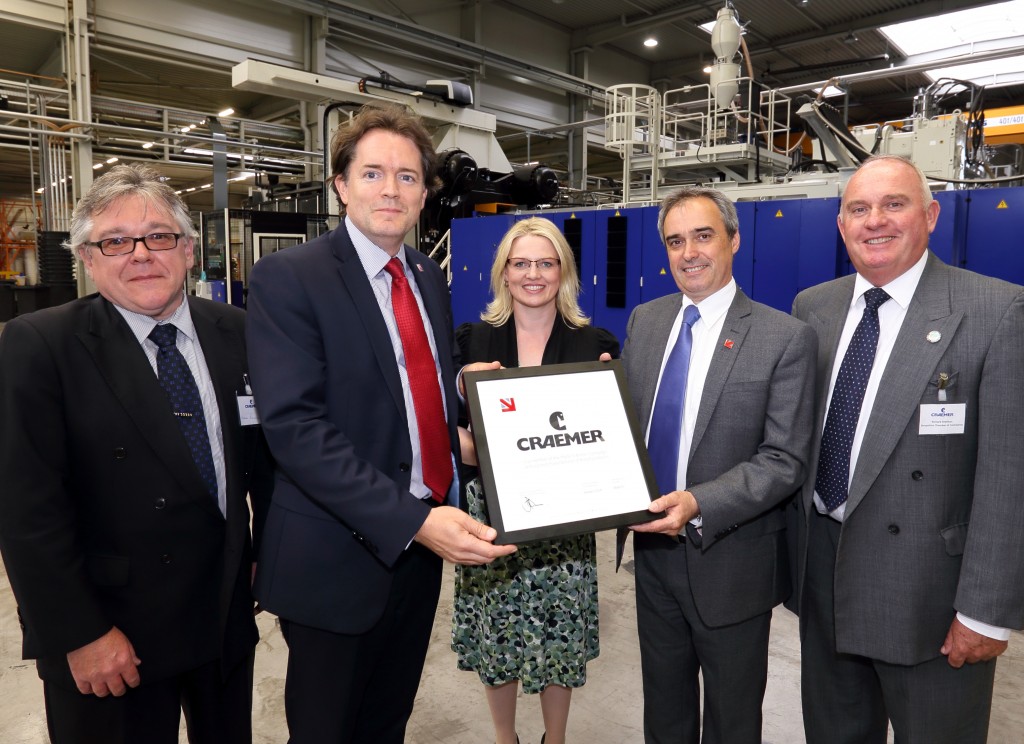 Image credit: Russell Davies, Shropshire Star
Made in Britain member, and one of Europe's leading plastics processing and manufacturing companies, Craemer Group has announced the launch of plastic pallet production at its UK operation. The developer and manufacturer of high-quality injection moulded material handling, storage, transport and environmental solutions is currently best known in the UK for its strong focus on manufacturing wheeled bins of the world famous Kliko brand, which are supplied to over 40 percent of local authorities across the UK. The plastic pallet production line at Craemer's UK production facility in Telford, Shropshire will help provide reusable material handling solutions for UK industries.
Steve Poppitt, Sales Director at Craemer UK, said: "The recent major technical and operational improvements within our Telford premises allow us to embrace the increasing demand for reusable and high-quality plastic pallets and material handling solutions in our UK target markets.
"All sectors of the UK materials handling industry are now beginning to accept the strong arguments for the use of durable, hygienic plastic pallets as a cost effective alternative to conventional wooden products.
"The development of a pallet production facility at our UK factory enables us to expand our UK product portfolio and maintain our corporate commitment to the production of high quality plastic products in the UK. We're immensely proud to be able to say that these will carry the 'Made in Britain' marque and we look forward to promoting the bright future of British manufacturing by doing so".
John Pearce, CEO of the Made in Britain Campaign added; "It's exciting to see Craemer incorporating the Made in Britain marque permanently into one of their products.
"Especially as these will be traded in a B2B environment, yet reach potentially millions of UK consumers.
"This is a great way of how to best make use of our brand, and I'm delighted that we can share this and hopefully inspire other members".
Pictured (L-R): Norman Rikunenko, International Trade Advisor at UKTI. John Pearce, CEO Made in Britain. Nicole Howarth, Managing Director, Global freight. Steve Poppitt, Sales Director, Craemer UK. Richard Smith, CEO, Shropshire Chamber of Commerce.