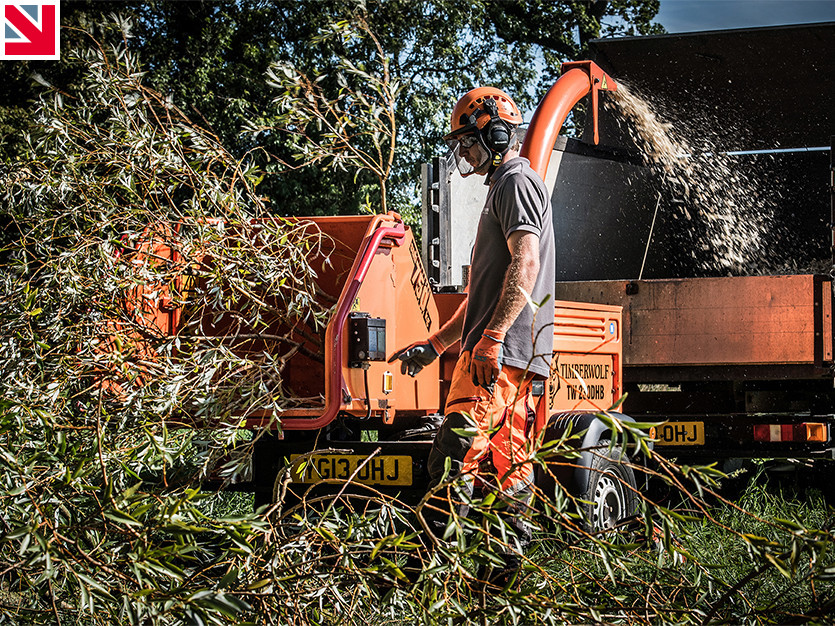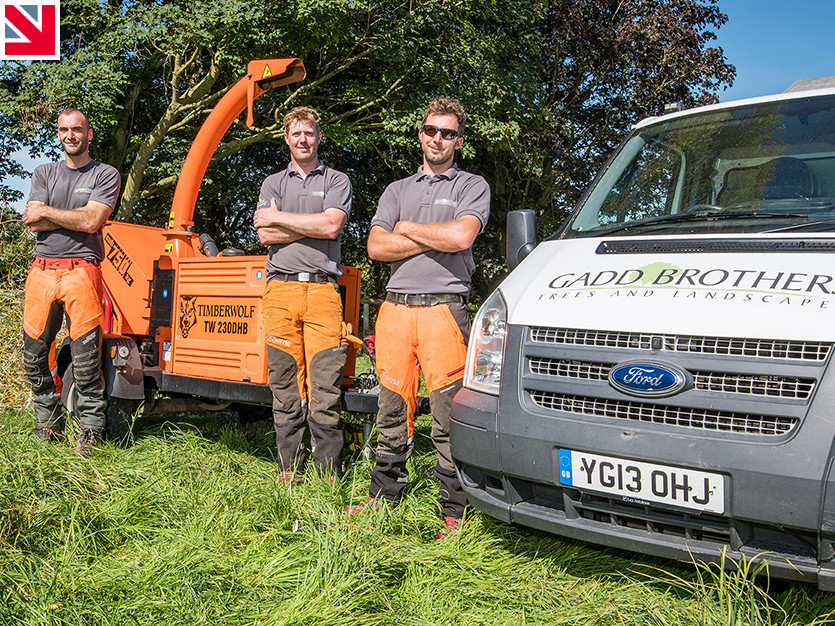 TIMBERWOLF Wood Chippers are the machine of choice for award-winning landscapers Gadd Brothers Trees and Landscapes.
Gadd Brothers Trees and Landscapes is a successful tree surgery and landscaping partnership run by brothers James and Will Gadd and based in Great Barton, Suffolk.

Their high standards of work and commitment to the industry has earned James Gadd national recognition in Pro Landscapers 30 under 30 Initiative in 2018 and Will Gadd has experience in the construction of Gold Medal Winning Show Gardens at Gardener's World Live and installing show gardens at RHS Chelsea Flower Show. They have enjoyed a close relationship with Timberwolf since their company was established 10 years ago.
"We offer services to landowners and businesses throughout Suffolk and into Norfolk, Essex and Cambridgeshire," explains James Gadd, "and we have always been able to rely on Timberwolf for top quality, reliable and efficient wood chippers."
James explains that his Timberwolf wood chipper is an essential part of his machinery kit for any tree work operation: "We can trust our Timberwolf to be productive, efficient and reliable, which gives us confidence to get the job done quickly and to a high standard for our clients."

The company started out with the Timberwolf TW 150DHB Sub-750kg diesel wood chipper, eventually replacing it with its successor the TW 230DHB. James Gadd comments, "Timberwolf have continued to evolve and improve their products based on customer feedback and the changing demands of the industry. The Timberwolf TW 230DHB was a big improvement – for a sub-750kg machine, its capacity and output are remarkable."

James continues, "The current range of Timberwolf wood chippers really are built with the user in mind. They are simple to operate and are easy to work on and maintain; blade changes take a third of the time it used to on our older Timberwolf, and centralised greasing points are a big improvement. Maintaining our equipment to prevent unnecessary breakdowns is vitally important to our business, and our Timberwolf TW 230DHB is quick and easy to maintain ourselves. We can order spare parts straight from our Timberwolf Dealer Ben Burgess GroundsCare Equipment and collect them the same day or have them delivered to our base the next day. If we need a larger service, we can rely on Ben Burgess to keep our machine running like new and at a time convenient to the needs of our business."

The Timberwolf TW 230DHB diesel wood chipper is the most popular commercial wood chipper on the market today. Like many owners and operators, James Gadd prizes the reliable Kubota V1505 diesel engine used by the TW 230DHB, so Timberwolf's reassurance on the continuing availability of these diesel engines, as outlined in the recent 'Stage V All the Facts' campaign, is well timed.

"The Kubota V1505 Diesel engines are so dependable, powerful and easy to maintain. Although we're aware that Stage V engine legislation has started to have an impact, we understand from Timberwolf's All the Facts Campaign that we can continue to use our existing pre-stage V TW 230DHB diesel wood chipper and sell it on in future without issue. Timberwolf have also invested in a large stock of these Kubota engines so they can continue installing them into machines until June 2020 or until stocks have run out"
While the wood chipper market has become increasingly competitive in the past 10 years, Mr Gadd says that using the market-leading Timberwolf brand has become part of his corporate image. "We always like to point out to customers that the machines are designed and built right here in Suffolk, which is always very well received. Our customers love that we are a British company using a truly British machine."
"Our history and experience with the machines gives us the confidence that they will always be reliable – and just as our customers depend on us to get the job done, we can depend on Timberwolf machines to do their part."