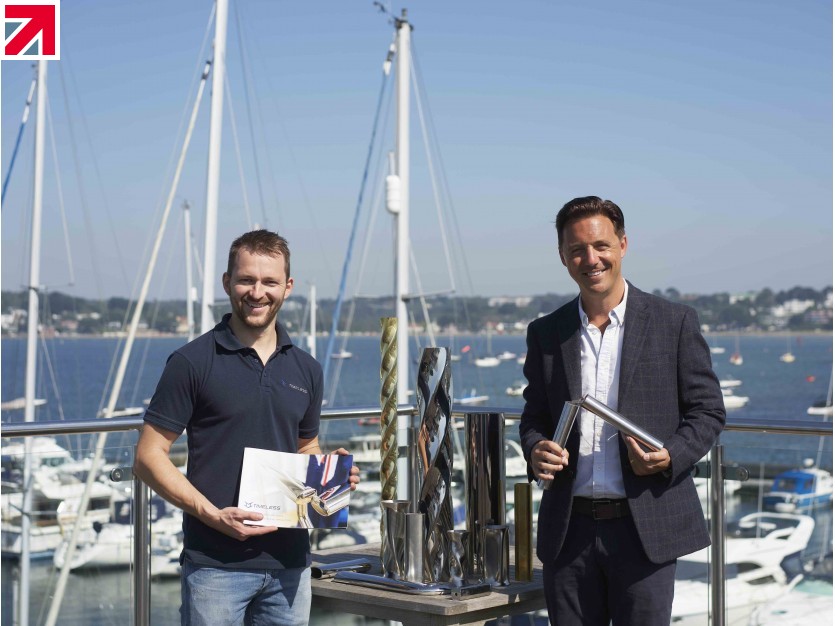 Unique metal tube profiles created by Poole-based engineers Timeless Tube are being used by British manufacturers across several industries to create innovative products being sold across the globe.

The high-end producer of shaped metal tubing for sectors such as marine is working closely with other British suppliers to create unique handrail and innovative tubing solutions for various consumer and industry products. Timeless, who created the world's first oval-shaped tubing over 30 years ago for a yacht client have since supplied beautiful stainless steel oval handrails for superyachts and prestigious architectural projects across the world, as well as applications in healthcare and transport.

The engineers are currently working in partnership with renowned UK hinge expert PE Marine Designz to develop clever new tube products for marine applications, as well as expanding their existing range of unique shaped profiles. Timeless have recently been awarded £15,000 by their local Council (Bournemouth, Christchurch and Poole) to develop these sophisticated stainless steel handrails, gates and shrouding for the marine industry, contributing to a leisure boat industry worth £1bn per annum to UK.

Timeless Tube MD Tom McMillan says: "We're part of a pioneering collection of smaller local businesses delivering exciting design alongside the work of marine giants such as Sunseeker. High-end innovations that are used on yachts and motorboats across the globe".

In 2019 £1 billion was generated in the UK from new and used boat exports alone, with over 10,000 new boats produced for domestic and international markets.

Tom McMillan continues, "We've recently experienced a huge boost in demand for our marine railings – whether we're making replacement rails for a tender boat in Dorset or concealed gates for a superyacht in Monaco. There has been a notable increase in trade from the small leisure boat industry. We're expanding our inhouse fabrication team to meet this demand."

Stainless steel, aluminium, copper, titanium and brass tubing is carefully shaped at the Poole-based workshop, with tubing formed from standard round tubing into several profiles: oval, flat-sided oval, radius square, D-shaped, twisted oval and twisted square.

"It is our vision to transform ordinary functional structures into striking, design-led pieces, and improve upon technical design with beautifully engineered tubing solutions" says the Company MD. "We're inviting other British product designers to get in touch to explore how our tubes could help with their own innovations".
Earlier this year Timeless made their smallest D-shaped tubing to date to enable the pioneering British engineering company Osprey Measurement Systems to create a 'game-changing' new device that makes the vital business of measuring soil displacement a more efficient, effective and safer process. The recently launched In-Place Extensometers (IPXs), predominantly used for building embankments, excavations and tunnelling, are being used to monitor major infrastructure projects.

Osprey's Head Engineer Daniel Scott comments, "The ability to work closely with Timeless on the tube prototype was vital. Having a UK-based manufacturer flexible enough to experiment with tooling and materials allowed us to get this product to market a lot quicker. Many of the larger overseas manufacturers would not have the agility or set-up to make such modifications".

Find out more about Timeless Engineering Ltd on their member profile page here