New Made in Britain member Buttonfix Limited, producer of Button-fix, the ingenious product used widely in construction trades and sign industries for fast and accurate installation of panels, is offering a trial product sample to Made in Britain members.
Button-fix is a versatile range of concealed fasteners and accessories, designed to suit a wide variety of panel materials and ideal fo rinterior fit-outs, renovation and furniture projects, as well as some exterior applications. Specific Button-fix types and panel material combinations have been independently tested for strength and, for example, a vertical panel with a minimum of four Type1 Fixes can safely weigh 200kg.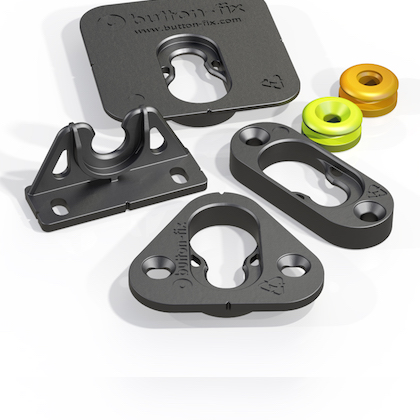 In the early days of Button-fix, product designers, Tony Wills and Brian Watson were determined to place the production of Button-fix with a UK manufacturer. "The potential savings from offshoring production did look a little tempting, says Tony Wills, "but because we didn't want to settle for longer production lead times or potential quality issues, we chose a British manufacturer - a precision toolmaker and moulder, based in the Scottish Borders. The strength and quality of our panel fixings is paramount, and the independent test house we use to verify and certify properties such as load bearing and strength, works only with known manufacturers, so in that respect, our UK production set up serves us well."
When it comes to selling the Button-fix product range, the company is very well supported in the UK by leading companies such as Hafele, Ironmongery Direct and SDS London. It is also sold abroad in over 20 countries, including the United States and China through an international distribution network. "Products made in Britain have a certain cache in our export markets, says Brian Watson. "So, joining Made in Britain, and using the MIB mark, is a good way to highlight the provenance of Button-fix and to fly the flag in our growing overseas markets.
For a limited period, Button-fix is offering Made in Britain Members a free sample pack. You can request your free sample here