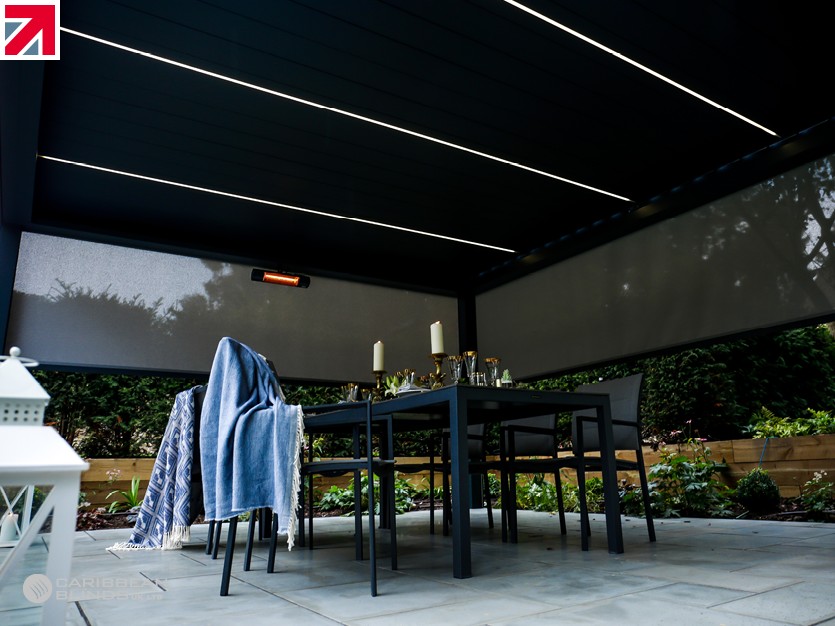 Christmas is around the corner and we wanted to open your eyes to a new way of celebrating, why not try something a little different this year, an alfresco Christmas where you can enjoy the festive delights with family and friends in the fresh outdoors. If you are not much of an outdoor living person then you are probably wondering why on earth would you want to be sitting outside on a cold winters day having dinner.
With our Award-Winning Outdoor Living Pod, voted 'Best Garden Buy' from Real Homes, you will not even feel the chill. This modern, aluminium all weather pergola has been specially engineered with innovative features that will combat against the elements and provide a comfortable and ambient setting to relax, entertain and unwind.
The pod can come equipped with mounted infrared heaters to provide direct heat to keep guest warm, and integrated LED lighting to set the scene. Screens can be added to all the exposed sides to create a cosy, intimate space. If it is rain you worried about, do not be, this louvered pergola is completely watertight with an efficient guttering system incorporated within the framework to keep the rain away, leaving you to entertain without the worry.
Its bespoke capabilities means that our team can create a design that flows with your home, creating a seamless transition from your indoor space to your outdoors. Perfect if you have bifold or sliding doors leading to a kitchen, keeping everyone together in one unified space.
Make your home work for you by utilising your terrace to create social areas where family and friends can get together. An Outdoor Living Pod is not just for Christmas, it is a lifestyle choice that will provide endless outdoor living moments for all your special occasions. Contact our advisers today to discuss your requirements on 0344 800 1947 or alternatively we can provide you a guide price using our pricing page.
Find out more about Caribbean Blinds UK Ltd on their member profile page here
Find out more about Caribbean Blinds UK Ltd on their member profile page here