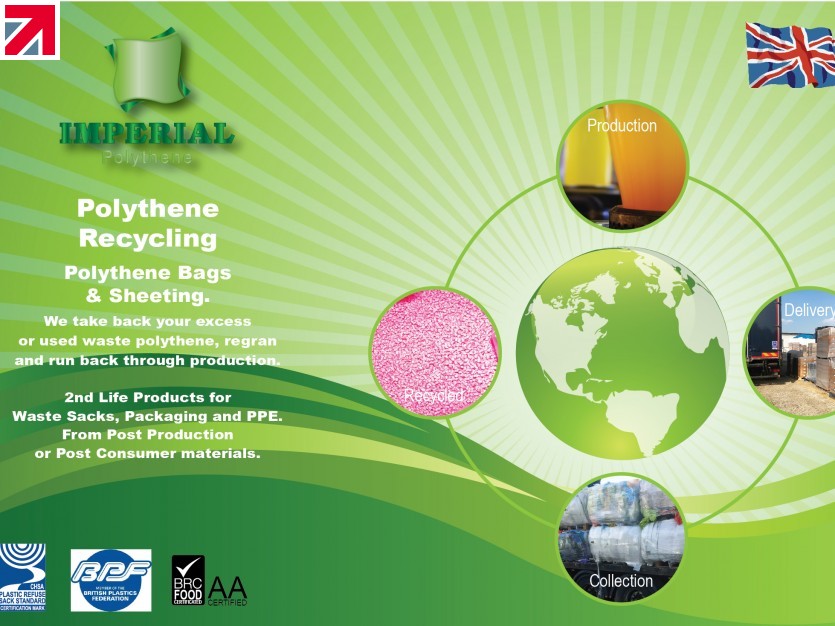 POLYTHENE RECYCLING SCHEME
Imperial Polythene are proudly leading the way with our customers with our 'Polythene Recycling Scheme'. The process of collecting unused or excess used polythene from our customers (Post Consumer) allows us to minimise the amount of our polythene that can potentially end up in the environment or going to landfill. We also retain excess polythene throughout our production (Post Production) which allows us to give the product a 2nd life ethos.
Where possible we like to educate our customers with the potential of using recycled material in their products. Bring a Circular Economy to our materials, helping to keep Carbon Footprint down and reduce Co2 emissions. This brings our UK Manufacturing process full circle. We are finding more customers now taking this process on and reaping the rewards of showing end users that polythene can be recycled and processed back through production. The benefits are more than cost saving and helping the environmental. It the step in the right direction proving our product is more just a throw away service.
Find out more about Imperial Polythene Ltd on their member profile page here