UK-based hose manufacturer and Made in Britain member, Copely Developments Ltd, is a certainly on a roll with new hose product launches. The latest, a premium quality garden hose endorsed by the Royal Horticultural Society, has been developed using ground-breaking technology which allows water to flow continuously, even if the hose becomes kinked, crushed or knotted.
RHS Everflow Garden Hose features patented Evercore® technology, unique to Copely Developments – a company with a long, successful heritage in the hose design and manufacturing business. All hoses have a tendency to kink and become tangled from time to time. But it is this Evercore® 'flow protect' technology which allows the continuous flow of water in all states, whether knotted or crushed making this very special garden hose truly "unstoppable". RHS Everflow is the only garden hose available to feature such revolutionary technology.
This feature, and the fact that RHS Everflow is manufactured from super-soft materials, also means it is extremely flexible, lightweight and easy to handle. But, don't be fooled by its 'soft exterior'! This is a hose that is 'built to last' with excellent durability characteristics, underlined by its 30 year guarantee.
RHS Everflow is UV resistant, REACH compliant and free from potentially harmful phytotoxic chemicals that are still commonly used by some hose manufacturers, making it safe and 'grower-friendly'. It is manufactured in the UK in accordance with BS 3746 standards.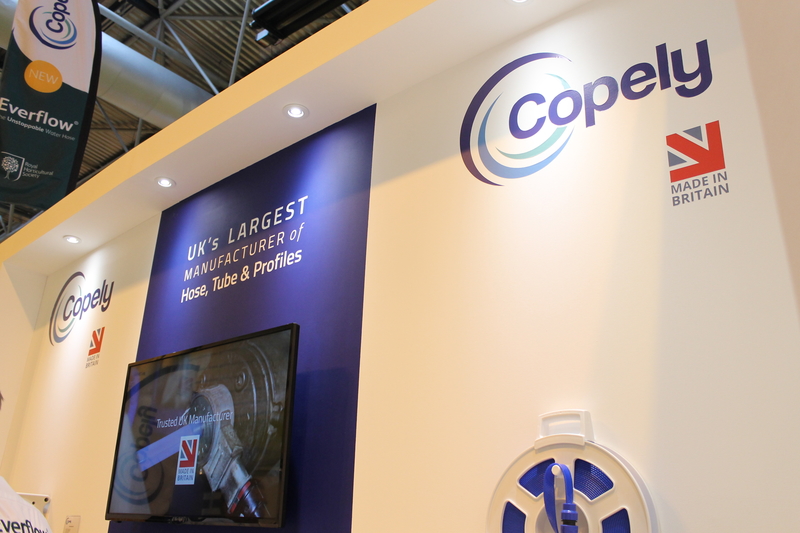 Copely recently exhibited the new technology at Glee, Birmingham
Rigorously tested in laboratory and real-life conditions, it is ideal for domestic garden use, and for the professional gardening trade.
Green in colour, with an attractive clear stripe and smooth grey inner, RHS Everflow hose is a smart, practical accessory that discreetly blends in with any style of garden. It is available in 25m, 50m and 100m coils and fully compatible with all UK standard ½" hosepipe fittings.
A dream of a hose to handle, and uncompromising when it comes to exceptional, unstoppable water flow performance, RHS Everflow has been developed to take the top spot in the premium quality garden hose market. RHS Everflow really is The Ultimate Garden Hose. More information can be found at www.copely.com/rhs-everflow.
The RHS Everflow hose forms part of a Royal Horticultural Society endorsed range of products, including heavy duty Aquaflex irrigation hose, watering accessories
and micro-drip irrigation products.