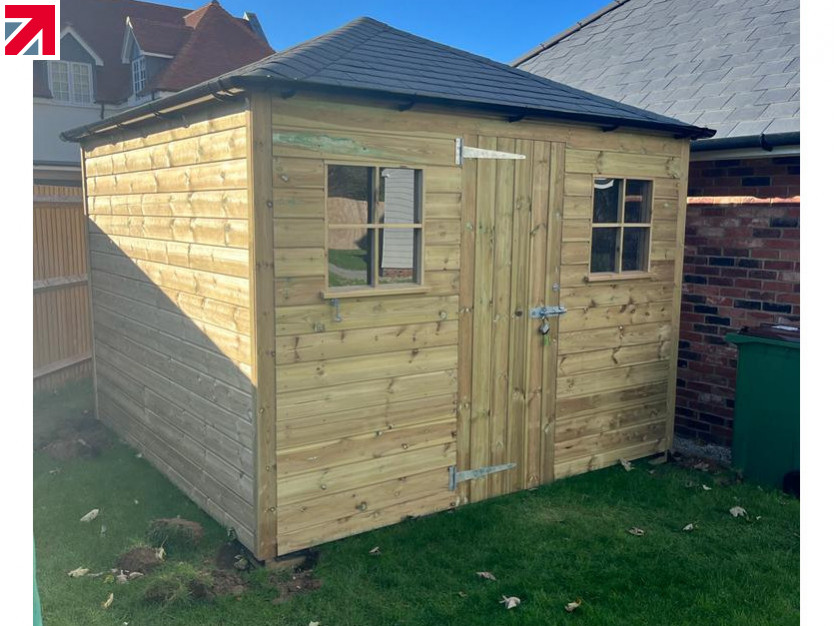 BESPOKE GARDEN BUILDINGS THAT ARE TAILOR MADE FOR YOUR NEEDS ARE ONE OF OUR SPECIALITIES…
We love working with customers to manufacture bespoke garden sheds and other timber buildings exactly as they ask for them to be made. It is our passion, use of quality materials, and expert craftmanship which have made us a household name in the stables and timber building arena, and have set us apart from the mass produced, ready-made products currently on the market.
We create structures that stand out as completely unique in the world of timber garden buildings.
When searching for wooden sheds or workshops for sale, you may come across prebuilt options that are not what you need. Our timber structures, no matter how big or small, can all be built to suit your exact specifications. So, whether you need a large wooden workshop with a double doorway, a shed with extra (or larger/smaller) windows, more headroom, the roof pitched at a slightly different angle, or a garden room that needs to fit into designated space, we can make it happen. Features like verandas, double glazing, insulation, and extra storage are not a problem either.
We will collaborate with you to design, adjust, remove, add, or increase whatever we can, producing a tailor-made structure for your requirements and garden space. We have an expert team of in-house designers who follow a very thorough design process with customers to ensure that your shed/workshop or other garden building is everything you want it to be.
How big can a shed be without planning permission?

Generally, you will not require planning consent for a shed or outbuilding provided its proposed floor area is under 15 square metres and it has no sleeping accommodation inside. However, we always recommend being aware of the legalities before you start to build.
If you own property or land, then it is your responsibility to make sure anything you put up meets relevant planning rules and building regulations. If you do not abide by the rules, you could risk having to remove your shed or outbuilding. It is always best to discuss your intentions with the relevant local planning authority and building control services before starting any project. To find your local planning department, visit the government's online planning portal. You will also find our blog on planning permissions useful too. The team at National Timber Buildings are also always happy to work with customers to help them gain approval for their project.
Are wooden sheds waterproof?

There are several steps we take to ensure your timber shed or outbuilding remains protected from the elements, rot, and fungal attack. Having a good base for your shed to sit on is fundamental to keeping your shed watertight. Raising it off the ground allows air to circulate underneath.
All our wooden structures are made with Tanalised® timber as standard. This timber has been pressure treated (tanalised) to preserve the wood and protect it against fungal decay and insect attack. We also use minimum grade C16 timbers for framing and rafters and 5th grade shiplap cladding (or better). Using quality timber will aid the battle against excess water and moisture and, therefore, increase the life expectancy of the building.
Wooden window and door frames also need to be made and fitted with precision to ensure there are no gaps or cracks. Using quality pressure-treated timber also protects the wood from associated issues such as shrinking and cracking over time.
We can add gutters and maximise the drainage to direct runoff from your shed roof. This prevents water from building up in puddles and causing flooding/damage. Roof lining on our structures comes as standard.
Finally, it does not matter how watertight your shed is, damp days result in damp air. This can mean a damp shed if your shed is not well ventilated. We can ensure your structure has adequate ventilation and insulation to ensure your tools, equipment, and other shed stores remain damage-free all year round.
Will a wooden shed base rot?

Constructing a solid foundation for a home to sit on is especially important and the same principle applies to a shed. As we have already discussed, a shed needs to be assembled on top of a firm base to avoid all manner of problems and stand the test of time.
However, placing a timber shed directly on the ground is not recommended. Moisture will permeate up through the timber and cause the wood to rot. Over time, the shed will begin to collapse. Whether you are building your shed on a lawn, concrete, slab, or paving stone base, we will ensure that we design your structure so that it is not in direct contact with the ground. This will ensure that air can circulate underneath, and water and moisture will not fester and rot the wood over time.
How close can a shed be to a fence in the UK?

According to UK shed regulations, you do not need to seek planning permission if your shed is 2.5 metres tall (or less) and sits at least two metres from the boundary of a property– whether this is a fence or wall. However, there are a few exceptions. If your property is listed, you will need to seek permission and your location within the UK may also have impact on whether you need to seek planning approval or not. Again, always check with your local planning department to be certain.
If you are considering a custom-made shed or timber-frame building that will complement your property, why not request our brochure free of charge for inspiration. Alternatively, contact us for a chat at your convenience.
Find out more about National Timber Buildings on their member profile page here