ESTABLISHED in 2019, Essence of Hartland is a local north Devon business based in Hartland village specialising in home fragrances made with essential oils. Inspired by the ancient dramatic coastline and clear marine waters surrounding the Hartland peninsula, its fauna and flora were key to the first creations called 'Autumn Walk' and 'Bloom', which evoke the scent of the ever-changing and unique environment of Hartland.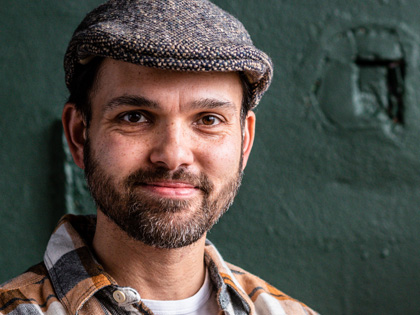 Joe Brady (left), creator and owner of Essence of Hartland, signed the business up for the Made in Britain Green Growth programme. He describes that experience here.
How integral do you see sustainable business practices to the future of your business?
Since launching Essence of Hartland, sustainability has always been at the forefront of everything we do. From sourcing materials and ingredients from environmentally conscious suppliers to producing our products with minimal waste. Not only is it important as a business as it helps reduce costs, but it also keeps us evolving creatively and improving as a business.
To what extent does your approach to sustainable business set you apart (in your sector)?
When researching our competitors, we also stumbled across brands that are innovative and pushing boundaries. This has inspired us as an eco-conscious business to look beyond the norms, and also create our own unique story to share with our customers as well as inspire other similar start-up businesses in our sector.
We hope that by offering recyclable and biodegradable packaging, vegan ingredients and creative solutions to reuse and not dispose of will set us apart but also encourage change within the home fragrance and beauty sector.
What are the advantages of doing business sustainably?
The biggest advantage of doing business sustainably is that we are always looking at incoming environmental policies. By continually looking for alternative solutions to everyday business that reduces our impact on the environment means we are challenging ourselves to be a better organisation.
How have you engaged your team members/supply chain/other stakeholders around the Green Growth programme, if at all?
We are a small business and therefore we work closely with other local organisations which means it is much easier to address the need for a sustainable approach to fulfilling our requirements. Whether it is regarding printing our labels and boxes slightly differently to reduce waste, placing an order for ceramics with our local potter that fits in with other large orders to reduce the amount of energy used, to car and van sharing when attending events with other local businesses.
What advice would you give to Made in Britain members as they progress on their sustainability journeys?
Don't feel overwhelmed with the numerous ways in which you can become sustainable. It is a constant journey as we learn more about how to improve. We, as a business, have a long way to go still but with the support of Made in Britain and the Green Growth programme we are confident that in time each step taken will bring its rewards.

The Made in Britain Green Growth programme is available to members of Made in Britain only. It has been designed to enable and empower a member business to progress its sustainability journey by joining a cohort of more sustainable, more resilient and more competitive manufacturing businesses. Members can access the Green Growth programme here (login required).