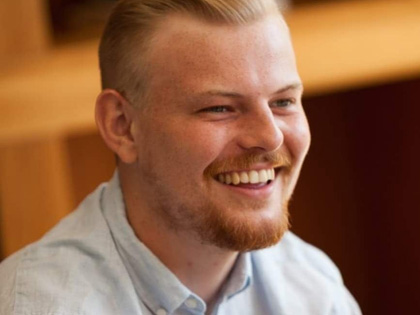 EXCELL Metal Spinning is a versatile engineering business based in Portsmouth. It has recently joined the Made in Britain Green Growth programme and head of marketing communications Curtis Bligh (left) describes his experience.
How integral do you see sustainable business practices to the future of your business?
The need for decreasing the negative impact of the manufacturing industry is essential. UK manufacturing remains ninth in the top ten manufacturing nations and accounts for 2.6 million jobs making it a large sector in the UK, yet manufacturing waste is overlooked by many businesses primarily due to the concept of sustainability costs.
Manufacturers can evaluate sustainability throughout all stages of production using the 6R method, an expansion of the 3R method. This includes reduce, redesign, reuse, recover, remanufacture, and recycle. The process would look as such, reduce use of materials, energy, and other resources; reusing of products/components; recovery and recycling of materials/components; redesign of products to make use of recovered materials/resources.
It's also becoming clear that individuals and companies are looking to purchase from and partner with environmentally friendly businesses as we see this more and more in advertising and online representation. It's our belief that sustainability is essential in every industry, it's quickly becoming the future and we want to be a part of that sustainable future.

To what extent does your approach to sustainable business set you apart (in your sector)?

As a metal manufacturer, we see a lot of scrap metal come and go which is why since day one we began recycling unused material or swarf, as bi-product of cutting operations, by sending them off to be turned into new metal sheets. Recycling this metal allows us to preserve natural resources and require less energy to process compared to manufacturing raw materials.
We are currently researching more into using these recycled metal sheets in our production creating a circular economy while continuing to provide excellence in every aspect of our business including sourcing materials. Recently, we have identified a new source of upcycled steel sourced from recycled car parts. In some cases, the price of this material has been equal to / lower than freshly made steel but with a reduced footprint. We also limit the distance to which our raw materials are transported by using local distributors and suppliers.
We take on the redesign approach from stage one, working with customers to ensure their product is exactly what they need, made of the necessary materials, all while limiting waste. Many times, one-offs are sent to the customer to ensure their product meets all standards before continuing with the full production. We explore recycle and reuse in more than our metal sheets, tooling is essential in metal spinning and can be manufactured from steel, wood, or other materials. Often, we make our own tooling which can be recycled or then reused for new projects.
Through our expansion, we have brought essential business in-house lowering our carbon footprint and have expanded our team allowing us to strive for further sustainability. We are currently working to receive the ISO 14001 Environmental Management certification as well as looking into more sustainable packaging from boxes to bubble wrap and tape. With the ISO 14001 accreditation to support our environmental efforts, we strive to show potential clients and suppliers that we are taking the necessary strides to reduce our impact.

What are the advantages to doing business sustainably?
The advantages to being a sustainable business can be immense from the effects on the environment to reduced costs. Contrary to what others may believe sustainability has become more affordable and while it may take an initial investment ultimately, you'll save by prioritising sustainability. Individuals and companies view sustainability as a plus and will actively search for companies with green values in turn bringing in more business and creating partnerships ensuring that your business has an enduring positive impact on the world. We have instilled a LEAN approach to manufacturing, reducing waste as much as possible, and in doing so improved upon operational efficiency. As part of our continuous improvement culture, we are always on the lookout for new ways to reduce waste and cost. Becoming sustainable as much as possible can protect and strengthen brands, reputation and build public trust.

How have you engaged your team members/ supply chain/ other stakeholders around the Green Growth programme, if at all?
We are actively engaging with distributors to identify the source of supply and learning more about how sustainable our supply chain truly is. Although we still have a long way to go, the initial steps are being taken and the thought process into a greener supply chain is very much on everyone's mind at Excell.
Contact has been made with a number of suppliers, one in which we have identified as a source of upcycled materials from used car parts. After researching the material to learn of its characteristics during the metal spinning process, we were happy to use this source for upcoming projects. Galvanised steel is also a recycled material we currently use for components, again sourced from used car parts.
We are also engaging with BSI to learn more about ISO 14001 accreditation and the positive impact it will have on our manufacturing processes and auditing systems. The Excell team were pleased to know that much of what we're already doing has given us a head start in achieving the accreditation.
What advice would you give to Made in Britain members as they progress on their sustainability journeys?
If you've just begun your sustainability journey it can be overwhelming. It's important to remember sustainability doesn't happen in a day and every step of the way counts. The best first step is to record where your business is now, find your largest impact, and set achievable goals. Build a plan to reach your goals and invest in that process.
It's also vital to remember sustainability extends past the walls of your building. Suppliers and partners are careful to choose who they work with and by working with your suppliers/partners you influence change, build stronger connections, and create a more sustainable practice for others. Be straightforward about sustainability challenges faced within your industry and what strategies you believe may overcome those challenges as you may find a solution together.
As sustainable practices grow, assistance to achieve sustainability has also grown. You can find support on your sustainability journey with programmes, such as the Green Growth Programme, which can provide insight on where you are beginning as well as provide a wealth of opportunities.
If you would like your business to join the Green Growth Programme, the journey starts here: https://green.madeinbritain.org/
For more information about Excell Metal Spinning, see the company's member profile page here.