A FREE webinar from Made in Britain was enough to inspire one already successful manufacturer to join the world's biggest online marketplace.
United Automation Limited is based in Southport and designs, manufactures and distributes a range of power controls to improve the efficiency and controllability of an electrical system. United Automation's products include AC regulators, DC controllers, HVAC thyristors, catering controllers and its Infresco infrared heating range.
The components are used in furnaces, wind turbines, outdoor heaters, catering, supermarkets, aircraft and even racing cars. Some products are used by the Royal Navy and have a NATO serial number. In fact, United Automation makes more than 400 products and exports to 80-plus countries. Sales channels had traditionally been through OEMs, distributors and wholesalers.
The company has been established over 55 years and was ISO 9001 accredited in 1995, Export Champions in 2016 and 2017 and is currently a Made in Britain ambassador and UK Trade and Investment partner. So, it's a big, established business, not some wet-behind-the-ears start-up.
Christian Matthews (left) is the business development manager at United Automation. Christian says, "Part of our online sales strategy was to start selling through Amazon Marketplace, but we were unsure how to maximise this sales channel. In situations like this I often look to Made in Britain for advice and this led me to search upcoming Made in Britain webinars. When I saw the InfinityBlue Marketplaces session with Frank van den Berg, it was like 'let's learn from an expert'.
"There was so much value and content, it blew me away. The stats discussed were different level and his webinar confirmed that having an Amazon Marketplace was a no-brainer – 35 per cent of all online purchases in Europe were through Amazon and this increased to 49 per cent in the US. The choice was clear: outsource to InfinityBlue or set up a team in-house."
After the webinar, Christian organised a couple of calls with Frank van den Berg and Frank took him through a couple of presentations.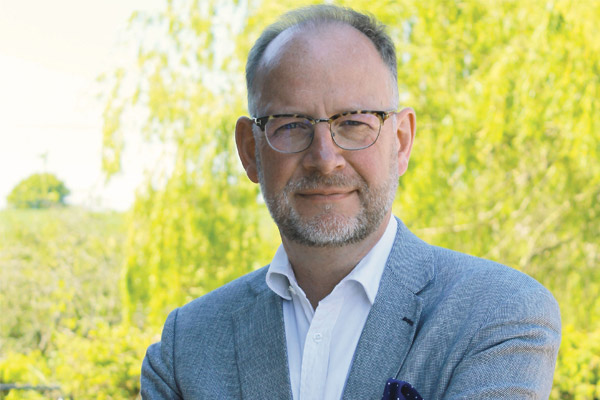 "For most companies, the trickiest thing is not so much the information, but the development of a coherent strategy and effective implementation and ongoing management," says Frank (right). "That is where we come in. We are managing marketplace performance for over 50 companies on a day-to-day basis, and the activities organised by Made in Britain provide a great way of sharing these with members.
"When I spoke to Christian, he said he now has the knowledge, as well as the capability and spare capacity to take something like this on. And that is great. Where we come in is if the company does not have the knowledge, insight, capabilities or scalable resources that you need to make this work well. For those companies we can deliver the whole package."
Christian agrees. "Frank's level of expertise of the online marketplaces shone through," he says. "Not just Amazon but others as well. It was only due to my 25 years' sales experience and that I had built a successful online sales strategy at a previous company, that I decided to keep it in-house. I had already outsourced our SEO, website design and social media comms, so I know the value of using experts like Frank. If I didn't have my sales background, I would have used InfinityBlue without hesitation."
Frank says, "I am delighted to hear that the webinar was just what United Automation needed. Marketplaces are quickly becoming the place to be for companies that want to sell online, B2C or B2B."
InfinityBlue's webinars are available for download in the members' downloads area of the Made in Britain website. The company has offices in Amsterdam, Cambridge, Chicago, Leeds, Sao Paolo, Shanghai and Warsaw. It says it offers an outsourced solution to enable all clients to move forward quickly and securely.
United Automation now has a new, profitable and growing sales channel through Amazon Marketplace and the company was delighted to be nominated as Family Business of the Year 2020 by the Amazon Scale Up team and Business Leader magazine.