IT'S one of those fascinating facts that is a little bit hard to believe – we have all been wearing wonderful onesies for ten years! Before Made in Britain member The All-in-One Company launched in October 2008, the wearing of onesies was strictly limited to babies and toddlers.
But an idea from founder Kate Dawson changed all that and customers from more than 200 countries have now, through the company's innovative website, designed and ordered tens of thousands of onesies which have all been hand-made in Ashington in Northumberland.
"It all began because I needed to keep my daughter warm at night and I couldn't buy sleepsuits on the High Street for children over 18-months-old," Kate told Made in Britain. "They all had a hood and feet attached, which I didn't want, so I came up with the idea of creating custom-made onesies where you could create something which exactly suited your needs."
The business was launched with a pioneering website which allowed customers to build and order their own bespoke onesie in stages – by selecting the exact size, material, colour or pattern and choice of pockets, as well as accessories such as hoods, feet and even tails and ears.
Kate and her team have teamed up with The National Autistic Society to help children, who are sensitive to materials and fastenings, design their own onesies. They have also worked closely with Comic Relief, Macmillan Cancer Support and Oxfam, and supplied local schools and crafters with hundreds of bags of offcuts.
The All-in-One Company started an apprenticeship programme with Northumberland College and the quality of work of its machinists and cutters has been recognised through membership of the prestigious Guild of Master Craftsmen and success in numerous business awards.
The All-in-One Company's onesie wearers have included celebrities Peter Andre and Holly Willoughby, Olympians Tom Daley, Jade Jones, and Laura Kenny, participants in The X Factor, Big Brotherand Dancing on Ice, the casts of Hollyoaksand TOWIE, and pop stars such as Steps and Union J.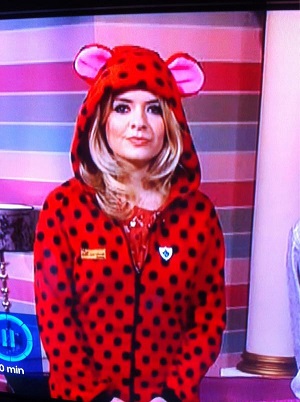 The All-in-One Company has survived the worst recession in 80 years, fierce competition from High Street giants and – most recently – a record-breaking heatwave.
Design your own unique onesie on the company's website after you've had a look at the Made in Britain directory page for The All-in-One Company, here