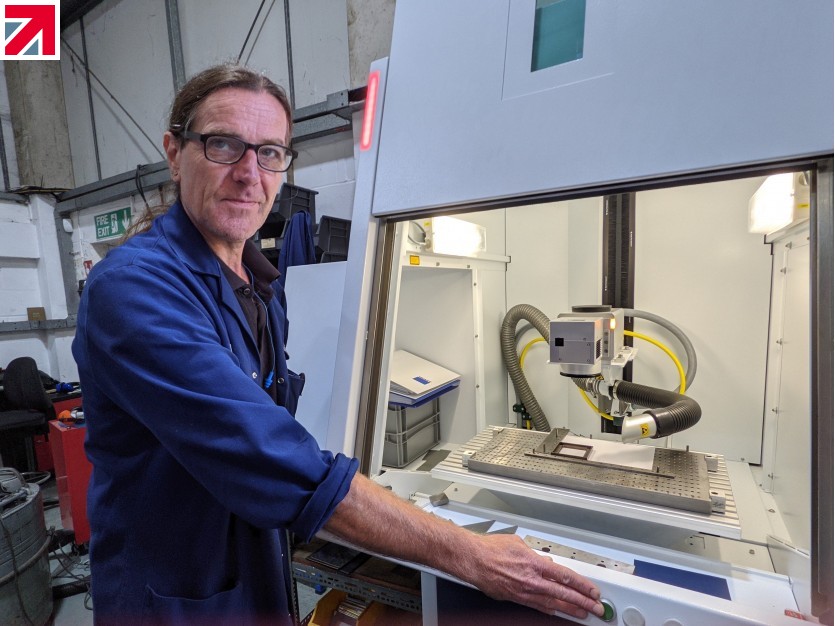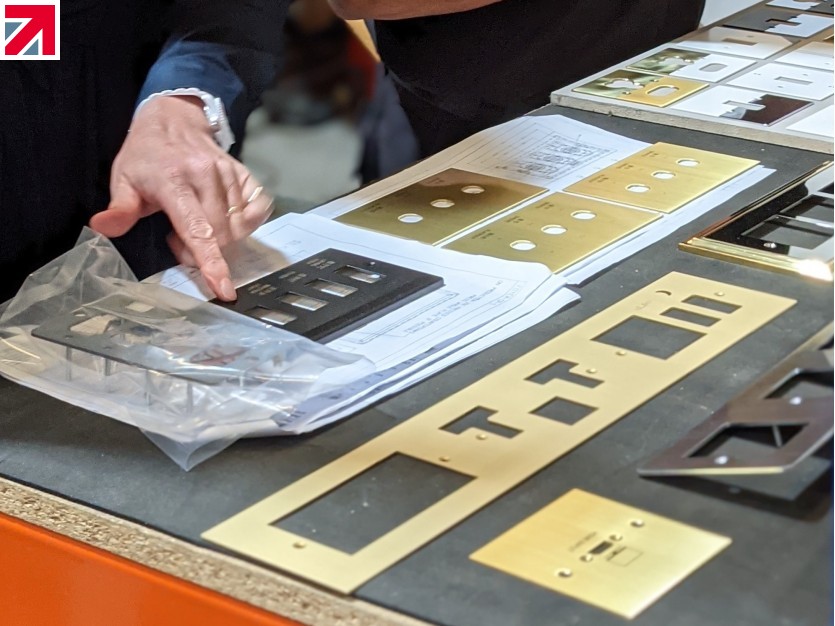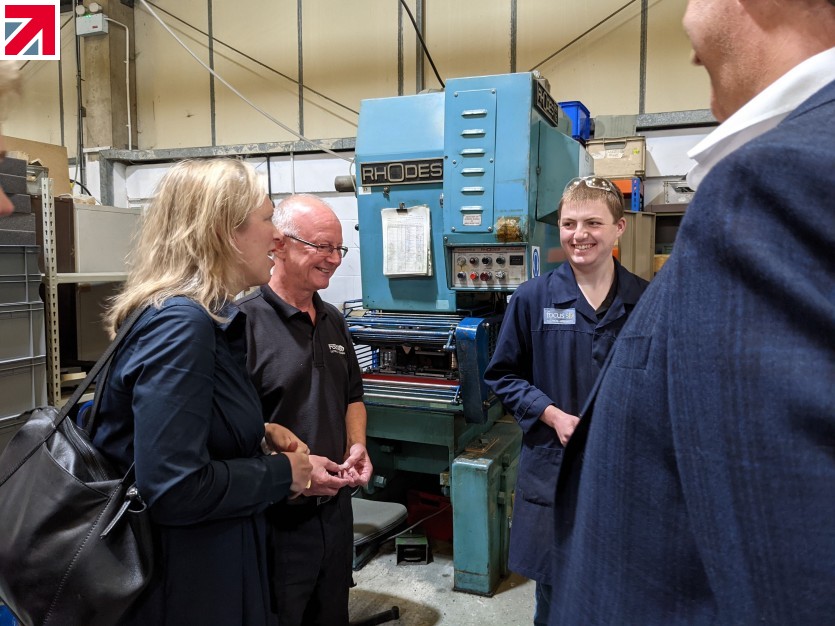 Hastings and Rye Conservative MP Sally-Ann Hart was welcomed by Gary Stevens, managing director of electrical wiring accessories manufacturer Focus SB in St Leonards on Sea on Tuesday 24th August. Mrs Hart enjoyed a private tour around the head office and factory premises based on the outskirts of Hastings and learned more about how Brexit is impacting the construction industry as well as recruitment challenges for local manufacturers.
Focus SB is over 40 years old and the longevity of some of its staff is testament to the company's core values, along with its commitment to continually improve its environmental credentials. Mrs Hart was impressed by not only the company's products, but its stance on equal opportunities and ongoing actions to become 'greener' throughout the business, and was given a demonstration of Focus SB's latest investment in laser marking technology, which is already significantly limiting the use of environmentally damaging consumables and reducing waste.
Gary Stevens, Focus SB's managing director commented: "We share common values with Sally-Ann such as our efforts within the local community to engage with schools, colleges, charities and other organisations including Little Gate Farm, who awarded us 'Most Dynamic Employer' in 2019. Like Sally-Ann we are a Disability Confident employer, recently achieving Level 2 of the programme, and the wellbeing of our employees is paramount, supported by our HR manager, Jo Cloute, who is also a qualified Mental Health First Aider."
Paired with Bexhill Academy in his role as Enterprise Adviser in January of 2018 Gary explained: "As someone who came through the ranks as an apprentice, I am keen to provide opportunities for young people to join us on our exciting journey and to grow with the company, which is why I have agreed to become an Enterprise Adviser in East Sussex. I am also keen to encourage applicants from all corners of the community with all levels of ability and mobility to contribute to our growth and development as well as theirs.
"At Focus SB we have employed three apprentices over the past three years, have widened our own in-house graduate scheme and we have built links with local schools, colleges and universities. I personally have become an Enterprise Adviser and sacrifice some of my time to build relationships with local educators but we all need to do more if we want this valuable asset to remain."
Mrs Hart was delighted to stop and chat with a few of Focus SB's employees including the company's first apprentice Ryan Edwards, whilst given an expert tour by Chris Turner, general manager, who demonstrated the more traditional methods of manufacturing complemented by investment in the latest robotic technology, explaining the full in-house product journey from the manufactured components through to the finely finished metal light switches, socket outlets and controls cover plates ready to be hand assembled, packaged and despatched via a second and third factory premises nearby.
Mr Stevens commented: "I have been in manufacturing for over 40 years and started life as a technical apprentice. I have seen immense change in the manufacturing world since then and no more than in the last five to 10 years and change is happening more rapidly now than ever. The future of any industry is the people and skills that underpin it and that is no more a true fact than in manufacturing and whilst there is still a requirement for the old traditional crafts skills in manufacturing, there is a growing demand for people with IT skills, skills in robotics and AI, design and creative skills, sales and marketing skills, HR, accountancy and administrative skills."
Mr Stevens was also delighted to share Focus SB's success story with Mrs Hart, with the company making history in its industry when it became the first and only British (and European) manufacturer licensed to sell products to China in 2017, after a rigorous product testing and inspection process.
Focus SB's research and development into a new product range for China is just one in a recent string of ongoing major investments made by the company since managing director Gary Stevens' appointment in January 2016, which have included the purchase of an advanced 3D printer, laser marker, robot cell, electrical test facilities, expanded metal finishing capabilities, expansion into additional premises and growing the workforce.
Set to be the first business in its local area to install solar power, incentivised by Chancellor Rishi Sunak's Supertax policy to encourage manufacturers to invest in capital equipment, digital and green technologies, Focus SB's impressive future 'green energy' investment plans were of considerable interest to Mrs Hart as well as the company's aim to provide real prospects to resident job seekers in Hastings, which is one of the more deprived coastal towns in Sussex, despite being one of the richest in culture and diversity.
Mrs Hart, long term resident of Udimore near Rye, is no stranger to coastal communities and the challenges to businesses in these areas, and recently welcomed the news that Hastings is to receive more than £24m following a successful bid by the Hastings Town Deal Board to create green sector jobs, boost economic growth and increase tourism.
Hastings and Rye Conservative MP Sally-Ann Hart said: "It was a pleasure to visit local business, Focus SB, to see the fantastic work they are doing and to hear from the staff about their experiences and the projects they are working on. I was particularly inspired by the work that managing director, Gary Stevens, is doing in terms of how the business can use innovative technology to reduce environmental impact and how working closely with local educational institutions, including Little Gate Farm, ensures we offer the next generation the opportunity to learn and develop the skills needed for the jobs of the future in companies like Focus SB. It is vital that local people are given the opportunity to take on the high-skilled jobs in the local area, but they need the skills and training to do this. With the support of local business leaders like Gary, it is all the more possible that we can achieve this."
Find out more about Focus SB on their member profile page here