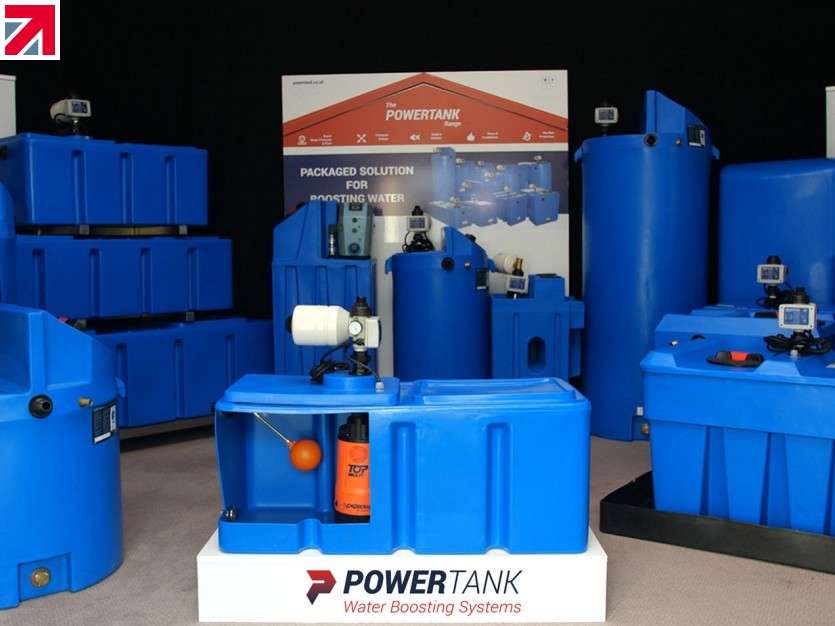 There is no 'one size fits all' solution to a poor water supply. The ideal will always be to upgrade the mains supply (when possible) but the cost of this is generally very high. However, there is a simple, cost effective solution. Whether the supply issues are caused by a lack of pressure or flow, POWERTANK is the answer.
Our POWERTANK is a break tank combined with a pump and controller. It is filled from the mains and stores water needed for periods of high usage. Performance achieved is now entirely dependent on the pump selected as there are no constraints from the supply. The tank capacity then needs to be sized to match overall usage. POWERTANKs are frequently used in commercial and domestic applications where demands on water are routinely greater than can be met from the mains supply. With over 50 tank variations available, the perfect sized tank can be selected to suit available space and maximise the volume of stored water. The POWERTANK is a space-saving, water-boosting solution with submerged pumps for minimal noise emission.
The more sophisticated systems in our range use electronic inverter controls to regulate the speed of the pump(s) in such a way as to keep the water supply at constant pressure regardless of the number of users. This ensures a more energy efficient system making it ideal for hotels and larger applications in these times of energy awareness.
Our POWERTANK range is designed for use in domestic, commercial, agricultural & industrial applications where existing water pressure and flow is insufficient to meet demand. The range is proudly produced in Britain. We aim to support and grow the British economy and joining 'Made in Britain' in January has been an important step for our organisation. Displaying the 'Made in Britain' logo signifies many hours of hard work and a product that is the best in its category.
We have served many happy clients over the years due to the flexibility & reliability of the POWERTANK system. We offer an extensive range of tanks sizes, shapes, and pump configurations: Fixed or Variable Speed Control options; 10ltr - 5000ltr tank options as standard; Single, Twin or Triple pump options; Category 4 & 5 air gap options throughout. Bespoke POWERTANK solutions are also available.
Call 01543 415200 to speak to our friendly and helpful sales team or email us at : sales@pedrollo.co.uk.
Find out more about the company at its members' directory profile here and its website here .
Find out more about Powertank on their member profile page here