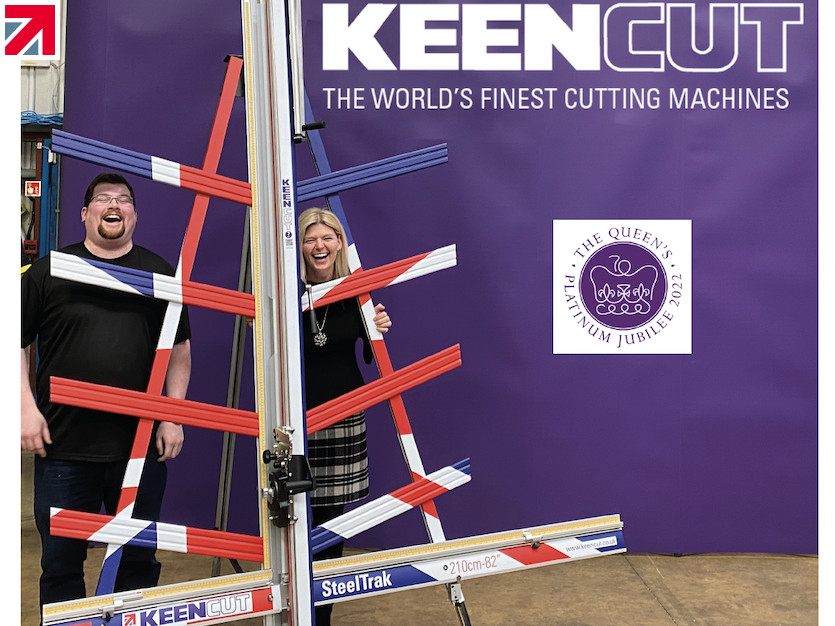 Precision cutting specialists Keencut set itself a Jubilee challenge. It all started when the Keencut team realised that they would be away at an industry event, FESPA Berlin, for the Queen's Platinum Jubilee celebration weekend. Not wanting to miss all the fun back home, Keencut has decided to take the Jubilee party to FESPA.
Debbie Pendergrast, Keencut's Business Development Manager, explained, "We are a proud British company, so we wanted something big and bold to act as the centrepiece of our Jubilee celebration. We set the unusual wrapping challenge of #KeencutOperationJubilee to wrap our SteelTrak vertical cutting machine in the flag. Virtually every component of the SteelTrak is made in Corby, even some of the screws and bolts. It's a widely acclaimed product sold in over 50 countries worldwide, and it's also a complicated structure to wrap – so the perfect challenge."
Keencut enlisted fellow British manufacturer Drytac to provide and fit the wrap. Drytac tasked their Academy Manager Gareth Newman with applying the wrap. Gareth said that "the grooved shape of the SteelTrak was not the only problem; we needed to ensure that the graphic could withstand boards rubbing and banging across it. It's been a great project to be involved in as both Keencut and Drytac are making British products."
Win the Jubilee SteelTrak
Everyone has the chance to win the Jubilee SteelTrak, by going to Keencut's Linkedin and Instagram pages and following the entry instructions. The prize draw will be made on Keencut's stand 2.2-A23 at FESPA Berlin on June 3rd 2022, and published online.
Debbie added, "This is a real statement piece for any sign maker or printers' workshop or showroom; it's all the amazing precision and versatility of the SteelTrak and a stunning piece of art all in one."
You can find out more details at www.keencut.com
Find out more about Keencut Ltd on their member profile page here