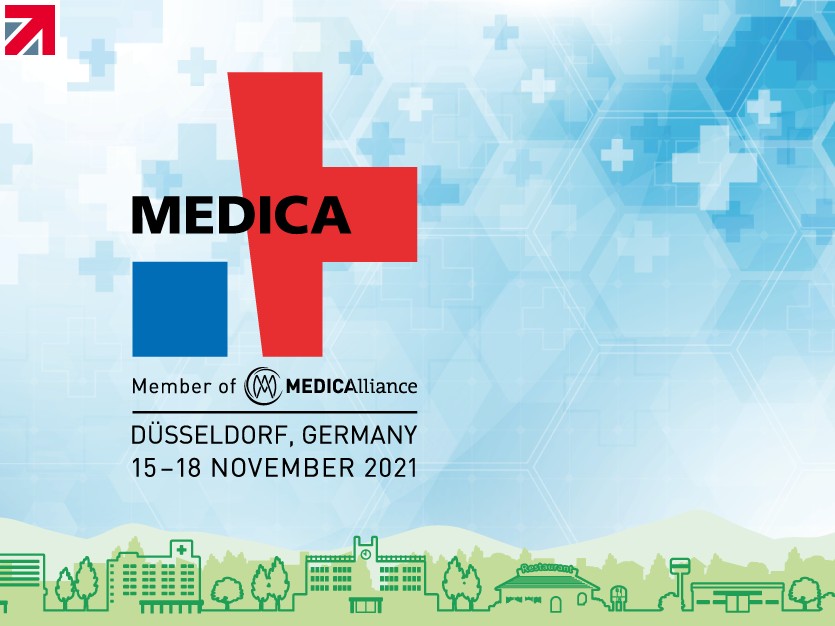 Walsall, UK, 11 November 2021 - Mackwell Health, part of the Mackwell Group, has today announced that it will be showcasing its reusable RPE (respiratory protective equipment) eco-system at this year's Medica event in Dusseldorf, Germany. A combination of wearables and support toolkits, the reusable RPE ecosystem provides the healthcare sector with sustainable and effective RPE solutions to provide optimal safety to workers during day-to-day operations.

Hosted at the Messe, Dusseldorf, Medica is one of the world's leading and largest medical-centric trade fairs. Attending the event alongside RPE and filtration manufacturing partner, Corpro, Mackwell Health will be exhibiting in Hall 11, Stand 11G25 between the 15th and 18th November 2021.
Mackwell Health will be previewing several innovative, new respiratory products for healthcare markets. These include:
Corpro's HM1500 Medi Half Mask, which combines both inhale and exhale protection with best-in-class fit factors, to ensure improved protection for both mask wearers and patients
Mackwell Health's ProtectivAIR® UV-powered respirator system, which incorporates the new generation of Corpro half mask and provides optimum levels of protection against airborne infection for the highest risk activities
Being able to reliably trace and disinfect assets allows the health sector to make long term use of reusable RPE in a highly sustainable manner, with full knowledge that each piece of equipment is safe to use repeatedly. This will allow single use plastic-based disposable RPE to be removed from regular use, eliminating a major source of harm to the environment. Mackwell Health's support toolkit seamlessly integrates with its wearables to complete the eco-system. The Mackwell Health Whitebox provides automated, repeatable decontamination while ProtectivTRACE, a cloud based traceability system, will allow health staff to have complete control and visibility over the decontamination and service history of the RPE.
Mackwell Health is also developing additional components of the eco-system which will improve sensory performance of the equipment. This will include ProtectivTALK, a communications system for RPE that provides speech enhancement and improved audibility directed from the face area.
Dr. Andy Davies, Commercial Director for Mackwell Health, said: "The past 18 months have proven a significant challenge for healthcare, and they have highlighted a great need for sustainable solutions within the industry. Not only does our reusable RPE eco-system provide much safer equipment for health staff, but it helps to create a much more sustainable and cost-effective environment for the long term."
To find out more about Mackwell Health's reusable RPE eco-system, visit www.mackwellhealth.com.
Find out more about Mackwell Group on their member profile page here