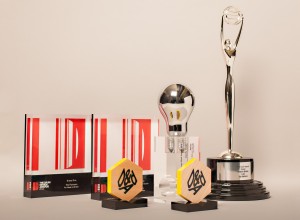 The Made in Britain marque has always been at the heart of the campaign and a hot topic for anyone with an interest in design, 'brand Britain' or in the campaign itself. When we asked top branding agency, The Partners, to create a new marque we knew that the new identity – in whatever form it took – would stimulate conversation and debate. We launched the new-look marque in December 2013 and just over a year later we're thrilled to say that the reaction from the design community has been as enthusiastic as ours and the marque and identity has been honoured in some of the world's most prestigious design awards.
The CLIO Awards are said to be the most recognised international competition for the creative industries. Receiving 10,000 entries each year, it is estimated that only 5% will receive an accolade. In 2014, the Made in Britain marque was awarded a silver statue in the Design category, heading off competition from around the globe.
The Design Week Awards are the Oscars of the British design scene. In the 2014 awards, the Made in Britain marque won the top spot in the Brand Identity category, despite facing stiff competition including ITV's rebrand.
Since 1962, D&AD has been celebrating and stimulating the finest minds in design and advertising. Each year the organisation creates an annual book of the very best advertising and branding work submitted by its members. The Made in Britain marque features twice in the 2014 book – in the Branding Schemes and Logo sections.
The Drum Design Awards are relatively new UK-based design and branding awards. In the 2014 competition, the Made in Britain marque not only won in the Identity category but scooped the Grand Prix too.
But what does this mean for members? It is always great to receive positive feedback, but these awards also help raise the profile of the marque and the campaign. That the design community is recognising the marque alongside brands such as ITV, Apple and the Royal College of Art shows that it is already becoming more mainstream and taking steps to be recognisable to the man on the street. Furthermore, by receiving these awards, we know that the identity is doing its job – communicating British provenance – brilliantly.
Members know that when they put the Made in Britain marque on their products, they are using a high quality design which has been independently assessed and has been found to communicate its meaning effectively. As the judges for the Design Week Awards said, the marque is
'A strong, simple and flexible identity, perfectly suited to appearing on thousands of examples of great British design'.