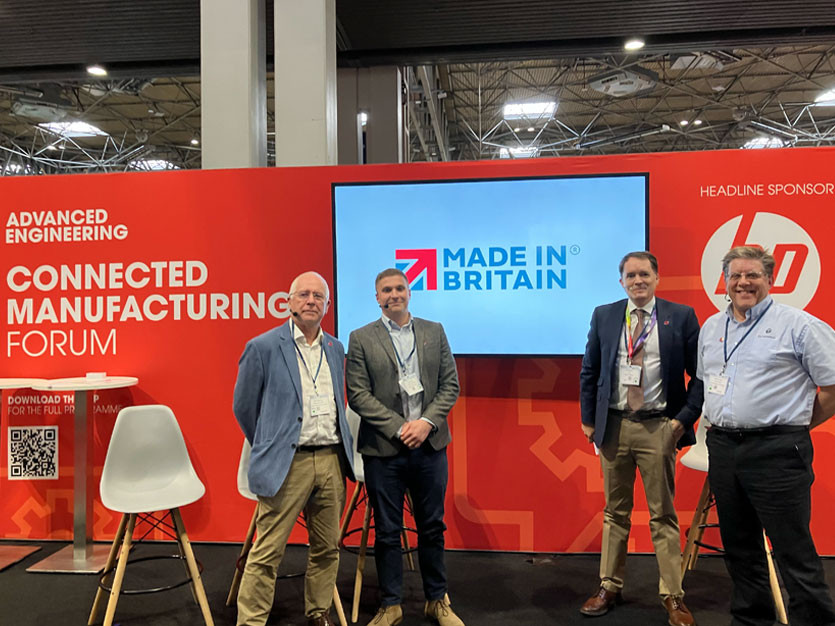 Made in Britain members, Adam Dalby, Managing Director at Brafe Engineering, Matthew Shaw, Head of Sales, R E Thompson and Peter Diamond, Managing Director, Pudsey Diamond Engineering made up the panel discussion at this year's Advanced Engineering event on Thursday, 3rd November at Birmingham NEC between 11.00 am – 11.30 am in the Connected Manufacturing Forum.
 
The must-attend event for the engineering and manufacturing supply chain brought together thousands of engineering professionals and cutting-edge exhibitors. 
 
The panel debate, entitled 'Innovation Nation: How British Engineering Firms are Leading the Way in Solutions & Sustainability', was moderated by Made in Britain CEO, John Pearce, to a diverse audience that grew to capacity through the session.

"It's crystal clear to me, hearing members first-hand accounts of coping with this very challenging year, that British manufacturers are more than ready to face the economic uncertainty and recruitment headaches they face, to emerge better, stronger and more competitive globally in the future."
The businesses represented on the Made in Britain panel are a microcosm of the breadth of the engineering sector. Brafe Engineering is a world-leading UK manufacturer of high-specification alloy castings with a wealth of material knowledge and engineering support. R E Thompson has over 70 years of experience providing complete manufacturing solutions to their customers, including design, CNC machining, assembly, and finishing. Pudsey Diamond Engineering is a UK-based manufacturer of quality engineering solutions including lighting columns and brackets, traffic bollards, and street scene furniture.
Whether it is innovative sustainability solutions emerging from interactions with production staff or moving your business towards digital production and data-driven analysis, our members are finding innovations and improvements to make sure British manufacturing remains competitive and attractive in the future.
Keep up to date with Made in Britain events, panels and workshops on the Member events page.