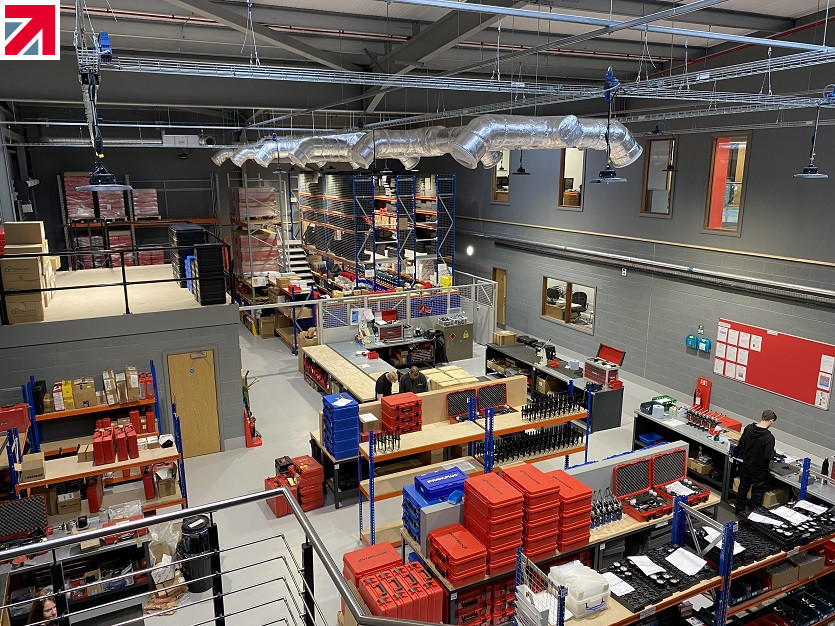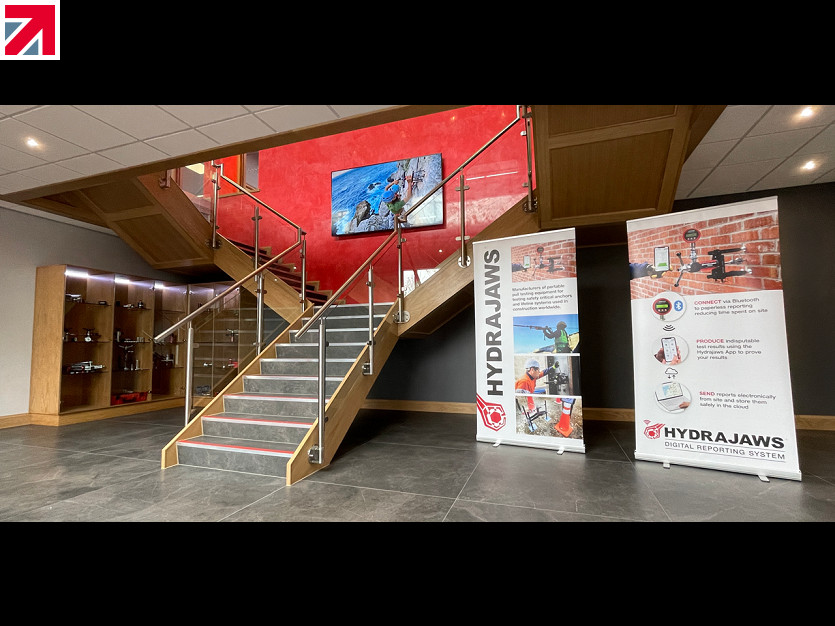 Hydrajaws Ltd, the world's largest and most trusted manufacturer of hydraulic pull testers for load testing anchors and fixings, has relocated its global headquarters to Tamworth in Staffordshire. High demand for its product range has driven continuous growth in the business, now requiring additional capacity which could not be contained in its previous premises. Twenty-nine staff now occupy the new HQ in Tamworth, substantial growth from the original three employees in the 1980s.
The new HQ building covers 20,000 sq. ft. on a brownfield site in Kettlebrook Road, Tamworth, houses Hydrajaws' manufacturing, distribution, sales and marketing, training and service operations. Exports have grown significantly across the decades, the business now supplying over 70 countries and across all continents around the globe with distributors in the US, Australia and Continental Europe. A network of global service agents and field support teams offers comprehensive customer support. The company also supplies several large OEMs in the anchors and fixings sector, its comprehensive range of equipment working on several major construction projects, most recently Crossrail and now HS2.
The new building has been designed to incorporate high standards of efficiency using the latest materials, energy (including solar panels), water conservation measures and a major investment in its IT infrastructure. Anticipating growth in electric car usage, charging points for staff and visitors have also been included in the building specification.
Hydrajaws' first tester was prototyped in 1985 and has been manufactured and developed since 1986 by this family-run business, founded by Chairman Royston Morgan. Significant developments have taken place over the decades and not only to the base design, now with a capacity of 25kN. Added to the range has been a wide range of adapters and accessories for fixing types from proprietary manufacturers plus additional products for specialised testing, delivering up to 500kN. The full range enables the testing of a simple plastic plug through to M36 heavy-duty construction anchors. An important facet of the business is the testing of scaffolding anchor points where any potential for failure can have catastrophic consequences.
Since 2014, Hydrajaws has taken the lead in the digital world, being first to introduce a sophisticated app where testing can be carried out and the results immediately shared live to a mobile platform or laptop anywhere in the world. Digital reports include date, time, and GPS location, graphs showing the duration of the test and pass or fail result plus notes and photos taken on site. The app is covered by a comprehensive US patent.
The business began manufacture of its tester in 500 sq. ft. premises in Birmingham in 1986 and has expanded through four separate premises over the ensuing 35 years. The introduction of Health and Safety legislation provided a considerable growth opportunity across the world – the company worked closely with the HSE and the British and European standards organisations on safety cases during the development of the legislation.
Adrian Morgan, CEO (and son of Chairman Royston Morgan) said: 'In today's world of high safety awareness, Hydrajaws is proud to have led the way in testing equipment and techniques that have the potential to save lives across the world. Our products' high quality and robust nature have seen demand outgrow our supply capacity, hence our investment in a new HQ operation, helping to ensure continuity of supply and services to our customers. The all-new building not only future-proofs demand but also enables a more efficient and cost-effective flow for our manufacturing and distribution process plus the establishment of more comprehensive training, research and development, service, and testing facilities to serve our growing global customer base'.
Find out more about Hydrajaws Limited on their member profile page here