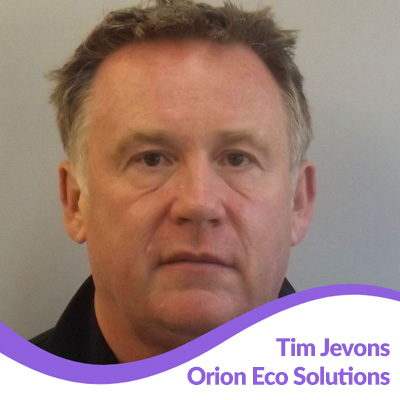 MADE in Britain member Orion Eco Solutions makes environmentally friendly anti-bacterial chemicals in Cheshire. It has joined the Green Growth Programme and Tim Jevons (left), OES's CEO tells us how it's going.
How integral do you see sustainable business practices to the future of your business?
Hugely. The industries we supply, demand that they work with sustainable companies. For instance, we now have our super concentrate bottles returned, re-washed and refilled and sent back out.
To what extent does your approach to sustainable business set you apart (in your sector)?
We offer a closed-loop system and as a result, we eliminate single-use plastic.
What are the advantages to doing business sustainably?
New clients approach you. Despite being a small company we are leading the way in our industry.
How have you engaged your team members/supply chain/other stakeholders around the Green Growth Programme, if at all?
All my customers are aware and we are adding to our website.
What advice would you give to Made in Britain members as they progress on their sustainability journeys?
Listen to your customers and markets and stay ahead of the demands that inevitably will follow.
If you would like your business to join the Green Growth Programme, the journey starts here: https://green.madeinbritain.org/
For more information about Orion Eco Solutions, see the company's member profile page here.