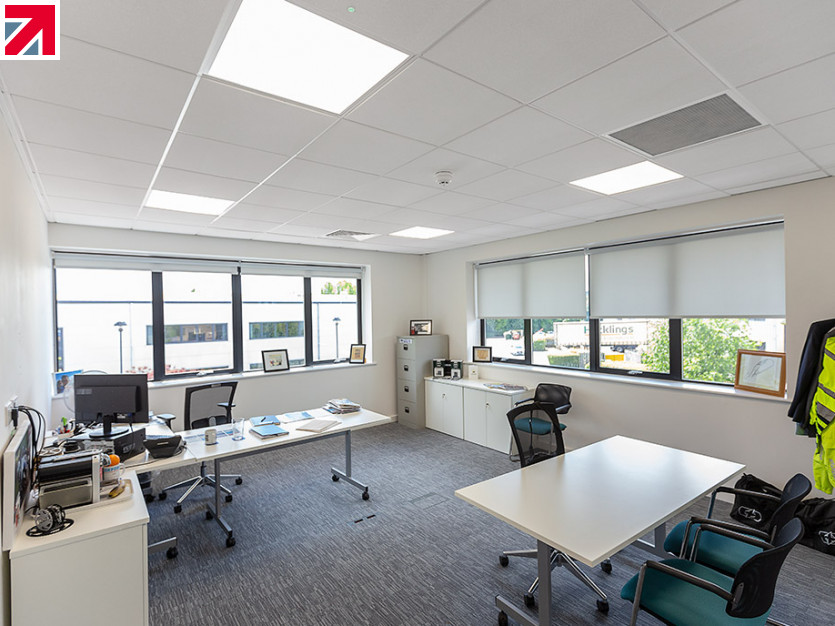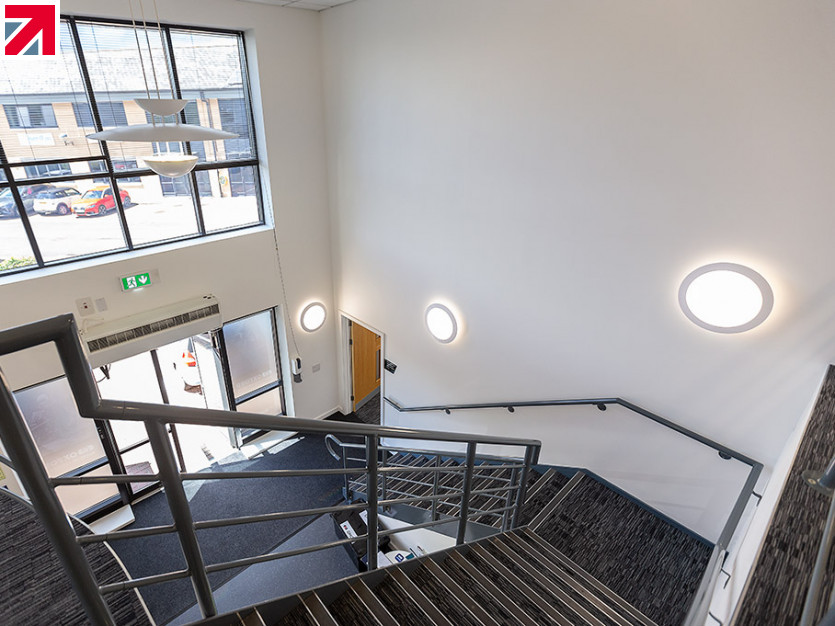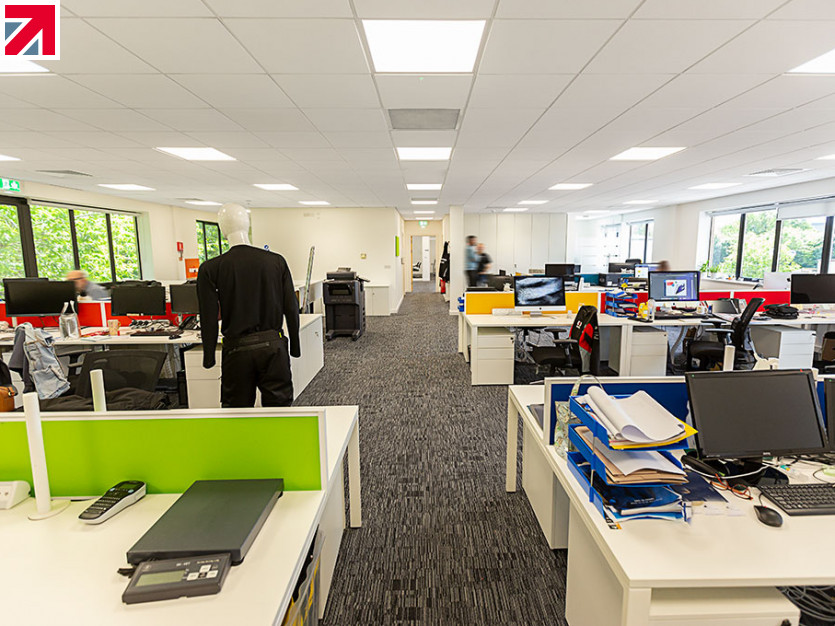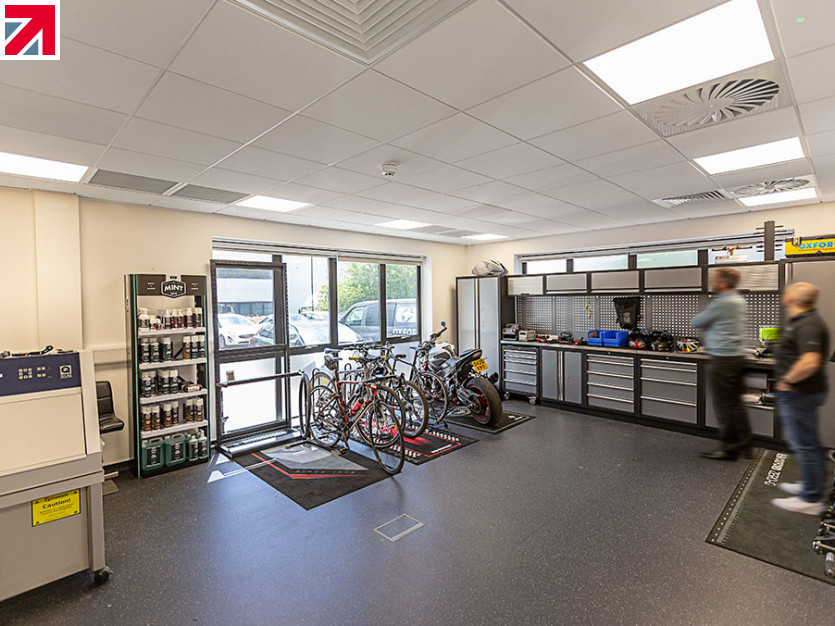 Oxford Products Ltd is a global leader in motorcycle and bicycle aftermarket products. These market-leading products are designed in-house by a team of active enthusiasts and skilled technicians, based at the company's 100,000 sq ft purpose-built headquarters in Oxfordshire, UK.
Its huge range of products encompasses everything which makes life on bikes better: from clothing and helmets to accessories, hard parts, locks and luggage.
This is backed up by the support of the latest CAD technology, a 3D printing suite and a fully equipped test laboratory. The company's products are available in over 80 countries worldwide through a network of distribution partners.
Due to expansion of the company's Research, Design & Development team, there was a requirement for a new premises. A two-storey office block was acquired on the adjacent trading estate to the main production facility which required refurbishment. Working with contractor Haysham Ltd, Dextra's design brief was to create a clean, simple and well lit office environment for the Research, Design & Development team to move in to. It was important for the building to look impressive as clients often tour the premises.
Energy saving was a factor in the renovation, and good energy savings were achieved over the existing lighting installation.
On this project, there was great synergy between Dextra Lighting & Oxford Products, as both are UK manufacturers who have been in operation for over four decades.
THE SOLUTION
The MOD EDGE UGR is manufactured with a TP(a) compliant microprism diffuser providing peace of mind that safety regulations are adhered to whilst allowing installation in applications where glare compliance to both BSEN12464 and UGR 19 are required. The MOD Edge UGR ensures compliance is complimented with flexibility with a wide range of lumen outputs, dimming and lithium emergency options.
Elsewhere in the building, Dextra's popular BTEC luminaire was also selected. The BTEC offers a premium quality downlight with high quality LEDs and drivers as well as excellent efficiency for a rapid return on investment.
With a spun aluminium housing and injection moulded cable retention, the BTEC Downlight provides a seamless single piece white aluminium reflector and bezel. The BTEC Downlight is available with all common dimming and lithium emergency variants as well as offering compatibility with our Reacta-Link system where web based control and reporting of luminaires is required, or Reacta-Dim where local wireless dimming and control is required.
Also used on this project was the Discalo. This luminaire provides an efficient yet decorative wall mounted solution with halo back light for applications ranging from corridors and receptions through to bars and restaurants. With 1500, 2000, 3000 and 4000 lumen output options, blue or white back light halos, integral lithium emergency offering extended lifetime and warranty as well as integral sensor options the Discalo LED is easily tailored to your needs both aesthetically and at a functional level.
"This was a quick turnaround project that arose for us and Dextra Lighting provided us with fantastic support throughout the entire process, from the initial site survey right through to the final collection of fittings to be recycled. We were quickly provided with all the design work and drawings required to secure the project, delivery of the fittings was prompt and on the day we were promised, and we were kept informed of everything throughout the process"
Adrian Reeve, Director of Haysham Ltd
The Amenity Exterior Grille also featured as part of the refurbishment on the outside of the building. The Amenity Exterior includes premium mid power LEDs offering excellent efficiency and longevity with a lifetime of L90 at 60,000 operating hours. Energy savings can be further enhanced with a selection of integral presence detection and bright out microwave sensors including on / off, bi level dimming and wireless variants allowing luminaires to be grouped for simultaneous operation.
Back inside, the AME2 was used for emergency lighting. The AME2 is an LED emergency bulk head luminaire incorporating lithium batteries for extended lifetime. With a white polycarbonate housing and clear polycarbonate diffuser the AME2 is both IP65 rated to protect from dust and water and able to withstand light impact.
Alongside this, Dextra's popular exit luminaire EXI3 was also specified. The EXI3 is a slim line polycarbonate emergency exit sign for surface mounting and rear cable entry and is available in both standard and self-test variants.
The luminaires used on this project were backed up with REA R43 sensors.
Find out more about Dextra Group plc on their member profile page here