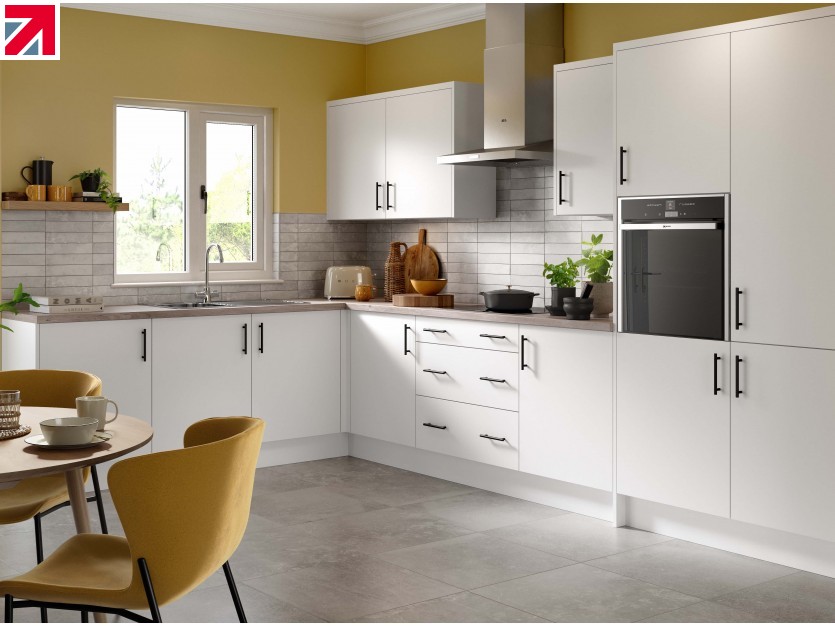 When planning and ordering a made to measure rigid kitchen, the team at Kitchen Kit want to make this process as easy as possible for you, so that it will save you time, effort and money. We have created a new tool that will make kitchens easy to choose, easy to buy and easy to build…it's our Kitchen Builder Tool!
By following the easy steps online, you can build, plan, order and install a kitchen quickly for your customer. With a fantastic tool to help plan your customers kitchen, plus all made to measure rigid kitchens despatched within 10 working days, your customer can have their dream kitchen quickly and efficiently. It also means that you can optimise your customers space to its best ability. So, how does the Kitchen Builder Tool work? Follow our simple steps:
1. Click on the following link: https://kitchenkit.co.uk/kitchen-builder/
2. Choose a style of kitchen: At this step of the process, you can choose the style of your customers kitchen from one of the following options: Galley, L Shaped or U Shaped.
3. Input the overall measurements and kitchen details: Next, you will put in the measurements of the kitchen in mm and add in any windows, white goods and sinks etc; into the plan. Our Kitchen Builder Tool will then recommend a kitchen layout for you.
4. Drag and drop to suit you and your customers preferences: In the drag and drop section, you can simply drag the cabinets that you would like in the kitchen and drop it in to the plan. The Kitchen Builder Tool will offer options of cabinets that will fit and show cabinets that won't fit in to the plan.
5. Choose the kitchen range: Now you can choose the kitchen range that you would like to go for from: J-Pull, Shaker or Slab. Once you have selected your kitchen range, you can then choose the colour and whether you want the kitchen to arrive flat-packed or rigid. You will also have the option to add on any additional accessories, such as worktops, upstands, edging, sinks and taps.
6. Get a real time price: At this stage, you will see a real time price of the kitchen that you have created. You can also view an itemised summary to ensure that you have everything that you need.
7. Save for later or add to cart: Now that you have created your customers dream kitchen, it's time to add to cart and checkout.
Did you know that you can sign up for a trade account for free today? By signing up, you will immediately receive 20% off all orders on Kitchen Kit. It's easy to sign up for a trade account here: https://kitchenkit.co.uk/open-account/
At Kitchen Kit, we pride ourselves in offering high quality products at great prices! With over 30 years of experience in the KBB industry, we have got your kitchen needs covered.
To view our full Kitchen Kit range online, please click here: https://kitchenkit.co.uk/
Have a question? Get in touch today with our fantastic customer service team: Email: customerservices@kitchenkit.co.uk
Tel: +44 (0) 1302 794 333
Find out more about Kitchen Kit UK on their member profile page here