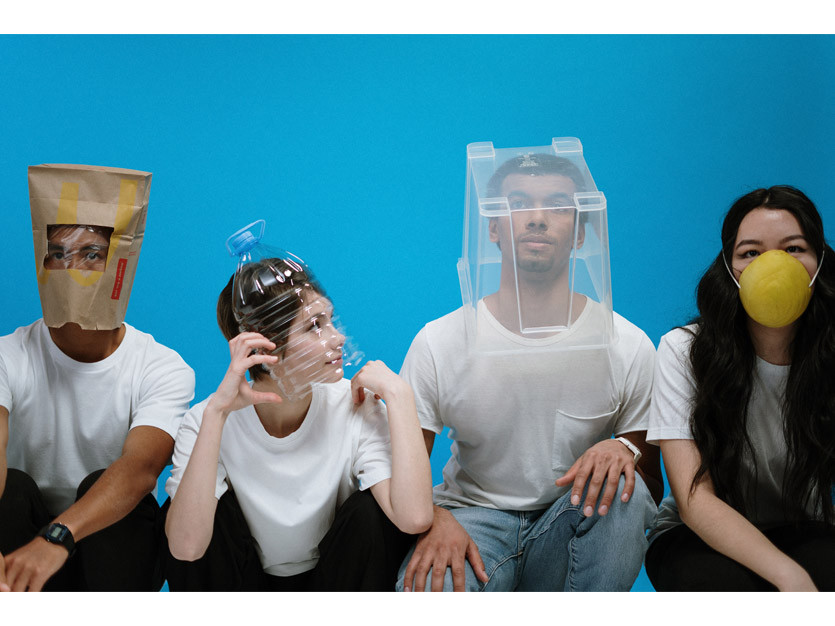 How Made in Britain members are already building the post-covid future. By Martyn Moore
WHATEVER the workplace looks like three months from now, you can bet it won't look like it did three months ago. I'm not saying we'll all be improvising PPE like those numpties in the photo but the 'new normal', as it's being called, will have to accommodate all kinds of new behaviours, mostly based around the need for social distancing.
There will be a need to repurpose and redesign buildings, as well as increase space as a result of the current global pandemic, according to a growing number of industry insights. This is highly likely to include the ongoing need to keep individual workers distanced from each other, an area that has not up until now been a necessary consideration in most manufacturing environments.
Where will businesses start to look for the environment-changing products they will need to meet these new demands for safety at work? The Made in Britain directory might be a good place to start.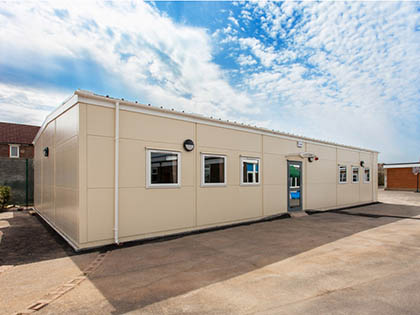 Among the many offers of help comes one from Hemsec, a Merseyside-based insulated panels manufacturer that supplies cold storage companies, but whose products have much wider applications. The Hemsec composite panels, both steel and timber faced, are an excellent way to quickly create a dry, temperature-stable extension on to a building with fewer civil engineering requirements.
Chris Griffin, commercial manager at Hemsec, said, "Whilst automation is going to increasingly develop not all processes can be automated. Manufacturing still requires humans to be part of the process including being physically on-site to run, maintain and repair machines, as well for those processes that a person still needs to do. Commercial teams and contractors will still need to come on-site from time to time as well as. This means space management is going to become part of our business continuity planning, not just a nice to have. In all of those areas where businesses have critical functions where people need to be involved, including customers, the distances between those people will now need to be reconsidered to plan for a business being able to continue working safely through any similar public health crises in the future."
Increasingly, organisations may require business continuity facilities and, in some sectors, emergency health centre/isolation rooms, but more than that many manufacturers may need to expand their buildings to accommodate the increased distancing mentioned above. One solution to this challenge might be the temporary structures offered by Made in Britain member the Mar-Key Group.
The Mar-Key Group designs, creates and manufactures temporary structures for event organisers and commercial clients. Its event business has taken a major hit this year, so the company is trying to find new markets and has seen an opportunity to solve the need-for-expansion problem.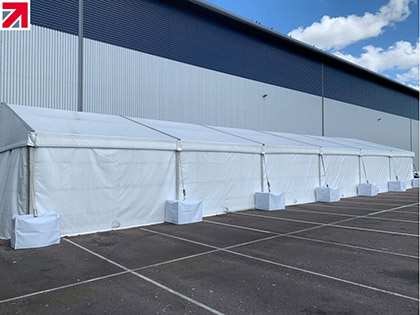 Hannah Field, sales and marketing manager at Mar-Key, said, "Having lost a considerable amount of income in the events side of our business, we are doing all we can to try to utilise our kit elsewhere. We can provide anything from temporary canteen extensions to semi-permanent warehouse space. The component nature of our structures means that they can be used for a whole range of social distancing requirements including staff rest areas, office extensions, temperature-checking marquees, customer queuing structures, site welfare structures, classroom extensions and temporary retail outlets."
Mar-Key says it is contactable 24 hours a day, seven days a week and it can have a structure installed in less than 24 hours.
Once you've built your additional workspace, you're going to need to furnish it. Permanent desk solutions can be expensive, so how about a desk made out of strong, structural cardboard? PALLITE® is famous for a lightweight, strong and recyclable product range that includes pallets, pallet boards, recyclable pallet feet and a range of collapsible pallet boxes. All offer a genuine alternative to wood and plastic. PALLITE® launched its pop-up desk (£25.99) during the height of the pandemic and its original target market was people being forced to work at home and set up a temporary office.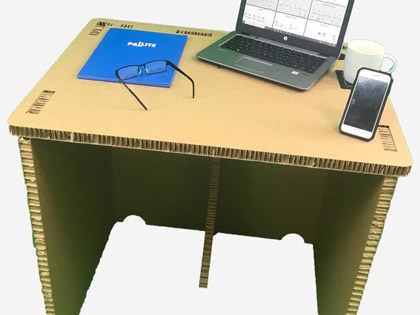 Matthew Marks, compliance and sustainability manager at PALLITE®, told Made in Britain, "The pop-up desks were a passion project for our team when we started to work from home. We wanted to see what we could prototype before offering to assist others who may have a lack of space or had to adapt suddenly in the current climate without sacrificing home space."
Now PALLITE®'s 'Distancing at Work' range includes screen partitions to segregate workers who may be on a factory line or manual assembly; sanitiser stations to ensure the workforce and visitors follow correct hand hygiene; table partitions to allow office workers to safely work at their own desk and permit the correct social distancing measures whilst in the canteen; silhouette screens to redirect foot traffic and further enforce distancing messaging.
All PALLITE®'s pop-up products are made from 100 per cent recyclable honeycomb paper and are supplied flat-packed. These highly customisable Distancing at Work products are lightweight and sturdy; they are the perfect solution to promote social distancing at work, shield employees and enforce the company's health and safety procedures.
Another great example of a Made in Britain member pivoting production is Roman Ltd, based in County Durham. Normally Roman is busy making shower enclosures but to help the business survive until the construction sector is back in action, the company has launched a range of desk and reception shields.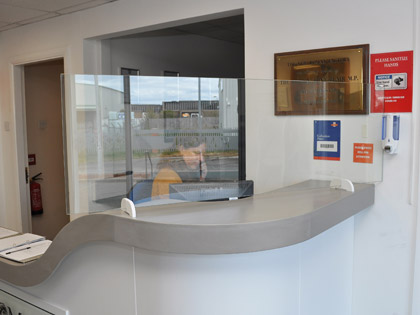 David Osborne, managing director of Roman, said, "In light of the current COVID-19 crisis, Roman is keen to help and support all customers in every way possible. The focus is firmly on helping customers get open again and trade safely. By designing and manufacturing these shields we are helping them to do that."
The desk shield (£120 including VAT and UK delivery) is 1470mm long and 755mm high to offer protection around a standard desk height and width. The reception shield (£100 including VAT and UK delivery) is designed for a raised reception desk and offers 1500mm length and 490mm height. Both products feature 6mm toughened safety glass to EN12150. The feet are precision CNC cut from 12mm Glacier White Corian sheet in the Roman fabrication plant – and have strong double-sided tape beneath them to hold them in place. They offer a tight fit around the glass and can be positioned to suit the installation prior to the tape being activated.
Companies that qualify for membership of Made in Britain have been quick to respond to the fast-changing needs of the government and the NHS. Members have been involved in the production of ventilators, respirators, face masks and visors. This website has tried hard to publicise the various calls for manufacturing support and tell members about the latest government announcements. Now it seems that Made in Britain members are helping each other, and the rest of UK plc, to adjust to the new normal.
Hemsec profile page | Mar-Key profile page | PALLITE® profile page | Roman profile page