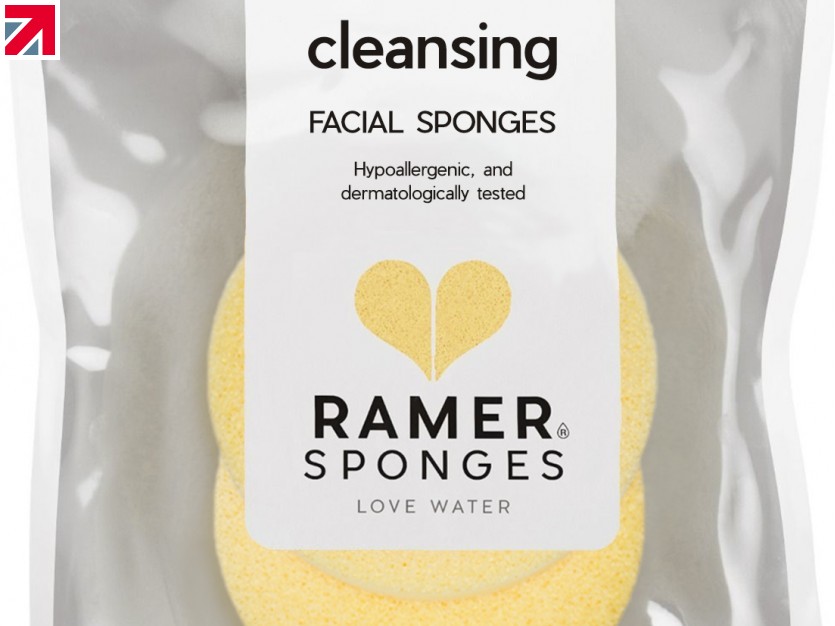 Ramer Sponges, the UK's leading producer of super-absorbent and super-soft sponge products, has announced the launch of its Facial Cleansing Sponges.
New for 2020, the Ramer Facial Cleansing Sponges (£3.25 RRP) have a soft and textured surface which gently cleanses and exfoliates the skin. Unlike other facial sponges, Ramer's innovative product features a slightly larger pore size which grips make-up residue and dirt when cleansing. Ideal for use after a night-out, or simply as part of your daily skincare routine, these sponges are easy to hold and so quick to use.
Online sales of UK beauty brands have soared over the past few months as customers sought to maintain their beauty and skincare routines at home subsequent to the closure of beauty salons. From March to April 2020 alone, the number of online beauty transactions rose a staggering 111%.
More make-up means more of a need to cleanse. Available in a handy twin pack in a mellow yellow colour, the reusable Ramer Facial Cleansing Sponges pair perfectly with an exfoliator to help unblock the pores, leaving your skin feeling fresh, glowing, deeply cleansed and radiant.
Many make-up wearers are drawn to disposable wet wipes to remove their make-up due to the quick and convenient nature of wipes. As tempting as they are, wet wipes are damaging to the environment as they contribute to the build-up of fatbergs in sewage systems and harm marine life when they end up in the sea. The Ramer Facial Cleansing Sponges offer a reusable alternative. After rinsing in warm water, the sponges can be left to dry. Like all Ramer Sponges products, the sponges will harden as they dry, helping to prevent the growth of bacteria, and will instantly soften when soaked in warm water and be ready to re-use again.
These top beauty performers are super-soft, non-scratchy, hypoallergenic, ideal for sensitive skin and machine washable at 40o C so you won't have to keep replacing them.
Paul Lloyd-Smith, Managing Director at Ramer Sponges, commented: "We are delighted to announce the launch of the new Ramer Facial Cleansing Sponges. After the successful launch of our Cleansing Shammy for Sensitive Skin in 2018, the next step for us was to develop a facial product that featured an open texture for deep cleansing and make-up removal."
Paul continued: "The Ramer Facial Cleansing Sponges paired with our Cleansing Shammy will deliver perfect double cleansing everytime. Use the Cleansing Shammy first to remove make-up and follow this with your favourite exfoliator, using the Facial Cleansing Sponges to really work that exfoliator into the skin to unblock the pores and leave skin feeling squeaky clean."
Find out more about Ramer Ltd on their member profile page here