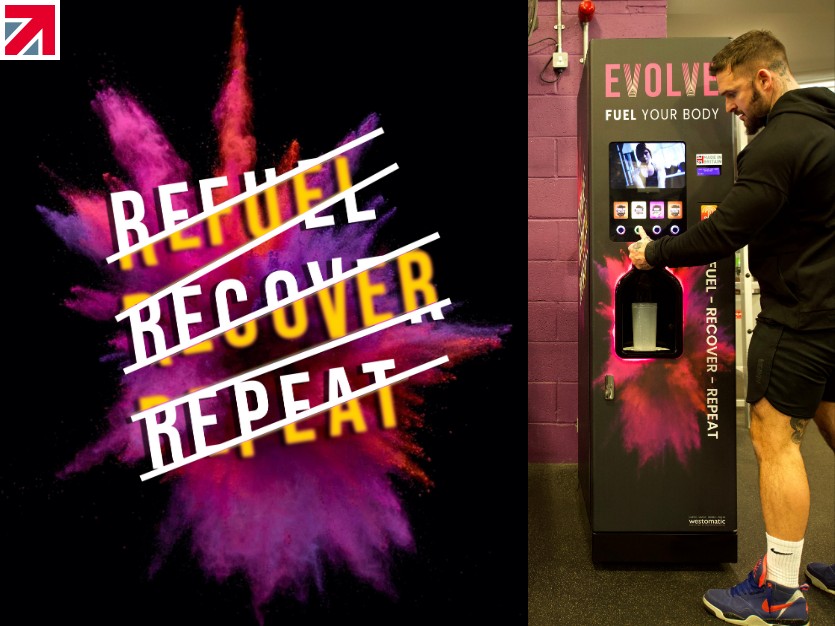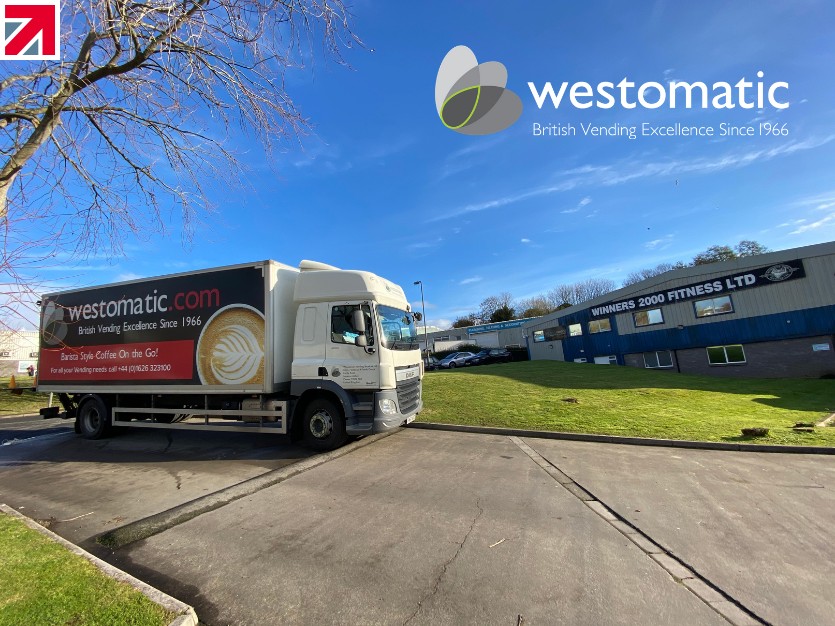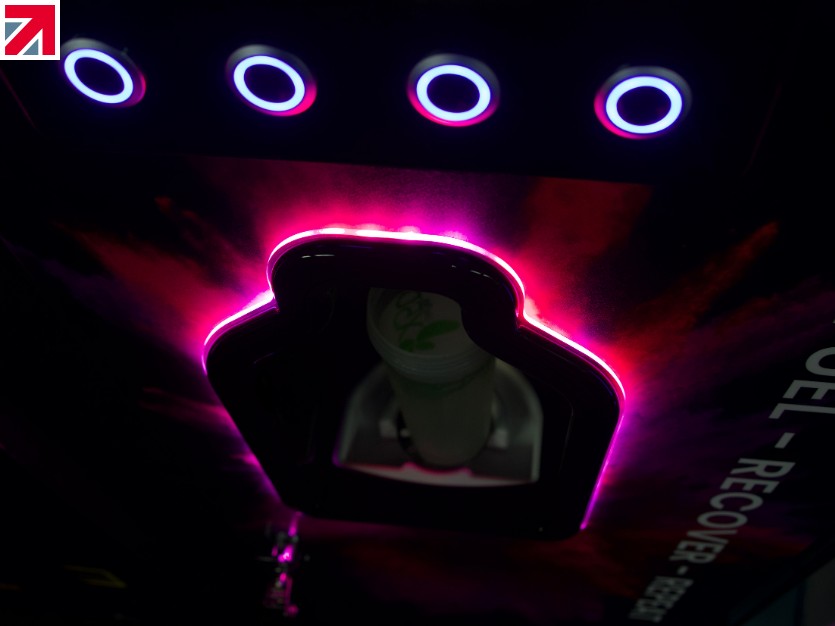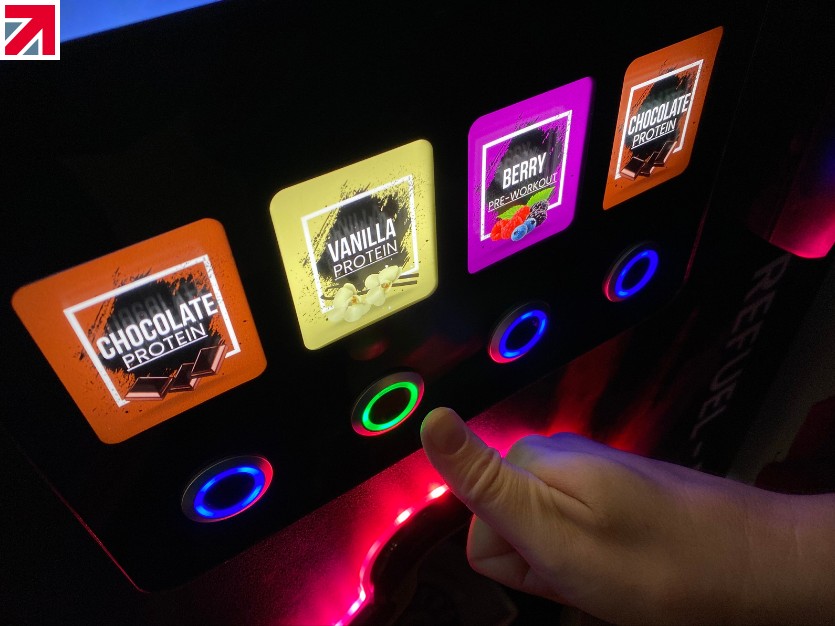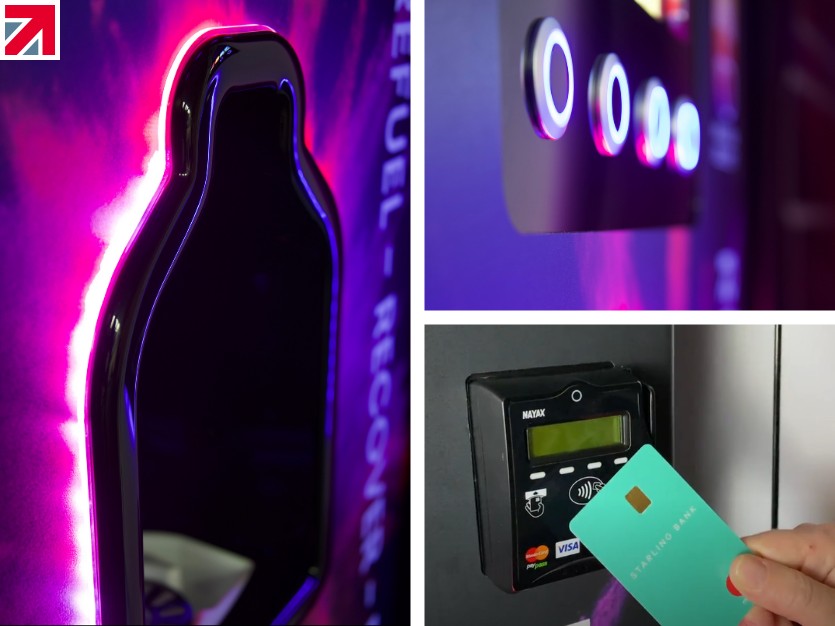 Newton Abbot-based manufacturer, Westomatic, has successfully launched a completely contactless dispenser for sports nutrition drinks – the first known machine of its kind in the world.
The machine has been launched after a successful trial at Winners Gym in Paignton in December 2020, arranged and installed by South West Vending.
Equipped with contactless Hover Select technology, gym-goers, fitness fanatics and elite athletes alike have no need to touch the EVOLVE. From selecting a drink to cashless payment and dispensing, there are zero physical touchpoints.
The first-of-its-kind machine can dispense up to four flavours of sports nutrition drinks, and is also compatible with almost all forms of powdered or granulated supplements, including Protein, Branched-Chain Amino Acid (BCAA), Pre-Workout, Thermogenic, Electrolytes, Meal Replacement and Weight Loss Powders.
The dispenser can also dispense a mixture of different supplements instead of four different flavours of a single product. For example, you could dispense Pre-Workout, Protein, BCAA and Electrolyte drinks from the same EVOLVE machine.
Because each flavour or type of supplement has its own canister, all delivered through separate pipes and nozzles, the EVOLVE can even offer customers a vegan option whilst ensuring the drink will be completely free from contamination with dairy-containing products.
View the Evolve Introduction video here.
Designed to be used with a refillable bottle or 'shaker' only, the EVOLVE is eco-friendly, reducing the impact on the environment by eradicating the need for single-use plastic bottles or cups.
Just 50 dispenses a day will remove over 18,000 single-use plastic bottles from the environment every year. For a large gym group with 200 sites, this could prevent up to 3.6m single-use plastic bottles being sent to landfill, incinerated, or ending up in the ocean.
A flash cooler also ensures it is energy efficient and has a small carbon footprint.
Katherine Brinsley, a Personal Trainer and Westomatic's in-house project manager for the development of the EVOLVE, said: "I have trained people and worked out in gyms all over the world, and I have never seen anything like this. I am never without a shaker bottle – in my car, bag or at work. But when I leave the house, I nearly always forget to fill it.
So being able to dispense chilled nutritional drinks at the gym or on the move, whilst saving the planet at the same time, is a winner."
Helen Martin, Marketing Executive for Westomatic said: "We knew there was demand for a dispenser like this: a machine with a small footprint, that was eco-friendly, which could dispense different types of sports supplement drinks – without a customer ever having to touch it.
It ticks all the boxes to shake up the market. It is the future of on-the-move sports nutrition, today."
The free-standing EVOLVE has been specifically designed and developed with gyms, leisure centres and elite training facilities in mind. It has a slimline frame, making it easy to install even in places where floor space is tight due to COVID-19 safety measures and social distancing.
A 12" media screen, which can be used to display gym class timetables, membership information or offers. It can also be used to create an extra revenue stream by selling advertising space to brands and businesses.
The EVOLVE is the second eco-friendly dispenser that Westomatic has launched in the last six months, having launched a water refill dispenser – the Hydration Station – in August last year.
About Westomatic: Founded in 1966, Westomatic has been flying the flag for British manufacturing for over half-a-century. As well as the EVOLVE and its sister machine, the Hydration Station, Westomatic designs and manufactures vending machines at its Newton Abbot manufacturing plant.
For more information, please contact the team on +44 (0)1626 323100 or sales@westomatic.com.
Visit our website to find out more or download a brochure
Find out more about Westomatic Vending Services Ltd on their member profile page here