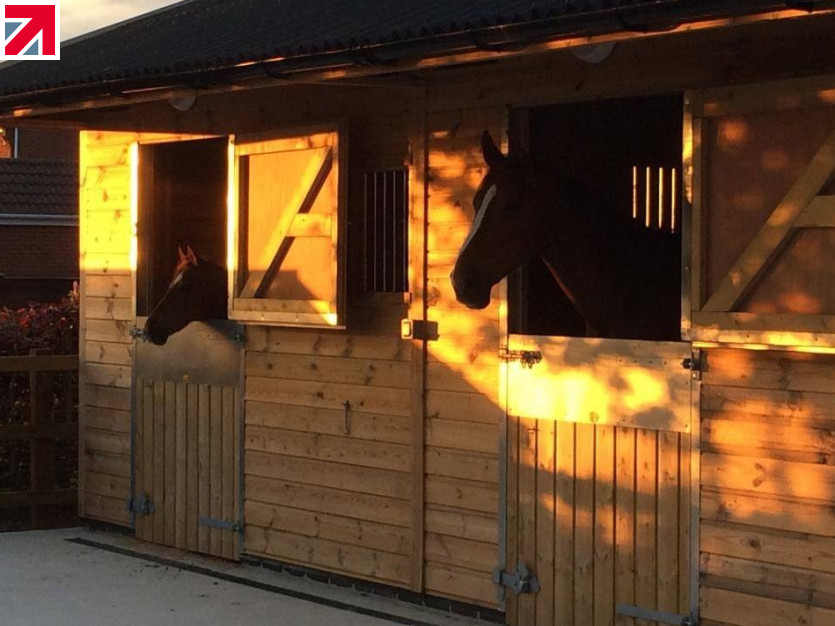 Stable blocks
If you are looking for superior equestrian stable blocks or a fully functional livery yard that is complete with a bespoke design and fast, professional installation, National Timber Buildings can help. As a household name in stables, we have four ranges of hand-crafted stables for you to choose from – the Novice Range, National Range, Grand National Range, and Cheltenham Gold Range. All our stable blocks are designed and manufactured to order in house, using Tanalised® wood and other high-quality materials and finishes.
Why choose a stable block from National Timber Buildings?
Whether you own one, two, or a whole string of horses, you will want your beloved equine friend(s) to be housed in the best of the best stables. Just like us, horses need to be safe, warm, secure, comfortable, and relaxed when they are not out enjoying fresh air and exercise. If there is one thing our 40+ years in the stables and timber buildings business has taught us, it is how to design and custom build the perfect stable blocks for a customer's requirements.
We are a family-run company who specialise in designing, manufacturing, and installing a selection of high-quality equestrian buildings, including stable blocks. Our passion for delivering quality products and excellent service is at the heart of everything we do, and is reflected in the respected reputation we have built in the equestrian building arena.
Quality materials
Materials matter when constructing outbuildings, not just so they withstand the elements and remain robust for years to come, but also from an aesthetical point of view. At National Timber Buildings, we design and manufacture all our timber structures in house and use high quality, fully tanalised wood for longevity. The tanalising process ensures the timber will be resistant to fungus and insect infestations. All our wood is sustainably sourced and is fifth graded or better, meaning it is of the very highest quality and will be able to stand the test of time.
Professional in-house designers and first-class design process
Our dedicated design team create stable blocks that blend seamlessly into their surrounding environment and complement any existing structures. As a natural material, wood will bring balance and warmth to the interior of a structure, while the exterior will be at home amongst its natural surroundings. Our experienced team will work through our proven design process with customers to create a stable block that meets all their requirements. Choosing a stable block that works for both horse and horse owner is crucial. Horses will want to be kept comfortable and calm whilst stabled, and horse owners will benefit from facilities that accommodate their routine. Owning a horse is time consuming, so perfecting the design layout will ensure everything is easily accessible and, inevitably, it will save a lot of time when visiting the stable block.
Professional build and quality installation
When the time comes to manufacture and erect your horse stable, it is worth getting this done by an expert. Other than mobile buildings, which you can opt to self-erect, our prices include installation, so you do not have to worry about installation at all. National Timber Buildings have been using traditional construction methods for decades to create beautiful bespoke stables and other wooden outbuildings. Having a professional install your stable will make all the difference and is worth the extra cost. Compared to the 30+ years that your stables will last when installed correctly, the cost is negligible.
Novice Range stable blocks
Our Novice Range is ideal for smaller horses (up to 16 hands) and is popular option for a first stable.
National Range stable blocks
Our National Range is suitable for horses that are up to 16 hands. This stable block tends to be the choice for non-professionals who are nonetheless well established in the equestrian world.
Grand National Range stable blocks
Our Grand National Range is suitable for horses over 18 hands and is popular amongst horse owners who need to thinking about training and caring for multiple horses.
Cheltenham Gold Range stable blocks
Our Cheltenham Gold Range is one of the best on the market. If you are a professional user that wants to enjoy quality time using your yard, with little maintenance needed, this range is for you.
What is the life expectancy of stable blocks?
Our handcrafted and custom-made stable blocks will not only go the distance, but their timeless appeal may even add value to your property or estate/yard. We can't speak for anyone else, but we can assure you that, if well cared for, the stables and timber buildings we design and craft will last you a lifetime.
For more information on National Timber Buildings products and service including the full specifications for each stable type, please visit our member page. Alternatively, head straight to our website.
Find out more about National Timber Buildings on their member profile page here