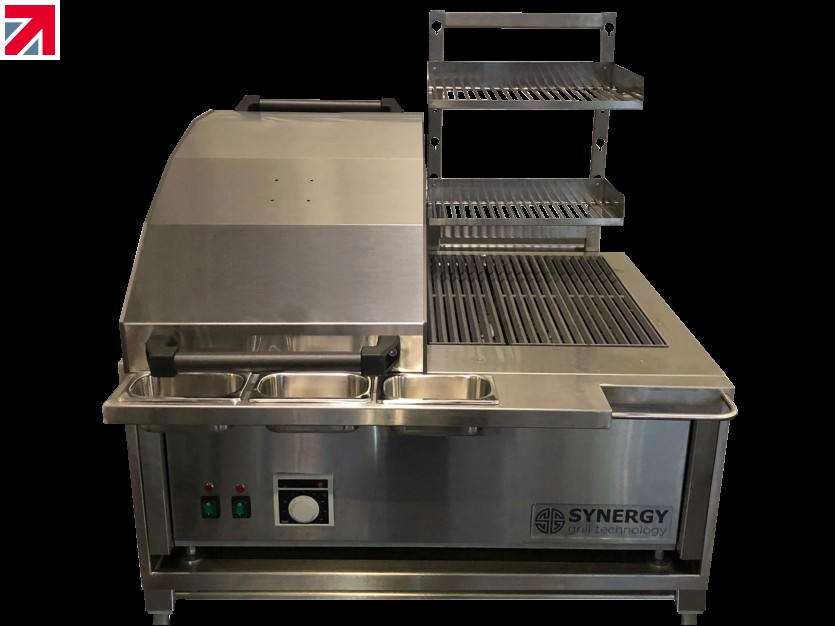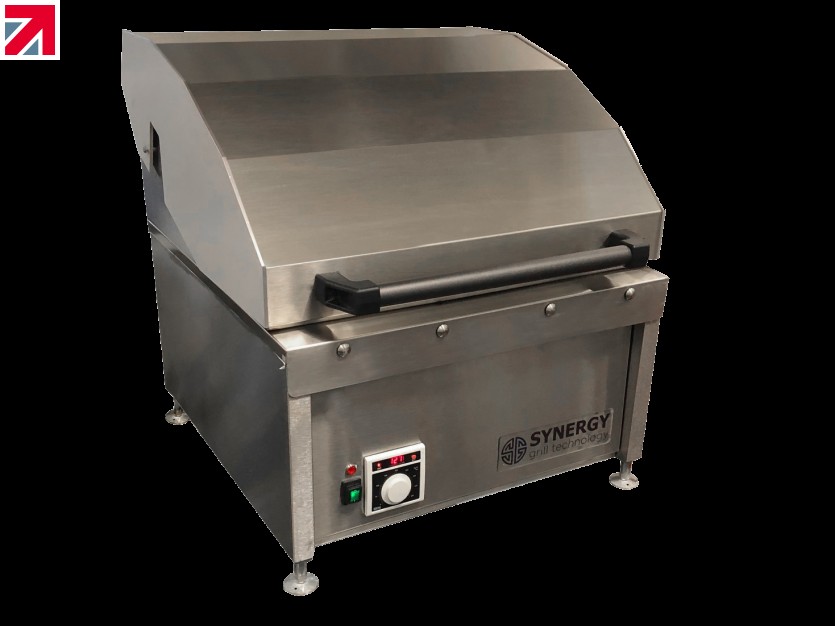 Synergy Grill launch world's first Chargrill Oven

Synergy Grill Technology has once again raised the bar for commercial cooking by developing a best of both worlds cooking solution: the Chargrill Oven.
Manufactured with great secrecy and skill at Synergy's Cambridgeshire-based factory, the Synergy Chargrill Oven combines the same revolutionary features of the brands' award-winning grill with the most desired features of a commercial oven. The Synergy Chargrill Oven is the perfect solution for operators that are looking to expand their menus from a single unit as Richard Ebbs, Commercial & Marketing Director at Synergy Grill Technology enthuses:
"Menu versatility and shrinking kitchens are two of the most prominent trends that are shaping the foodservice arena at the moment – trends which can be ticked off the checklist when an operator invests in a Synergy Chargrill Oven
From perfectly crisp pizzas and bread, right through to succulent veggies, burgers and whole roast chickens, the best-of-both Synergy Chargrill Oven is able to steam/smoke/slow-cook/grill any desired food item to perfection in an exceptionally energy-efficient way, within a single unit."
Pitched as a perfect alternative to gas and coal-guzzling chargrills and charcoal ovens, Synergy's Chargrill Oven requires no charcoal and uses up to 72% less gas than a standard chargrill. This is thanks to the product's unique lid and temperature control, which together, work to safely keep heat within the cavity of the chargrill oven like no other.
This efficient retention of heat also allows operators to significantly slash their cooking times. In fact, so efficient is the Synergy Chargrill Oven that it can cook many products in half the time of a standard chargrill which of course allows operators to drastically improve their food turnaround. Furthermore, Synergy's Chargrill Oven features a unique temperature control which allows chefs to maintain their desired cooking temperature within a few degrees.
This multitude of exciting new features work perfectly alongside Synergy's revolutionary atomising technology as invented by Justin Cadbury, Chairman of Synergy Grill Technology, back in 2001, as he explains:

"By incorporating our patented, fat-atomising technology into Synergy's Chargrill Oven, operators will not only be able to expand their menus, reduce their energy consumption and speed up cooking times, but they will also be able to improve food quality like no other.

This is because Synergy's fat atomising technology ensures that any moisture that is initially lost from the food, is gently penetrated back into the food for a perfect texture and taste. This atomisation process also completely eradicates the need for a fat tray, and therefore, removes the historically strenuous task of cleaning, along with the environmentally damaging disposal of waste fat. This is a serious uplift to restaurant cooking technology that represents the future of commercial kitchens."

As an advocate for sustainable kitchens, Justin Cadbury sees Synergy's Chargrill Oven as the next green step for the Carbon Trust Accredited brand:
"The R&D team worked closely with top level executives to make sure that this very significant financial commitment over the last two years would work effectively to bring the massive restaurant/chef benefits. On top of ensuring caterers can operate cleaner kitchen environments, retrieve further massive energy savings and expand menu profiles through mixed chargrill & oven capabilities, the Synergy Chargrill Oven also allows operators to share in Synergy's strong, environmentally responsible stance – a stance that operators can feel proud to be standing side-by-side with when investing in this ultra-sustainable new product."
As part of Synergy's thorough R&D programme, a leading foodservice operator trialled the Synergy Chargrill Oven. By doing this, Synergy were able to ensure that the many stated efficiencies of the Synergy Chargrill Oven actually lived up to operator expectations – expectations which were not only met, but exceeded as proven by subsequent talks of replacing their current chargrill with a complete chain-wide roll out of Synergy Chargrill Ovens.
Those that are looking for an exclusive first look at the Synergy's name-pending Chargrill Oven are invited to Synergy Grill Technology's HRC stand P210 (3rd-5th March 2020, London, ExCeL) where this highly-anticipated product officially be launched.

For further information on the Synergy, visit www.synergygrill.com call 01480 811000 or email info@synergygrill.com

Connect with Synergy Grill Technology on social media @synergygrill #LikeNoOther
Find out more about Synergy Grill on their member profile page here