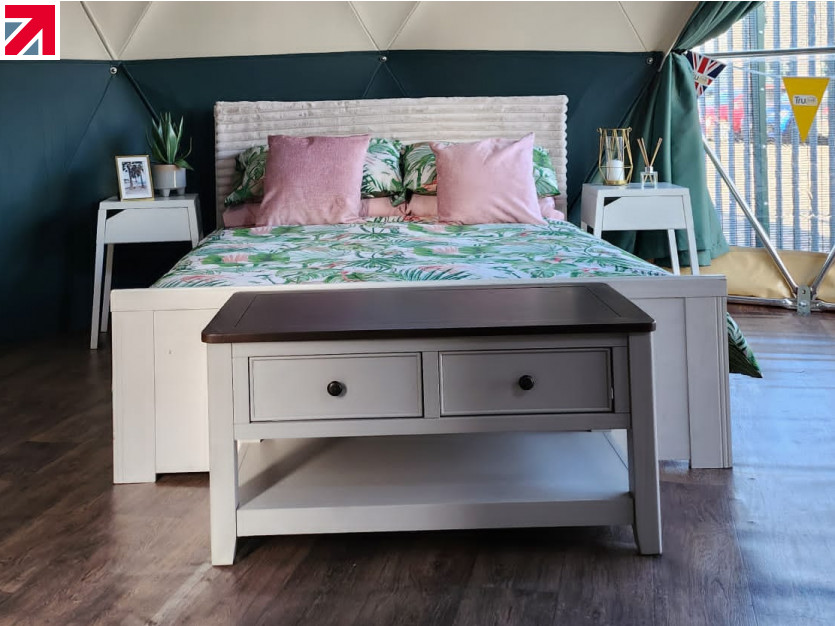 British dome manufacturer, TruDomes, has launched its first permanent showdome which is now open for viewing at the company's head office in Nuneaton.
Available to view by appointment, the furnished dome showcases the company's market-leading manufacturing quality and superior standard features alongside some of the many optional extras which are available to create a bespoke glamping experience. Its geodesic design includes a lightweight yet robust frame made from aircraft-grade aluminium which provides rust-free durability and easy transportation.
TruDomes Director, Kelda Bassett, said:
"Opening our first permanent showdome is a significant step for TruDomes. We have created showdomes at various glamping trade shows and they have always received exceptionally positive feedback, particularly with regard to our investment in material quality. In a competitive market, our domes stand out for their longevity and ability to handle challenging conditions with all-weather performance. That difference is made possible by manufacturing all our domes at our factory in Nuneaton – unlike many competitors, which import inferior products and materials, we design everything in-house and apply rigorous quality control which is reflected in the showdome."
Featuring a lacquered finish and triple-layered insulation, the showdome's hard-wearing 650 g/m² PVC shell is designed for extreme weather with resistance to temperatures as low as -40 degrees C and as high as 70 degrees C. Manufactured from 100% recyclable aluminium, the metal with the lowest carbon footprint, the frame is designed to withstand high wind speeds and heavy snowloads for winter conditions and colder climates. TruDomes' signature panoramic window section maximises the view out and includes blackout-lined curtains, one of a wide range of upgrades available to enhance luxury and comfort.
TruDomes Sales Manager, Louise Stone, said:
"TruDomes' ability to customise is another difference which is being illustrated within our new showdome. It displays various optional extras, including the increasingly popular wood burning stove which many UK glamping sites are utilising to facilitate year-round bookings and increase their nightly yield."
Glamping businesses are invited to contact TruDomes to arrange an appointment to view the showdome.
Find out more about TruDomes on their member profile page here