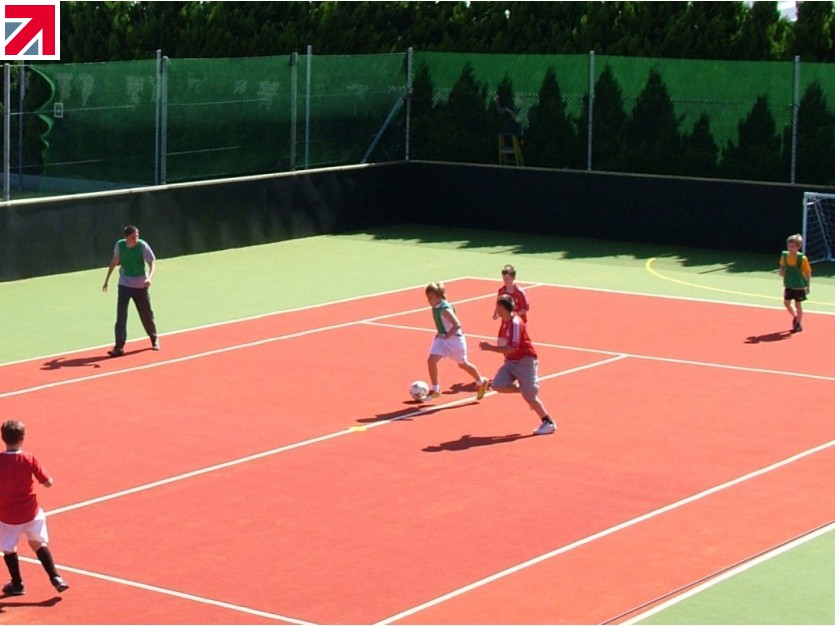 What is a MUGA Pitch? MUGA is an acronym for Multi-Use Games Area. Just as the name suggests, these types of pitches are suitable for multiple sports that can all take place on the same pitch.

Multi-Use Games Areas have been popular for a number of years, in the shape of macadam surfacing suitable for various sports, including tennis, basketball and netball. Multi-Use Games Areas are a very cost-effective way for leisure clubs and sports teams to create a surface that can be used for multiple sports all on the same pitch.

For MUGA installations, here at Playrite, we offer 4 surface options. Tufted surfaces with a high pile are best for football and rugby, as they accurately recreate the feeling of a natural grass surface. However, for small ball sports such as hockey and tennis, a needle punch surface is more appropriate.
What about colours?
Many tufted type surfaces are restricted in colour such as terracotta, green and blue. Our needle-punch surfaces are readily available in over 12 colours and if the facility requires a specific Pantone colour this also can be considered.
How do I maintain my MUGA pitch?
Artificial surfaces are cheaper to maintain than natural grass pitches, but you should still consider how you will manage the upkeep of the pitch and choose a surface that you can realistically manage to maintain. We can advise you on the type and level of maintenance required for each of our surfaces.
Why you should choose a Playrite MUGA Pitch:
Versatile and hard-wearing.
Manufactured in a range of fibre options to suit.
Available in a range of colours.
All meet EN15330 standards.Meet various governing body accreditations.
CAD visualisation of pitch and line markings available.
Optional shock pads are available.

Our MUGA Pitch solutions have been installed in a number of schools and sports clubs up and down the country as well as exported for use abroad.
So, contact us today.
Find out more about Playrite on their member profile page here