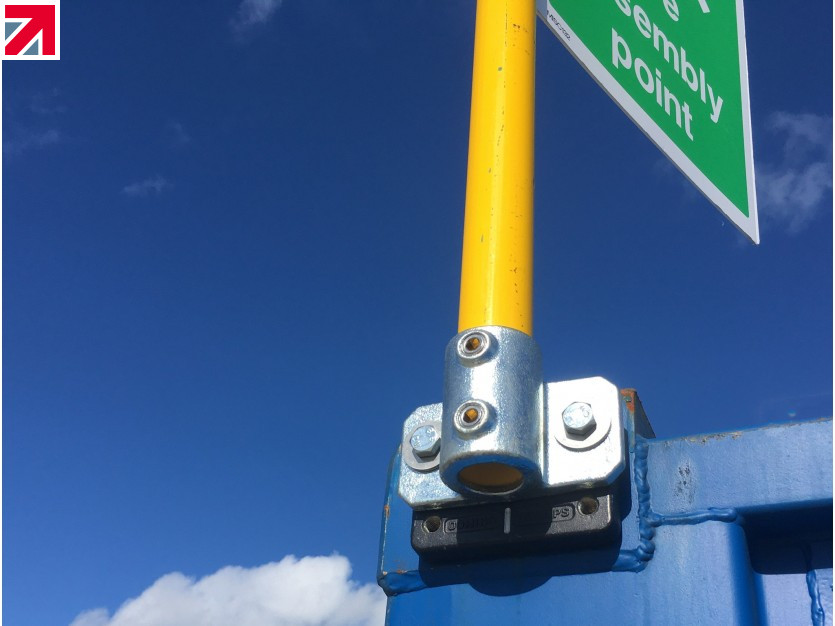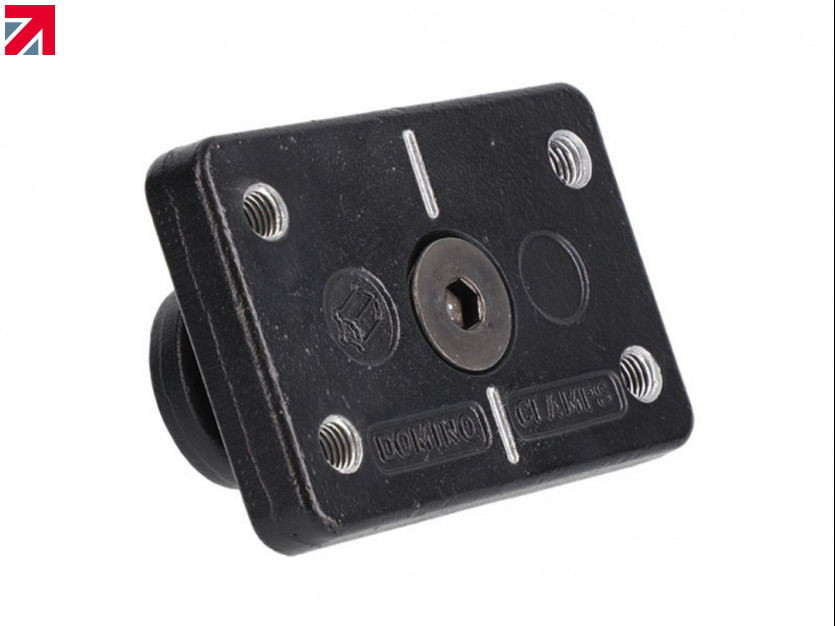 Domino Clamps - The smartest way to attach almost anything to shipping containers.
Signage is so important in the workplace that it is mandated by law; here in the UK there are rules concerning signage laid out in the Health and Safety (Safety Signs and Signals) Regulations 1966.
Our sign post kit allows you to quickly attach 48mm tube-mounted signage to a shipping container without the need to drill into the container causing permanent damage. So in places where there are shipping containers, let's see why it might make sense to attach the signs you need directly to the container using Domino Clamps.
SAFETY
Employers must provide safety signs if there is a significant risk that can't be avoided or controlled in any other way, for this reason health and safety signs are everywhere on construction sites. From prohibition signs like "No Unauthorised Entry" to warning signs like "Danger High Voltage", they are required to ensure employees, contractors and visitors are aware about the hazards they need to look out for.
With your signage attached to the top corner of a shipping container there are no additional trip hazards or obstructions to pedestrian or vehicular traffic.
INFORMATION
It's not just about meeting health and safety requirements; clear signage indicates important information like congregation points, the location of the site manager's office or social distancing requirements and can also benefit from being mounted at height.
Attaching signage above the shipping container ensures good visibility during the day, and to make the most of the structure you could even use in combination with one of our flood light brackets on the same scaffold pole to illuminate the area at night.
EVENTS
With a variety of uses ranging from first aid stations and public conveniences to food stalls and bars and sometimes, even part of the stage itself. Along with being convenient for attaching stage lighting or festoon, shipping containers make a great base for mounting signage.
Showing attendees where amenities and different sections of the event are located is essential for both the organisers and those taking part in the event.
A full size banner or some cladding covering the side of a shipping container that's being used for storage can be dual purpose; you can use the space to promote your social media platforms or businesses taking part in the event whilst also disguising the shipping container.
Whatever the reason for your signage, you can attach it quickly and easily to a shipping container with just a few hand tools, great for events where generally everything needs to be set up and broken down promptly. And best of all, there is no drilling, no welding and no damage to the container, making it perfect for containers that move from location to location or are rented in.
For more information regarding Domino Clamps or to discuss specific requirements please email hello@dominoclamps.com
Happy Clamping!
Find out more about Domino Clamps on their member profile page here