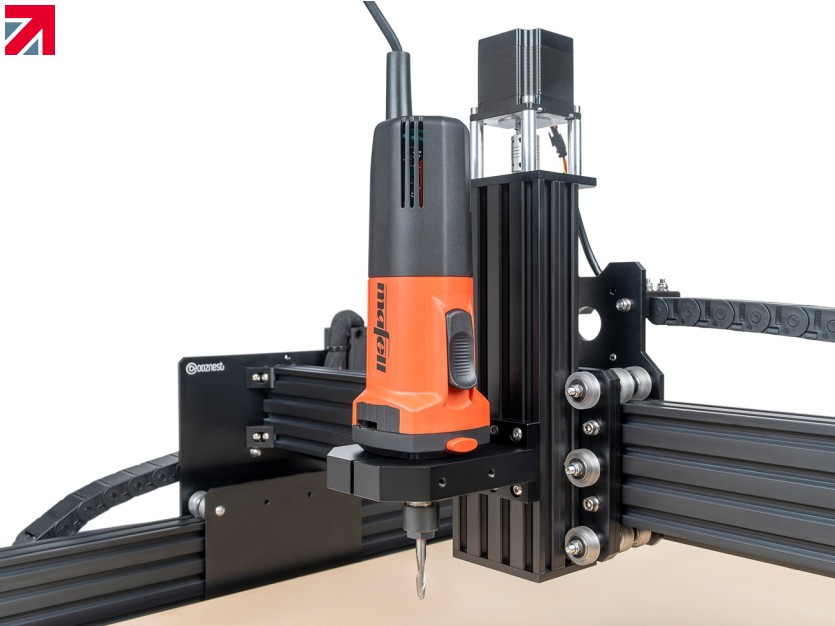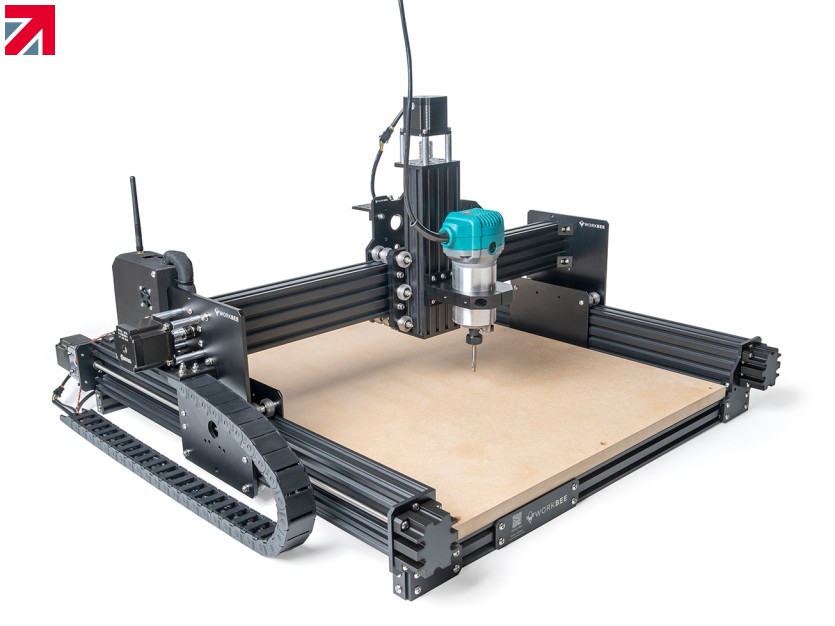 Ooznest has taken its popular WorkBee CNC Machine up a gear with the new and improved WorkBee Z1+, adding upgraded features of mechanics, power and safety, giving improved performance and productivity to Hobbyists, Makers, Businesses and Classrooms everywhere!
About The WorkBee Z1+
The Original WorkBee Z1+ CNC Machine sets the new standard for what to expect from a full CNC Machine Kit that doesn't break the bank. It has the ability to cut, carve and engrave with ease, a WorkBee Z1+ allows users to manufacture their ideas, they can make engineering parts, signs, toys, furniture and more…
Key features
Large work area – capable of cutting up to 4' x 4' (8' x 4' using tiling functions).
X, Y & Z-Axis unique Lead screw drive system – achieves 0.1mm accuracy or greater.
Onboard toolpath file storage – for wireless machining over Wifi. Control the WorkBee from a computer, tablet or phone. Direct to computer Ethernet version available.
Range of sizes to suit everyone – 500x500mm, 750x750mm, 750x1000mm, 1000x1000mm, 1000x1500mm and 1500x1500mm.
Cut a wide range of materials – woods, plastics, foams and aluminium.
With many customisable options, the WorkBee Z1+ is the ideal choice for Hobbyists, Makers and Educational settings. For Businesses, the WorkBee Z1+ is the perfect workshop companion for repetitive production and allows manufacturing to be brought back in-house.
What makes this model the +?
The WorkBee Z1+ boasts these new main features:
Mightier Meanwell Power supply – Totally dust tight with a vacuum seal – IP65 rated.
Emergency Stop – Added safety, a must-have for education and business.
Thrust Bearing system – Smoother running than ever before with reductions in vibrations and noise. Minimise forces on the radial bearings for reduced maintenance.
Controller Case – Giving the 32-bit ARM Based Duet controller that added protection from the inevitable dust and debris.
Plus all of these:
· Stainless Steel Bolts · Improved Cable Management · Free end mill included
· Firmware & Software updates · Assembly Changes · Mafell Spindle option
· New Spoilerboard System · Reduced Part Count · Carveco software option
· Easier Drag Chain assembly · Router Mount included · Wheel Adjustment Spanner
In-depth details on the new features can be found on Ooznest's Blog Post.
Ryan Lock, Ooznest Director said:
"The WorkBee allows people to take their first steps into the world of CNC. We have seen a big community grow around the WorkBee and love seeing makers push its capabilities.
We have listened to feedback from 1000s of WorkBee owners and produced the Z1+, with its improved performance and features it will be the perfect choice for a whole range of sectors, applications and budgets"
Find out more about Ooznest Limited on their member profile page here