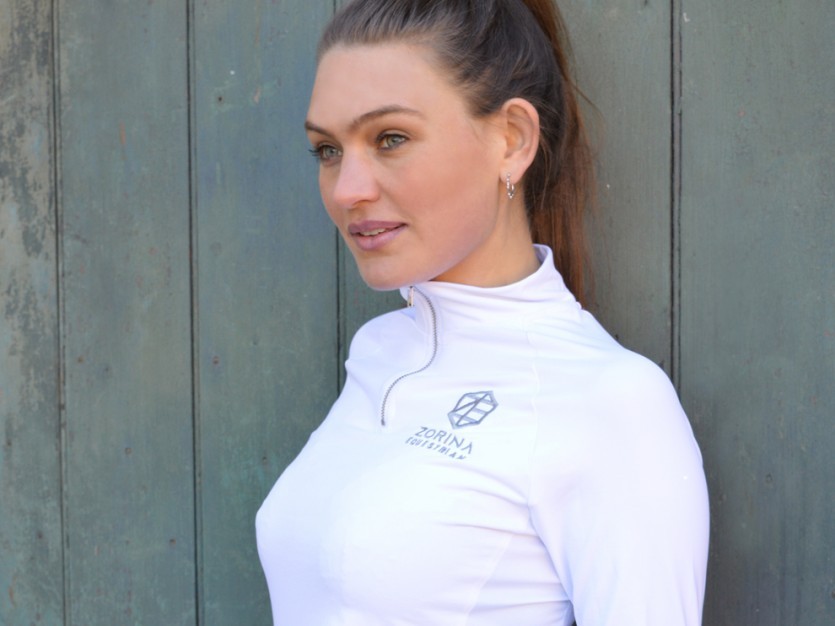 Manufacturing premium high-quality performance equestrian wear for horse riders: Zorina Equestrian joins Made in Britain.
Zorina Equestrian manufacture and sell premium quality equestrian apparel, designed and made in Britain. From concept and design, to fabric production and the manufacturing of the garments, everything is proudly made in Britain. Zorina Equestrian champions modern riders of all levels, from the novice rider to international competitor.
The idea for the brand came during the initial lockdown in April of last year. Anna Wilson was working as a freelance marketing consultant and designer, and due to the pandemic had some more free time on her hands so started sketching up some ideas, just for fun, which ended up becoming the base layer and show shirt that Zorina Equestrian are now launching. It took over a year to be in a position to launch the brand, with the website and their first garment, the performance riding base layer, because covid just kept setting them back time-wise. It was worth all of the work and patience to have an equestrian brand made in Britain, and Zorina Equestrian are now looking ahead to the future, with big plans.
Anna Wilson, founder and owner of Zorina Equestrian: "I have been passionate about British brands for years now, and I am a huge advocate for British manufacturing and putting Britain back on the map for textiles and fashion. As a freelancer, I worked with many clients who were British manufacturers, from furniture craftsman to geodesic domes and more! I suppose you could say that the insight into British manufacturing inspired me to have my equestrian garments made in Britain when the time came. I'm extremely proud to say that our fabrics, garments and even our packaging is made in the UK, so it means a lot to now be able to fly the Made in Britain flag and proudly display the logo on all of our marketing."
Zorina Equestrian will use the Made in Britain mark on printed banners at sponsored shows, any printed literature, social media channels and their website. Find out more about the company at its members' directory profile here and its website here.