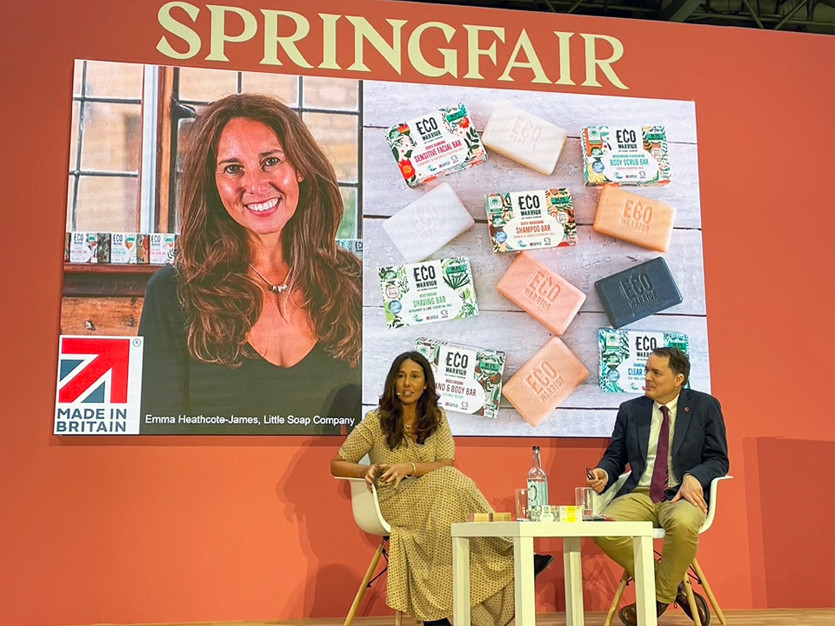 ETHICS, VALUES & RESPONSIBILITY IN YOUR BRAND MESSAGING 
MAKES YOUR PRODUCT MORE ATTRACTIVE TO EVERYONE.
Made in Britain Panel Discussion at Spring Fair, NEC: Sunday 5th February

In a frank, friendly and informative conversation on the Inspiring Retail Stage at Spring Fair 2023, to an audience of buyers, marketers and retail specialist, MiB member and founder of Little Soap Company, Emma Heathcote-James touched on topics as diverse as dealing with difficult buyers, sticking to your values, using the power of official accreditations and how to break through to consumers with a new brand.

With her talent for telling a rich story, Emma spoke of the 'golden threads' of ethics, responsibility and values, explaining to MiB's John Pearce how the adventure of launching your own soap business from your kitchen table at home, had evolved to become a multi-million pound soap brand. Her products are now sold in most major supermarkets around the UK and, will start to be exported around the world too.

Emma is passionate about her brand's values and how they are married to her own; 

"Being responsible, ethical and current is what makes our brands and our business so attractive. We're not the cheapest, but we're not at all expensive for the value that the customer gets when they pay for our products. I know our customers see the value and are happy to pay for it."

What started out originally as handmade products sold one at a time at Farmer's Markets is now filling shelves in some of the UK's biggest supermarkets. Although reaching professional buyers, retailers and all the other sales channels hasn't always been easy, Emma and the team have always risen to the challenge. The vision, ambition and business growth led them to engage with official accreditations such as Made in Britain, joining 2000 other great British makers across 50 other product sectors. Emma explains her belief in being officially accredited.

"When it comes to packaging, we wear our 'hearts on our sleeve'. Customers see our values with official marks and accreditations they recognise and that we know they care about; we are proudly certified as a BCorporation which puts people and planet over profit, in line with this all our products are Vegan, Leaping Bunny Cruelty-free, RSPO Sustainable Palm Oil and, of course, Made in Britain. Making our soap products here in the UK is vital to our message of reduced carbon footprint (we are a Carbon Neutral Britain Carbon Negative Business) and responsible, transparent business practice. This is really who we are."
It's been a very challenging few years for everyone in business, with a lot of pressure on all input costs for raw ingredients, manufacturers and logistics. Emma was candid about how tough things had been wrangling CPIs with the supermarkets, but optimistic that 2023 will see general growth return to the economy and that retail and wholesale buyers are now asking better quality questions of their suppliers and realising the price point is not the only factor in business.
"The customers we want to sell to are really savvy. They know 'what is what' and they do their research. Supermarket buyers are getting wiser to this and moving, somewhat slowly I feel, towards more discernment in their choices and more consideration of non-monetary values. That suits us fine – we're ready to help them to make better choices every year."
Rewatch the entire panel discussion on the Spring & Autumn Fair YouTube channel.
Find out more about Little Soap Company

All MiB events and appearances are listed on the Members' events page.