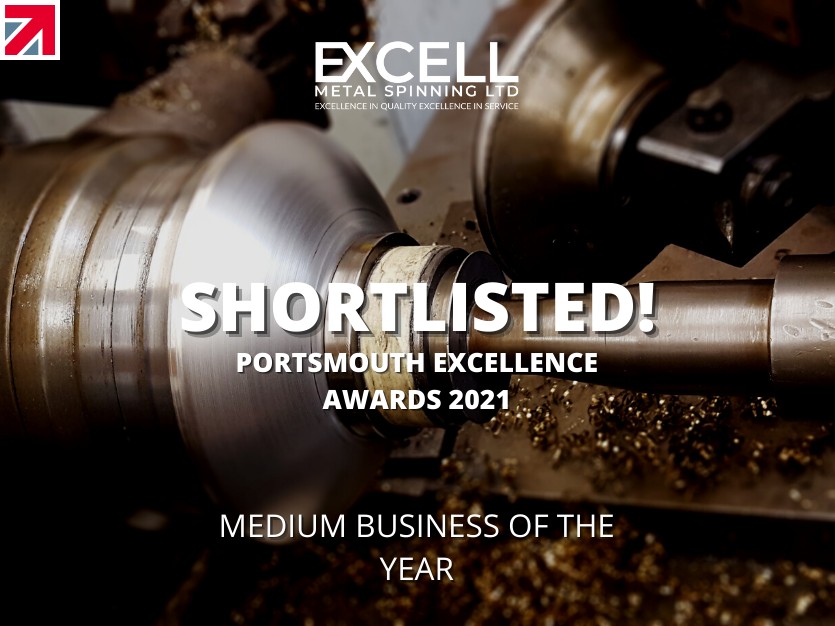 It is with great delight that we can announce that Excell Metal Spinning Ltd. has been shortlisted in this year's Portsmouth Excellence Awards 2021.
Excell Metal Spinning Ltd. will compete with five other businesses to be crowned Medium Business of the Year.
Curtis Bligh, Marketing Communications at Excell Metal Spinning announced "It is an honour to be shortlisted in The News Business Excellence Awards for Medium Business of the Year.
Through a turbulent year as a result of the pandemic, Excell fought hard to continue to deliver high Quality products and components that were vital for many industries. We stood up to the challenge and were particularly proud of our efforts in assisting with much needed components for the NHS Nightingale hospitals.
To be recognised for our efforts means a great deal, especially in an award ceremony dedicated to excellence. Although we are known for excellence in quality and service, Excellence within our business goes beyond this. Members of our team have gone through so much in their personal backgrounds and faced many challenges. Excell provided a second chance for many of us, and this has helped form a close knit community within the company.
It was with this teamwork and dedication to supporting each other, that has really helped push the company to where it is today. Winning an award in this category (hopefully!) will certainly be in recognition of the excellent staff members within Excell"
Due to the pandemic, The News Business Excellence Awards had to be postponed to July 8th from its original February date. This ensured attendees would be able to collect their awards in person.
The grand ceremony will take place at the Portsmouth Guildhall with tickets strictly limited to adhere to social distancing guidelines. The event will also be livestreamed for the first time in its 19 year history so that nobody will miss out.
More than 150 applications were received across 15 categories. A panel of expert judges will start their selection process next week and tickets will go on sale from June 7.
Find out more about Excell Metal Spinning Ltd on their member profile page here