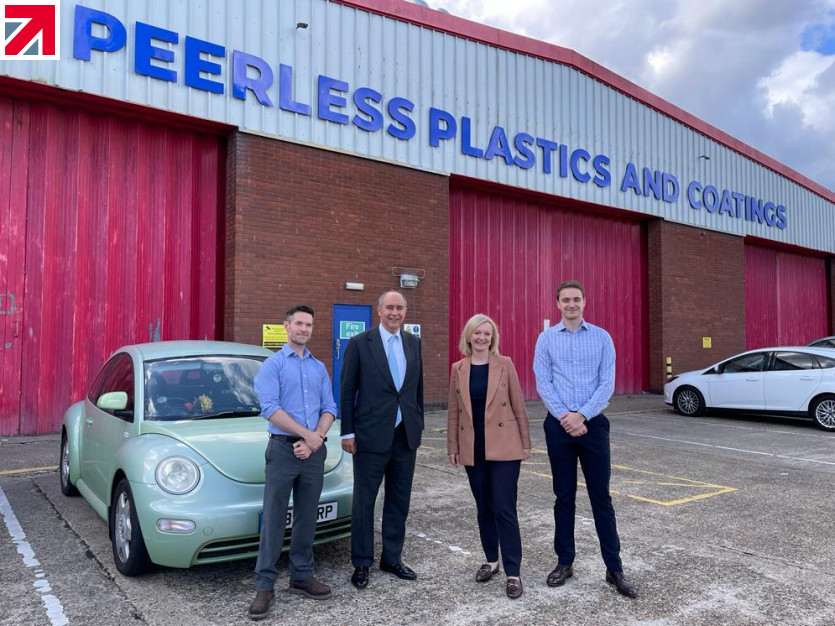 Investment and Expansion

Department for Business and Trade Investment Minister, Lord Dominic Johnson, joined South West Norfolk MP Liz Truss for a tour of award winning UK manufacturer Peerless Plastics and Coatings, based in Thetford, Norfolk. Peerless is one of only a handful of companies in the world capable of producing specialist hard coated, polycarbonate sheets, developed and marketed by Peerless as PolyGuard™. This unique selling point of hard coated, anti-scratch, anti-fog, anti-static and anti-glare means that Peerless's products feature in multiple industries across the globe from electric vehicles incorporating PolyGuard™ as a viable lightweight, shatter proof alternative to glass, to personal protection equipment including face protection and safety glasses. Over the past 24 months, Peerless has invested nearly £1m in new business, machinery and technology, growing the work force from 30 to over 50 and is now looking to rapidly scale-up around the world.

The Peerless Plastics & Coatings team, including Managing Director Peter Llewellyn-Stamp and Sales Director Max Bromley, explained to Lord Johnson the extensive range of services the company provides its customers across a broad swathe of industries including Aerospace, Rail, Automotive, Medical, Retail and Construction. Having diversified its service offering, Peerless is able to offer a single-source solution for many plastic manufacturing requirements, reducing supply chains and ultimately the carbon footprint of their customer's products. This ethos goes very much hand-in-hand with the sustainability journey the company is on, having significantly reduced energy usage in recent years through many initiatives that include renewable energy from solar panels and reduced consumption via voltage optimisation.

The PolyGuard™ is a new and unique range of products that Peerless has developed ready for international distribution. PolyGuard™ include specialist hard coated Polycarbonate sheets offering enhanced surface performance, making this a sustainable plastic solution for many applications. The PolyGuard™ range consists of six coated Polycarbonate products: Hard, Anti-Static/ESD, NIR Blocking, Anti-Fog, Anti-Glare and Formable.

Minister for Investment Lord Johnson said:

"I had a very insightful visit to Peerless Plastics' factory and was incredibly impressed by the innovations they are making and the growth being achieved.

The opportunities for export are tremendous, and Peerless Plastics' success demonstrates the type of innovation that is driving UK manufacturing.

I was very pleased to hear about the company's future ambitions for growth and to discuss the vision and support that the Department for Business & Trade has for helping businesses like Peerless Plastics to grow and export across the world."

Liz Truss MP added 'It was great to be able to introduce Lord Johnson to the Peerless team so he could see their dynamic and innovative work for himself. Thetford, in my South West Norfolk constituency, is home to a diverse manufacturing hub, with a wealth of talent and expertise that can proudly compete on the world stage - and Peerless is very much at the forefront of this.'

Having recently launched PolyGuard™, Peerless has secured distributors in the UK and Europe, with further opportunities across the world. Peter Llewellyn-Stamp said, "It has been great to welcome Lord Johnson and Liz Truss to Peerless and show them our new sustainable plastic product. Peerless's PolyGuard™ is very unique; we have spent time developing a product that is so versatile, one that will not only transform the way we make and build things, but also a product that ensures good value for money and is sustainable, this makes it an extremely attractive and viable purchase for the long term. We have serious ambitions to expand the distribution of this product on a global scale and are ready to speak with investors who will help fast track this growth. The guidance provided by Lord Johnson was invaluable".
Background of Peerless Plastics & Coatings

Peerless Plastics & Coatings, a manufacturer of protective hard coatings for plastics (including anti-microbial, anti-fog and anti-graffiti, to name a few), based in Thetford, Norfolk (UK), offer flexible, bespoke, protective hard coating solutions to all its customers the world over. Offering a complete chain solution from design, research & development, supply and full production processes. They pride themselves in the ability to tailor their processes to individual company and market requirements and have done for over 30 years.

They aim to promote the message that protective hard coatings offer long term durability and superior surface performance to plastics through improved chemical and abrasion resistance, significantly extending their useful life, meaning less waste and reduced carbon footprints.

Peerless Plastics & Coatings, Thetford facility, incorporates fully automated coating line technology for materials up to 2100mm x 6000mm long, with mass volume hard coating of small parts, mouldings & extrusions for many industries & applications all applied in clean-room conditions. They also provide Injection Moulding, large format Digital & Screen-printing capabilities, a high-precision plastics machining department & spray paint facilities.

All their processes comply with BSI registration for ISO 9001:2015 and ISO 14001:2015 accreditation and they are proud members of the Made in Britain organisation, British Plastics Federation and the European Plastics Distributors Association.


Connect with Peerless Plastics & Coatings via the following platforms:

Website: https://www.peerless-coatings.co.uk/
Twitter: https://twitter.com/PeerlessPlastic
Facebook: https://www.facebook.com/peerlessplasticsandcoatings
LinkedIn: https://www.linkedin.com/company/peerless-plastics-and-coatings/
Instagram: https://www.instagram.com/peerless_plastics_n_coatings/
Find out more about Peerless Plastics & Coatings Ltd on their member profile page here