LAST October, Made in Britain invited interested members to join its Green Growth Working Group. The group unites a handful of members including UPSO, Ammique, Dewhurst, Ideal Manufacturing, Delphis Eco, Dr. Zigs and Crest Pumps to advance the sustainability journey of every business in Made in Britain membership.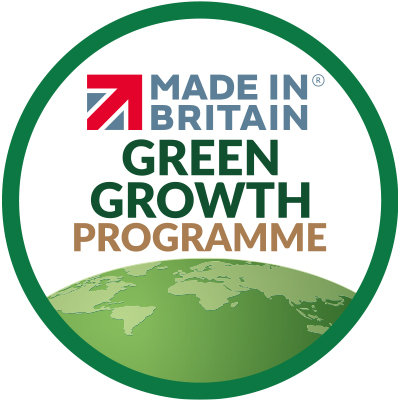 Each member has completed the Green Growth assessment, and now proudly displays the Green Growth badge (left) on their member profile.
The group aims to help every Made in Britain member to take advantage of green growth and benefit from the opportunities that come from being more sustainable.
Peter Dewhurst, Dewhurst, commented, "The green transition is a major commercial opportunity. If we get it right and communicate what we are doing in the right way then it will help us develop deeper relationships with new and existing customers, whilst attracting and retaining higher quality staff. We'll also clarify strategic goals and product development, which could lead to new areas of growth."
This year, the Green Growth Working Group will be developing and delivering a programme of content to enable members to advance their progress on sustainability. The three-pillar Green Growth programme includes:
Education, to educate members on areas relating to sustainability and the Green Growth assessment, such as, how to track and report energy use and low to conduct a Life Cycle Analysis.
Application, provides members with a series of resources, policies and frameworks such as policy wording on modern slavery and preventing corruption.
Coaching, where a cohort of Made in Britain members will provide their support to help others.
Members in the Green Growth Working Group are also keen to share their skills and knowledge, including David Chadwick, UPSO, "I'd like to share our experience of up-cycling and progress along our path to net-zero." Whilst Marlene Greenhalgh, Ammique, comments, "My focus is to work in new, innovative ways to provide high utility, durable and stylish solutions for people and the planet in the most economically, ethically and ecologically sustainable way. I want to share this way of working with as many manufacturers as possible."
To find out more about the Green Growth Programme and enjoy the new Green Growth Badge on your member page, visit green.madeinbritain.org.
If you have experience of progressing sustainability within your business that you'd like to share with a wider cohort of manufacturers, you are invited to join the Green Growth Working Group. Please email green@madeinbritain.org if you'd like to join.