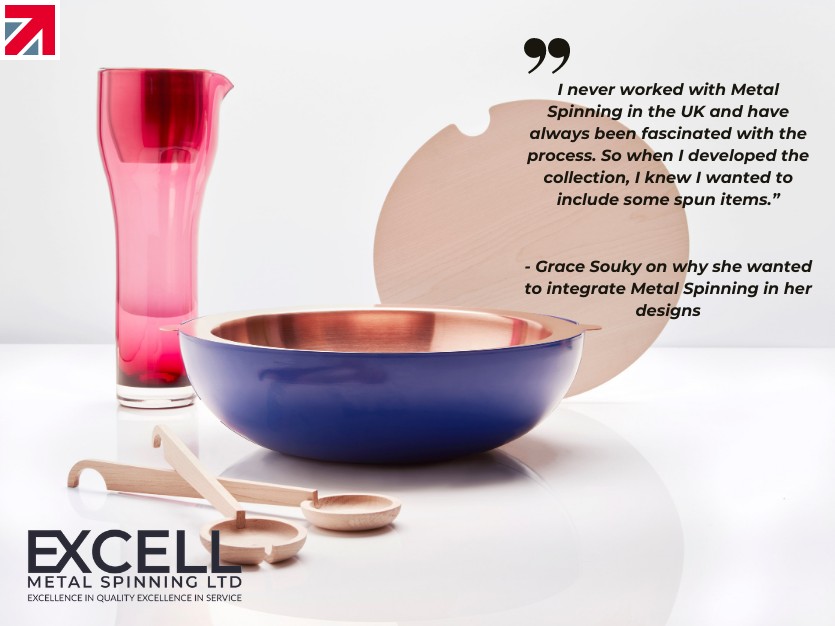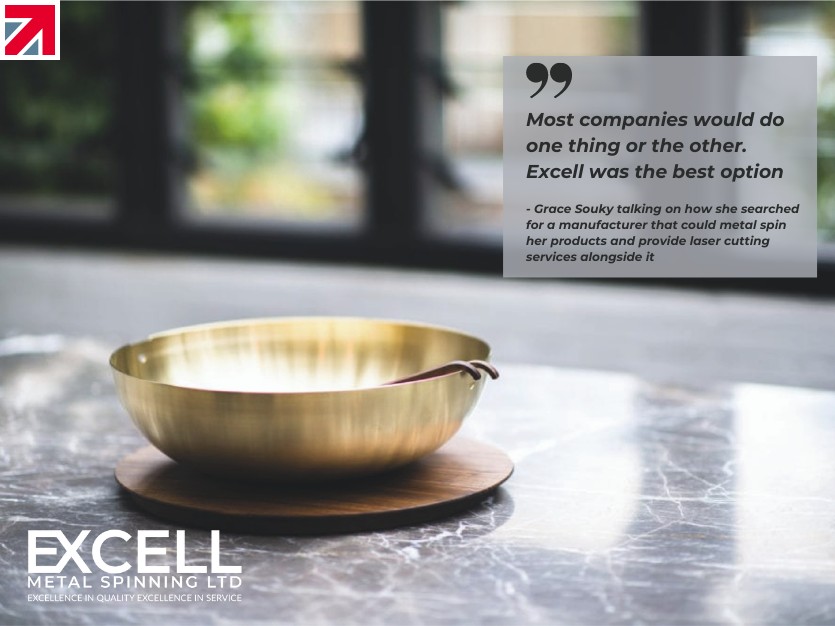 Summary
Grace Souky is driven by her mission "to create the family heirlooms of the future." Her designs are manufactured with utmost quality, and her aim to create beautiful products and furniture has really helped Grace establish a prominent role within the Design industry.
What really resonates with her existing audience is that Grace's thoughtful designs are both sustainable and ethically made. Her fascination with metal spinning, a craft dating back as far as ancient Egypt, helped inspire some of the designs within her signature collection that have been featured in exhibitions throughout Latin America, United States and Europe.
Here's how we helped bring Grace Souky designs to reality, delivering high quality, sustainable products and all the while, following through on her mission.
Grace Souky
"We are a homeware brand specialized in high-end tableware and I established the brand in 2016 and began trading in 2017. The brand wants to create timeless pieces with the best materials and quality fabrication.
Most of the time I work by myself and have help with logistics and manufacturing depending on the project. It's mostly a one-woman-band.
I love the creative process! The journey from idea, to sketch, to prototype, to final product and all the steps in between. Even more so when I hear people loving the pieces. When someone buys them for themselves or for a special gift. I just love that!" – Grace Souky, Founder
Grace has always been fascinated with everything home. Her belief is that your home should be a source of comfort and inspiration, and she draws hers from her travels around the world. From her hometown in Venezuela, to New York and now London. "The pieces we choose to surround ourselves with, speak about who we are and what we believe in"
In 2016, Grace launched the Grace Souky brand in response to unethical, anonymous, low-quality products that were plaguing the markets with unsustainable 'one season' lifecycles. "We all want products that are meaningful, ethical and special pieces that we'll cherish and keep. We create forever pieces for everyday life".
Grace Souky is a mission-led brand with a commitment to helping people. Grace has partnered with LATAM Freedom and development Foundation, a Latin American Charity focusing on Education and leadership programs in Venezuela. Through their initiative, they give meals to over 2,500 children daily. Visit www.gracesouky.com to learn more about their Brand.
The Problem
Grace revealed her fascination with Metal Spinning led her to develop products that would incorporate the process within her signature collection.
"I never worked with Metal Spinning in the UK and have always been fascinated with the process. So when I developed the collection, I knew I wanted to include some spun items."
There were some initial stumbling blocks Grace faced, especially in finding a trustworthy company that would not only metal spin the items she required, but also provide laser cutting services for the handles of her designs. "Most companies would do one thing or the other. Excell was the best option"
The 'Dealbreaker'
Over the course of a month researching a number of manufacturers, Grace eventually made contact with Excell after finding our website on a Google search.
There were a number of risks Grace had considered in her search for a manufacturer that could fulfil her requirements. "I had to find a company that would take a small job and trust a new company like mine, but at the same time have the advantages and processes of a large manufacturer."
The deal breaker was made when Grace was able to identify the additional in-house services Excell was able to provide for her specific designs, including laser cutting. Grace Souky revealed there were no initial reservations when opting to use our services for her designs
The Solution and Results
After discussions were made on the product, the scale and quality requirements, we recognized that the manual Metal Spinning method would be ideal.
There was an emphasis on the quality finish, which is an advantage often associated within hand crafted processes. This is because a greater level of care and attention can be made by the operator in comparison to fast-paced, brute force which is often required for larger, thicker materials.
There were initially three materials used for the products required for Grace Souky's bowls which consisted of Aluminium, Copper and Brass. Spinning these by hand allows the operator to 'feel' the structure of the metal, its grain, hardness and willingness to form. This meant that quick adjustments could be made when needed throughout the process. Combined with skill and experience, our manual hand spinners could deliver the quality expected for the project.
Grace Souky's response to the spinnings were fantastic, "The pieces are beautifully manufactured. I'm always happy with the final result. The Brass and Copper spinnings are really beautiful. After three years, I still love them!"
Grace later added that investment in using our services was worthwhile, and when asked if she would be likely to recommend our services to others, Grace stated "of course".
Final Message
We would like to wish Grace Souky the very best on her ventures as she reveals the challenges within her industry are largely dependent on the retail sector. With the current situation, it has certainly been challenging. The boost in online sales has helped bolster the industry, but as Grace points out, seeing the product in person is always better.
Grace's work is certainly making an impact within her industry, and her ethical and sustainable products are not only good, but they are doing good. Grace Souky's partnership with LATAM freedom and development has seen over 2,500 children being fed on a daily basis.
You can find Grace Souky on social media, so give her a follow on the below accounts;
Your next project with us
As a leading expert in the field of Metal Spinning, and the leading organization in the UK Metal Spinning Industry, Excell's services have been widely sought after worldwide. With the vast skills and knowledge required, we can ensure quality products are delivered on time and to your requirements!
To get started on your next project with us, and to determine the best possible solution for your industry needs, you can fill out a Quotation Form. Our team are on hand ready to help you!
Find out more about Excell Metal Spinning Ltd on their member profile page here