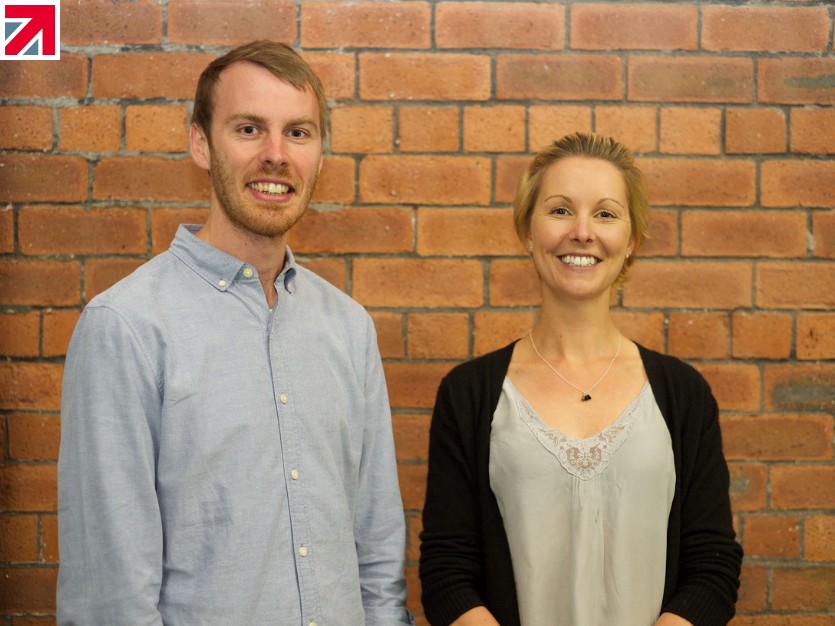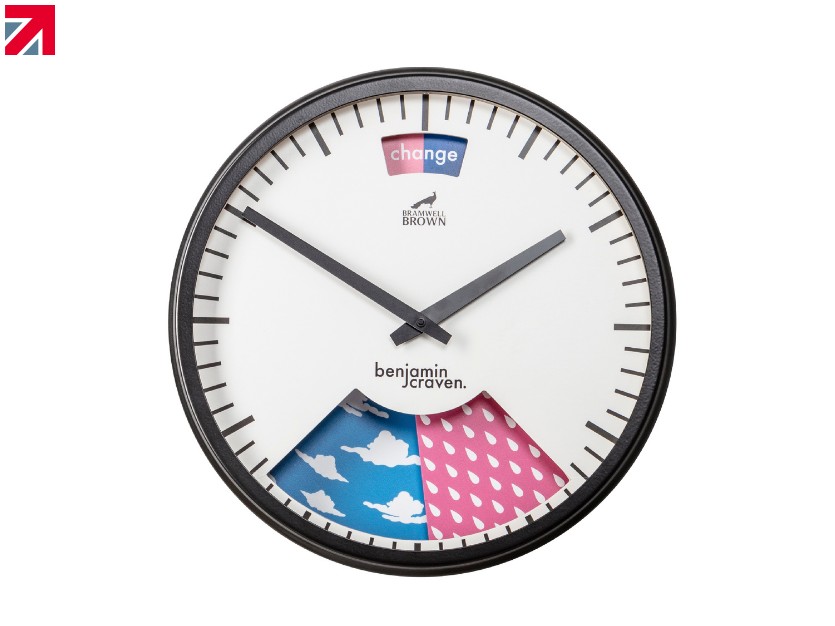 Summary
Founded by Rob Bramwell together with his sister Sarah, Bramwell Brown Clocks have a mission "to save the world from digital dullness and spread happiness through clocks, whatever the weather". Every unique weather forecasting wall clock that Bramwell Brown assemble is done with care and pride by their skilled team in Hampshire.
What really resonates with their audience is that their Weather Clocks are beautifully engineered using contemporary designs. Old mechanical curiosities such as the grandfather clocks and the barometers of their childhood provided inspiration for their designs. The Bramwell Brown Weather Clock is unique in its own sense, relying on changes in air pressure to forecast the weather using whimsical illustrations.
Bramwell Brown has embraced 'Made In Britain' by choosing to source their metal clock frames from a UK manufacturer rather than overseas.
Here's how we helped the Bramwell Brown Clock stand the test time of time, delivering high quality, beautifully spun clock frames and all the while, helping Rob and Sarah follow through on their mission.
Bramwell Brown
"Bramwell Brown has been designing and making weather clocks since 2014. What started as a bit of an adventure and a cottage industry has turned into a much more professional outfit!
There's Sarah and myself running the business, supported by a large gang of brilliant individuals. Our amazing production team in Portsmouth and our all-caring customer service team being the main elements of how we create value for our customers.
We'd still be small enough for Sarah and I to get involved in pretty much everything in the business. Though, generally, it's mostly operations and strategy that we focus on. I guess we're also obsessively involved with our main route to market – our website" – Rob Bramwell, Co-Founder & Director of Bramwell Brown
When we quizzed Rob on what he loves most about Bramwell Brown and his role as Director he explained it was "The variety, the creativeness and, I suppose, the fact that it's a family business and could, all things going well, still be around in 100 years!"
The Bramwell Brown clock is an embodiment of the company; British and well made. Its unique designs liven up many spaces and are a great way of brightening up people's day.
So where did it all begin?
It Began At The Kitchen Table.
"I was interested in a mechanical barometer but couldn't find one in an unusual design. The only style available were the aneroid or mercury models that were really common in British homes until a few decades ago.
It struck me that I could design a more interesting instrument myself. So, asking my very creative sister, Sarah, to get involved, we set about building very basic prototypes.
These basic prototypes over the course of a year or two became better and better until we actually felt we had a product that would both work well and be cherished as a home accessory.
The Weather Clocks we make have mechanics inside that have been inspired by clocks of old. They were developed from our fascination with whirring parts and spinning widgets."
You can view and buy their range of unique Weather Clocks from the Bramwell Brown website. They even produce Limited Edition designs that have been developed with handpicked artists.
The Problem
Rob gave us some insight into the environment Bramwell Brown faced before using our services.
"Our metal clock frames were sourced overseas and then sprayed in the UK. The supply chain was prone to disruption and general chaos.
Sourcing from a UK manufacturer, so close to our assembly line is fantastic. We get all the guaranteed quality and at price that broadly matches what we were paying when you take into account all the externalities and costs of delays, rejects and large amounts of capital employed for big production batches.
We can now draw down the volumes we need on a monthly basis with fast delivery to the assembly line. Cashflow will be much better this year, therefore."
The "Dealbreaker"
There were a number of important factors Bramwell Brown considered when looking for a suitable manufacturer for their clock frames. These included a sustainable price and a steady supply of quality frames.
Rob explained that "the main thing we were looking for as a business was quality and guaranteed steady supply. If we can't continue production, then the business has no possible chance of creating cashflow."
Of course, price served as a dealbreaker as Bramwell Brown opted to use Excell's Metal Spinning services. A price target that was sustainable proved favourable in their decision making, but there were also other deciding factors.
"Proximity to our own production facilities and a great feeling when meeting the team and seeing the factory. We had no specific reservations.
We're a very people-orientated business and if we think we can get on and trust the team running a business, then we'll work with them. And stick with them."
The Solution
After much discussion with the technical team here at Excell, it was decided that this project would be best suited for the CNC division. This is because of the size and scope of the project which was best suited for automation.
There are many benefits with CNC Metal Spinning, especially with regards to large batch quantities. For example, it helped address Quality requirements by providing a consistent approach to the Metal Spinning process.
CNC's can automatically execute instructions after they have been programmed. They can apply specific forces for a desired amount of time ensuring near identical parts are produced. Not only can the CNC Spinning lathes form the clock frames, but they can also cut and trim down to the required dimensions. This was particularly useful for cutting out the front panels from the clock frames.
It was also more economically viable to produce the clock frames using automated methods. Consistency in quality and lead time helped lower the cost due to the sheer volume of the frames that were required. Sustainable costs would subsequently benefit Bramwell Brown helping them achieve their price targets.
There were a number of initial steps that needed to be carried out by hand, including the welding of brackets and the hand pressing of holes as per the specifications. They would then finally be powder coated and ready for delivery.
The Results
We received positive feedback from Rob who has now been using our services for the past two months at the time of writing.
One of the measurable benefits he saw in using Excell Metal Spinning Ltd.'s service was "A coherent sub-assembly and fabrication.
Excell are also now managing the powder coating. That means that quality control only needs one line of dialogue rather than working out which supplier has caused which problems and getting to the root of it."
Rob also provided further insight into how we compared with their previous supplier from overseas.
"Well, we had a reliable supply of clock frames arriving at our workshop, for starters! It's just a world away from the situation we were in when a large amount of stock would arrive on a boat and need to be fully Quality Checked before painting. The process just absorbed so much time!
We're hoping that by using Excell, we will see improved efficiencies through a range of areas: reduced reject rate, faster delivery and reduced batch sizes. We also know that our customers are going to love the fact that our British clocks are in British-made clock frames. It really resonates with our target audience".
When asked for Rob Bramwell's advise when it comes to using our services, he recommends you should "Go and visit the factory and meet the team, it's great to see the setup."
Final Note
We are delighted to share Bramwell Brown's journey and help them "to save the world from digital dullness and spread happiness through clocks, whatever the weather."
We would like to wish the Bramwell Brown team the very best, as they explain that the greatest challenge they face, is capturing the growth that they know their products can achieve.
Their goal for the new year is "Sell all the clocks that we've committed to assemble. To improve reliability and begin to see a real increase in export sales".
Don't forget to connect with Bramwell Brown on social media;
Your Next Project With Us
As a leading expert in the field of Metal Spinning, and the leading organization in the UK Metal Spinning Industry, Excell's services have been widely sought after worldwide. With the vast skills and knowledge required, we can ensure quality products are delivered on time and to your requirements!
To get started on your next project with us, and to determine the best possible solution for your industry needs, you can fill out a Quotation Form. Our team are on hand ready to help you!
Find out more about Excell Metal Spinning Ltd on their member profile page here