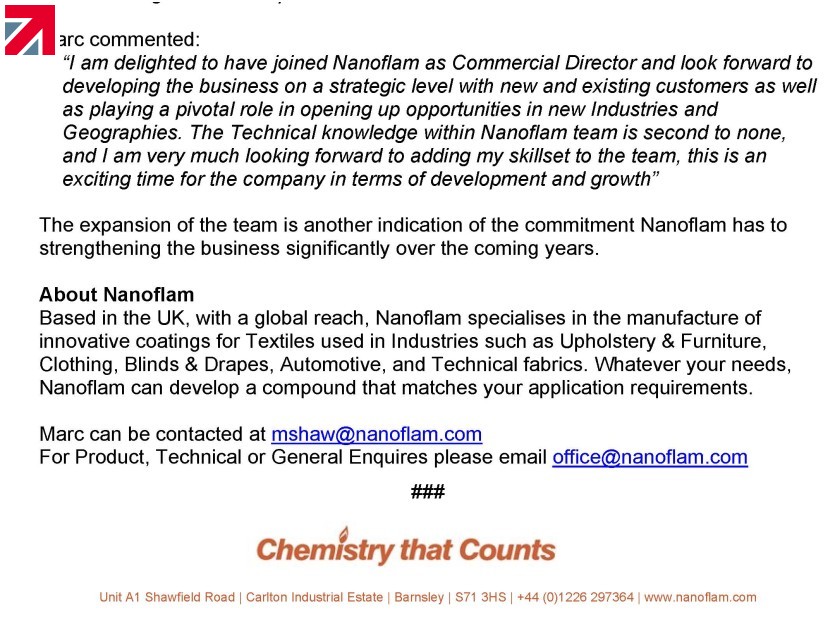 PRESS RELEASE
2021
Commercial Director Appointment
Nanoflam Limited is delighted to announce that they have expanded the Management Team with Marc Shaw being appointed as Commercial Director. Marc joins the business with a wealth of experience in both Sales and Engineering having spent the last 10 years working in Process Engineering for the Chemicals, Coatings and Plastics Industries – leading teams in Technical Sales, Marketing, Customer Service and Business Development.
Nanoflam Managing Director, Andrew Littlewood, said of the appointment: "Marc's experience of Sales and Marketing on a Global level combined with an intricate knowledge of our company's manufacturing process and the industries we serve brings a great strength to our business and I am delighted to see him joining the Management Team to help drive the company forward. His input from a Commercial perspective will be hugely significant as we plan the next phase of the business' growth and expansion".
Marc commented: "I am delighted to have joined Nanoflam as Commercial Director and look forward to developing the business on a strategic level with new and existing customers as well as playing a pivotal role in opening up opportunities in new Industries and Geographies. The Technical knowledge within Nanoflam team is second to none, and I am very much looking forward to adding my skillset to the team, this is an exciting time for the company in terms of development and growth"
The expansion of the team is another indication of the commitment Nanoflam has to strengthening the business significantly over the coming years.
About Nanoflam
Based in the UK, with a global reach, Nanoflam specialises in the manufacture of innovative coatings for Textiles used in Industries such as Upholstery & Furniture, Clothing, Blinds & Drapes, Automotive, and Technical fabrics. Whatever your needs, Nanoflam can develop a compound that matches your application requirements.
Marc can be contacted at mshaw@nanoflam.com
For Product, Technical or General Enquires please email office@nanoflam.com
Find out more about Nanoflam Limited on their member profile page here