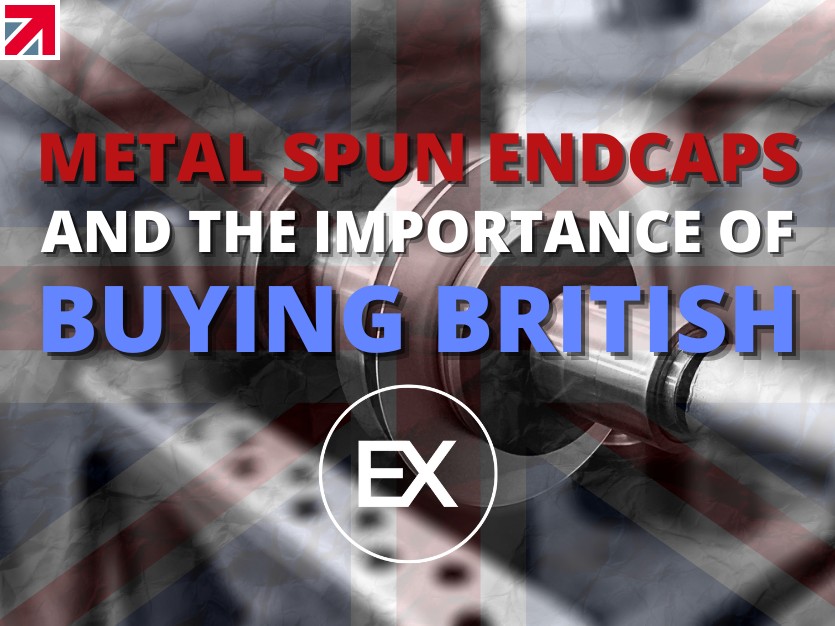 It can be hard identifying suppliers that could manufacture products or components your business needs for its supply chain. It can be even harder finding a niche manufacturer that can make your components AND is located in Britain.
With the impact of COVID-19 and the teething problems of Brexit, businesses that were once importing components are now seeing major disruptions in their supply chains. From delays at borders to huge price hikes in shipping costs due to a lack of containers.
New sustainable targets are now being put in place within the UK, with all political parties committing to a greener future for business. With the added events mentioned above, all eyes are now turning to local business as a long term solution for their supply chain needs.
One such component, that is used often but rarely thought about by the average person walking by, are Metal Spun end caps. We'll talk more about this further in the blog.
Excell Metal Spinning Ltd. Is one such niche manufacturer with a proud history of manufacturing high quality parts using, you guessed it, Metal Spinning. Excell has committed resources to modernize an ancient craft that has been a part of UK manufacturing history for centuries. And we do this whilst flying the flag for the 'Made In Britain' mark. We are one of only a few Metal Spinning organizations left in the UK and we are dedicated to keeping this highly skilled craft alive.
'What is Metal Spinning?' I hear you ask. Check out The Ultimate Guide To Metal Spinning (With Diagrams) for a full break down of what's involved in the process.
Why choose a British Manufacturer to supply your components?

So why choose a British manufacturer, especially when you can import 'cheap' components from abroad? If not for the reasons already mentioned above, there are added benefits of buying British.
Last year, Made in Britain released a report on Business and Shopper attitudes towards buying British which you can read in detail here.
In this report, it stated that 60% of shoppers were more likely to be loyal to a brand if they knew it was Made in Britain and 25% would change their shopping habits if a brand were to change its manufacturing from Britain to overseas.
Meanwhile, 70% of businesses argued that buying more British products / components would help the nation combat climate change, and 75% would like to buy more British made products.
Consumer attitudes have shifted towards wanting to buy more British, and the demand for British goods is the same abroad. This is because British products / components are perceived to be more reliable and of higher quality.
According to the Barclays report, 64% of Indian consumers; 57% of Chinese consumers; 48% of South African and UAE consumers said they would actually pay more for goods made in the UK because they believe quality to be higher.
As well as the above, Buying British is beneficial for;
Keeping skills alive;
By buying British, you are sustaining local jobs and keeping skills like Metal Spinning alive
Great service;
British standards are one of the best in the world, and it is much more easier to redress anything that could go wrong in the process.
High Quality;
Consumer attitudes have shifted to a "less is more ethos" and care more for provenance of products at a slightly higher cost. The philosophy of making as many goods as possible in a short time is now often associated with shoddy quality.
Carbon Footprint;
If your business cares about sustainability than buying British is definitely for you. It's easy to forget the high levels of emissions that come from transport, and localizing your supply chain can easily cut down transport times and reduce your carbon footprint
Lead times;
Importing products from abroad can lead to serious delays that will impact your supply chain should your supplies be hindered at borders. Importing from the far east can also have serious transport times from as much as six weeks with shipping. Lets not mention the paperwork involved.
Costs;
Ironically, buying British can actually save you money especially with regards to present day shipping. Shipping costs at the time of writing have multiplied by as much as seven times from China for example, due to high demand for shipping containers.
Metal spun endcaps made by Excell
So now you know more about what Metal spinning is and why you should choose a British manufacturer for your components. So let's get back on topic of end caps!
Metal spun end caps are one such example of a product that is highly sought after, yet not well known. There are many different industries that use end caps, and their application varies depending on the industry.
When talking about end caps, its important to note we are referring to the shape of the component. In this case a flat top /bottom with parallel sides. The component used in the oil and gas industry will differ from its air movement counterpart.
For home décor for example, end caps are used in the application of Balustrades, whilst in oil and Gas, they're used as stoppers. The shape and design of an endcap can have a wide variety of uses.
Here's a list of some more uses for end caps;
Balustrade posts
Door handle covers
Gas Burners
Chimney Systems
Filtration Systems
HVAC systems
Ceiling Roses in the lighting industry
What are Excell's capabilities for metal spinning end caps?
So the burning question you now have is, 'what are Excell's capabilities for metal spinning end caps'? The short answer is it depends. We'll explain why.
As the diameter of the part increases, the depth than can be spun decreases. This is a common occurrence due to the distance of the chuck to the headstock of a manual lathe or CNC.
The thickness of the material will also rely heavily on the depth requirements of the shape. Too thick a material will it make it difficult to metal spun over a required depth; too thin a material, and the likelihood it will split over a certain depth. In the design process of your component, you should consider this information.
Excell currently operates with maximum diameters of 1200mm (which is just over 47 inches for those of you who measure in imperial units). We can work with depths of 10mm to a maximum of between 300-400mm (for stainless steel, this would be a maximum of 50mm).
Tolerances are too dependent on the material you opt for and the thickness. The general rule of thumb is a +/- 0.5mm tolerance.
Now let's talk quantity. Cost will heavily impact your decision on quantity, which we can supply a one-off component to upwards of 5,000 at a time. The larger the order size, the more cost effective unit costs will be. This is because you will need to take into consideration the tooling cost and material costs (how many parts can be made from a single sheet).
Summary
Up to 1200mm Diameter (Dependent on Material Thickness and Depth)
A depth ranging from 10mm – 400mm (Dependent on Material)
Tolerance rule of thumb +/- 0.5mm
Quantities ranging from a single part to 5,000 at a time
What materials can we use to make end caps?
Stainless Steel
Aluminium
Mild Steel
Galvanized Steel
Copper
Brass
Monel
Your Next Project
As a leading expert in the field of Metal Spinning, and the leading organization in the UK Metal Spinning Industry, Excell's services have been widely sought after worldwide. With the vast skills and knowledge required, we can ensure quality products are delivered on time and to your requirements!
To get started on your next project with us, and to determine the best possible solution for your industry needs, you can fill out a Quotation Form. Our team are on hand ready to help you!
Find out more about Excell Metal Spinning Ltd on their member profile page here