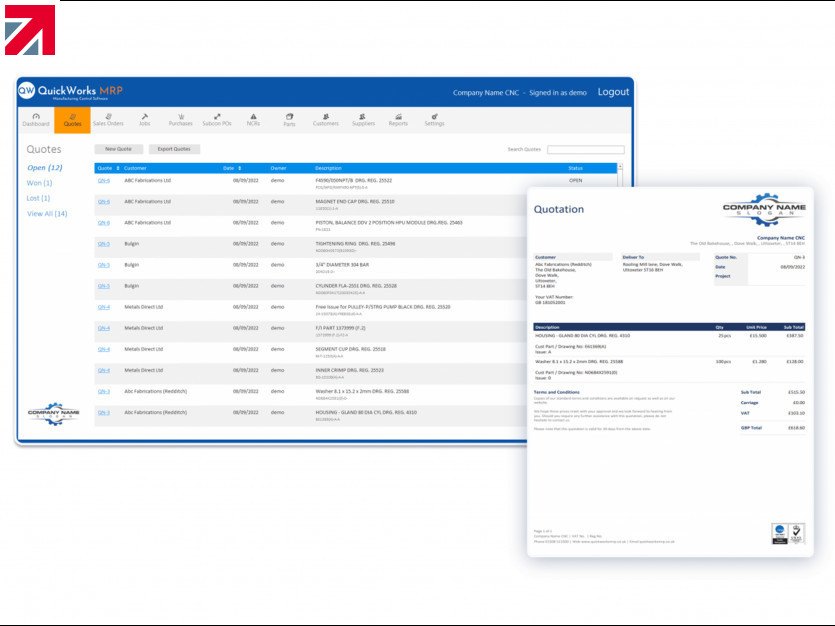 "In 6 years, H2M has grown from 12 to 35 staff and now operate across two sites, manufacturing hard to make components. QuickWorks has helped us reduce errors, improve delivery performance and made it easy to communicate changes" explains Gary Calcott from H2M Engineering.
QuickWorks manufacturing control software helps businesses transform their productivity, from improving control and visibility to simplifying quality compliance for ISO9001 and AS9100.
H2M specialise in manufacturing "hard 2 make" components and assemblies. They have a team of experienced engineers that have a reputation for delivering great value, by supplying quality product consistently on time.
Driving down lead times to improve their responsiveness is a key factor in H2M's success. H2M are continually investing in the latest machining technology and optimising utilisation with flexible multi shift patterns. As a result, H2M have been able to develop an enviable customer base in just six years.
The Challenge
H2M began as a small concern with 12 employees and was using a manual spreadsheet system, which worked OK initially. But, as the business grew rapidly, it soon became obvious that some sort of MRP or Production system software was needed to be taken on-board, as there were inherent problems with wrestling with Excel spreadsheets. For instance, the manual duplication of data and lack of control. Furthermore, on several occasions data was either lost or corrupted.
However, most of the staff had previously worked on various MRP systems and were only too familiar with how inflexible and complex these systems could be. H2M did not want a typical MRP system. They needed something simple to use that suited the dynamic environment of a small / medium sized manufacturing business.
Action
H2M discovered QuickWorks and decided to trial it with just one seat. Within three months H2M was using QuickWorks to run its entire business.
Outcomes
The key outcomes of implementing QuickWorks have been:
Simplify day-to-day tasks with an easy to use system
A solution to manage bill of materials
Improved responsiveness/reduced lead times
Improved delivery performance and automated certificates of conformity
Greater visibility for everyone
Less time chasing jobs and materials
Instant access to information, on which to make decisions
For more information, please visit the QuickWorks website.
Find out more about QuickWorks MRP on their member profile page here