by Made in Britain CEO, John Pearce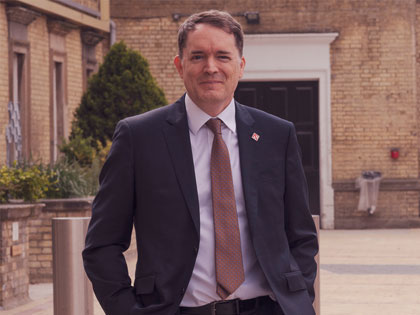 Let's start with the great news – making a British product to offer in any overseas sales territory is a proven advantage for your business, whether you're exporting for the first time ever, or looking to expand into new markets further afield. If there was just one golden tip I could give SMEs and larger manufacturing exporters, it would be to shout as loud as you can about your Britishness and your business standards, communicating all the many benefits of your British-made product too, of course.

As part of the 2021 edition of Made in Britain's annual 'Buying British' research, we polled 1,000 purchasing and procurement decision-makers at British companies. In line with the previous year's results, the research found that 91 per cent agree it's important to buy British-made products, and 82 per cent would pay more for British goods. Additional surveys asking overseas buyers about their perception of British business consistently report back with a positive view of our overall ease of doing business.

Although harder to measure, anecdotal evidence from businesspeople exhibiting at overseas trade events is that buyers and specifiers trust UK businesses in general and see Britishness as innovative, creative, high quality and reliable. That's a great start when you're speaking to new customers in new export markets.

There are some easy-to-follow ground rules that apply to both new and experienced exporters of British-made products, which will help you to get off to a good start at a trade event and increase the likelihood of the contacts you make turning into relevant, active sales leads.

Here are my seven top tips:
Research the easy way with as much open data as you can find. Ask your business banking provider if they have a database or online platform on export markets and trade. Much of the information you need on new markets and trade events are available on easy-to-search websites – some banks provide their customers with considerable detail, including country risk factors, size of market opportunity, competitor analysis and much more.
Select your target market or region based on careful discernment of the facts and dialogue with colleagues about gut feelings. Assemble colleagues around the table and examine the facts of the case for entering into a new country, then evaluate what the outcomes might be, and the investment of time and effort you need to reach them.
Think long-term, while managing your own expectations and those of the team that go with you. Export growth is rarely a quick win. Being a great exporter is to be a long-term strategic business, with an eye on stable, consolidated growth.
Enjoy the experience once you arrive. With the weeks and months of preparation for a trip to a new export market, it's easy to accidentally get lost in the weeds of detail and lose sight of the fact you're in a new country, working with new people. Embracing this, and preparing for it as best you can, will help you to connect with people and understand whether the product you are offering is what they need.
Follow up on every one of the leads you secure from the event. The end of every trade mission or fair is just the beginning of trying to secure a new trading relationship as a result. Everyone (including you) goes back to work and gets back to making and selling their goods. Set aside time in your diary to follow up with every lead you have and every business card (digital or otherwise) that you have picked up.

Draw on government support - particularly from the Department for International Trade (DIT), which is running a campaign called 'Made in the UK, Sold to the World' that aligns closely with Made in Britain's mission and activities. There is a range of support available via the DIT's UK network of International Trade Advisors and staff located in more than 100 countries around the world. To find out more about free business support, sign up for International Trade Week
.
Research Made in Britain, which has close to 2,000 members throughout the UK, across dozens of manufacturing sectors. Membership of the organisation shows that your manufacturing and business practices are of a high standard, while the Made in Britain Mark on your products is an instant symbol of quality and truly British provenance. Additional services for members include communications support, from our self-publishing news service for members to a variety of PR activities, as well as an ongoing programme of international trade activities led by a specialist international trade advisor.
As a manufacturer of British-made products, try to consider your business brand as an ambassador of innovative and interesting goods, breaking into new sales territories, and solving problems for people that need them. Whatever you manufacture, if you have a great story to tell (and a proven track record of success so far) then research your options for export expansion – and reap the benefits of being a truly great British maker.
Want to know more? Join Made in Britain's International Trade Week online briefing 'How to export successfully as a UK SME manufacturer' with participation from DIT - at 11am on 2nd November 2022