EVERY year, PDC BIG in Ipswich processes more than two million name badges, along with a billion wristbands, half a million lanyards and 13 million business cards. The 14,000-foot facility is fitted with high-precision technical instruments which include cutting-edge screen and digital printers, laser engravers, cutting machines, dispensers and laminators.
PDC BIG now celebrates its third decade as a leading UK manufacturer and supplier of name badges, ID accessories and business print with a renewed Made in Britain accreditation and a manufacturing Centre of Excellence Award.
PDC BIG Ipswich facility was awarded the first-ever annual Brady CEO Excellence Award for operational improvements and cost efficiencies as a small manufacturing plant. The award from parent company Brady Corporation is an endorsement for the customer services, technical, design, web and print specialists based in the UK. It is also an acknowledgement of the ongoing excellence and high standards in manufacturing and production, which allow PDC BIG to continue introducing innovative products.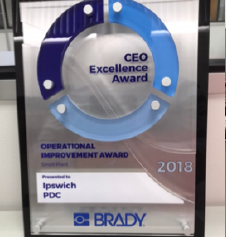 The award complements the renewed Made in Britain accreditation, industry awards, SEDEX and PCIAW memberships, BSI ISO and Investors in People certifications. These recognitions come amid investments in talent and equipment, which have been ongoing since the start of PDC BIG's journey in 1988. Such investments enabled it to secure its leadership position as it expanded into Europe and exported to international markets.
Mark Alderman, UK and Ireland regional business manager, told Made in Britain, "We regularly revisit solutions to see where we can improve. On a recent project with British retail brand, Marks and Spencer, we used new print technology to develop a unique manufacturing approach for their bespoke name badge. This enabled us to deliver a similar badge that was superior and at a lower unit cost. It was a brilliant case of marrying new technology with creative thinking to develop a great new solution!"
Susannah Gardiner, staff uniform manager at Marks and Spencer said, "The new badges exceeded all expectations. As a result of innovation, new technology and improved manufacturing process, the badges now impart a fresh, new look. The production is UK-based and it is faster; the quality is impressive, and they are lower in unit cost than our previous products."
PDC BIG are soon going to be supplying some smart looking clear domed decal stickers which members can get from us to use on their products. Take a look at our POS items page for more details.
Find out more about the name badge, lanyard, business card and wristband producer PDC BIG at its directory page