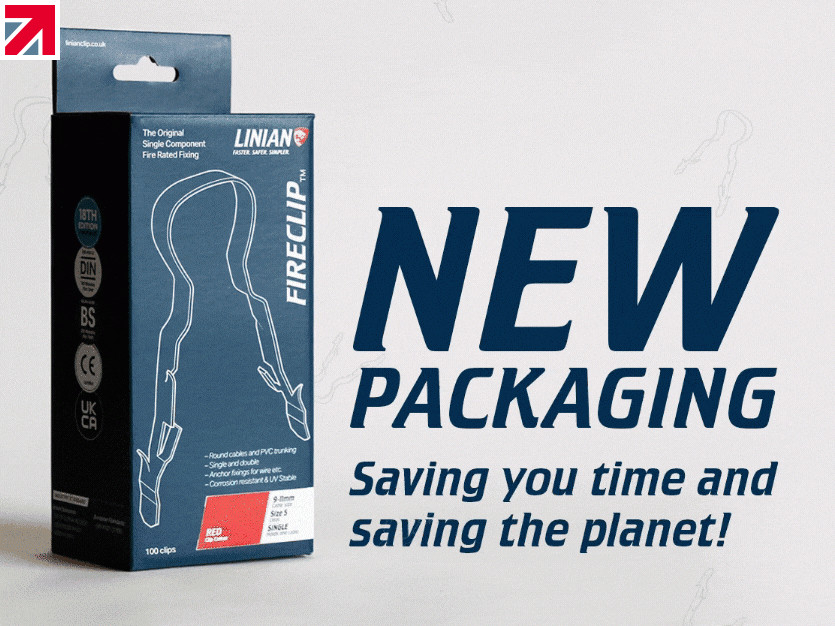 LINIAN's new sustainable packaging is here!
The new LINIAN packaging material is environmentally friendly recycled corrugated cardboard. The packaging is locally sourced here in the UK from recycled materials and can be easily recycled again after use.
Key features:
- Made from recycled materials
- Fully recyclable ♻️
- Made in Britain (minimising carbon footprint)
- Informative and easy to use
How does it work?
LINIAN has upgraded the packaging on all their clip ranges, switching to boxes instead of bags.
All FireClips, SuperClips, T&E Clips, Coaxial Clips and NanoClips will be in cardboard packaging. There are no changes to product codes or pack quantities. So, if you used to buy packs of Superclips in bags of 25, you will now find them in boxes of 25. Same for all the other products. Any bags of 100 will now be in boxes of 100.
However, there are a few changes to the design...
Each product range has a distinct new box design. The design includes a large illustration of the clip type and a different box colour for each range. It has been designed to help you easily differentiate between the ranges. The box features a LINIAN quality sticker seal.
The box colours are:
FireClip: Navy
SuperClip: Grey
T&E Clip: Light Blue
Coaxial Clip: Black
NanoClip: Red
That means no more sifting through a sea of LINIAN bags to find the ones you are looking for!
Every specific product item has an informative label to help you choose the correct clip to suit your cable or conduit. The custom label on the bottom right of the box includes:
Clip Colour
Cable Size
Cleat Size (NEW)
Cable/Conduit type
Barcode
LINIAN added the equivalent cleat size to make it easier for installers who are used to cleats to pick the correct size clips.
On the sides of the boxes, you will find technical information about 18th Edition compliance, CE, CA rating, the Made in Britain logo and fire-rating testing info.
On the reverse of the boxes, you will find:
Step by step installation instructions
Information on the available colours and sizes
QR code directing you to the LINIAN digital catalogue
Benefits
In addition to the eco-friendly material, the new design is easy to use, takes up less storage space, and requires less outer packaging and postage materials. LINIAN stockists will be able to fit more of the newly packaged products onto their in-store point of sale displays. So, installers will see more LINIAN products on the shelves.
You will start to see the new packaging filtering down to wholesalers over the coming weeks and months. Maybe you have spotted the #SustainableLINIAN packaging already? Tag LINIAN and Made in Britain in your pictures if you do.
For more information, give the LINIAN sales team a call on 0141 465 4858 or visit www.linianclip.co.uk.
ORDER NOW! https://www.linianclip.co.uk/product-category/all-products/
Find out more about LINIAN on their member profile page here