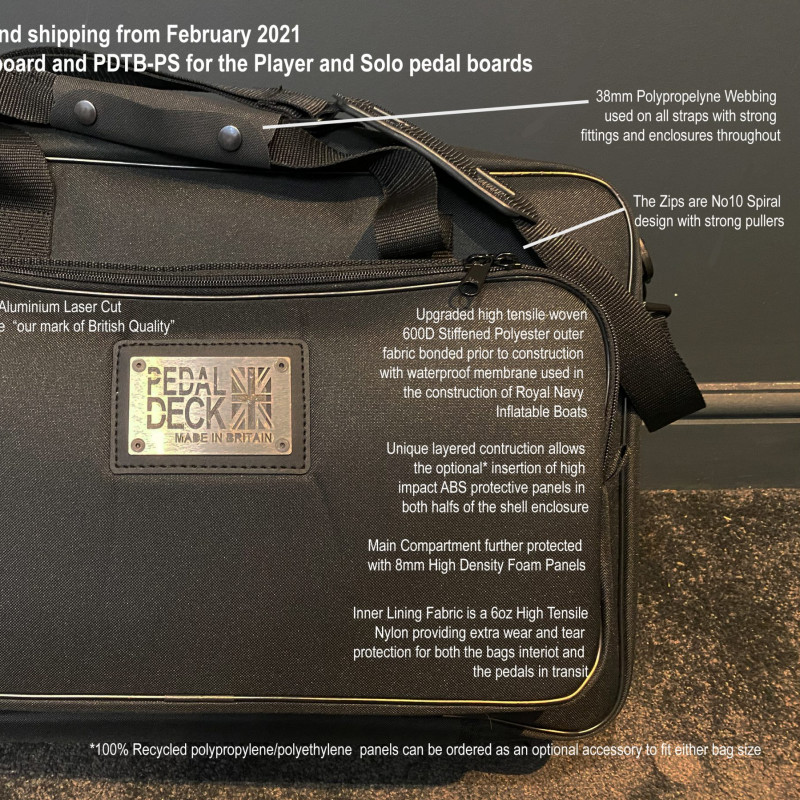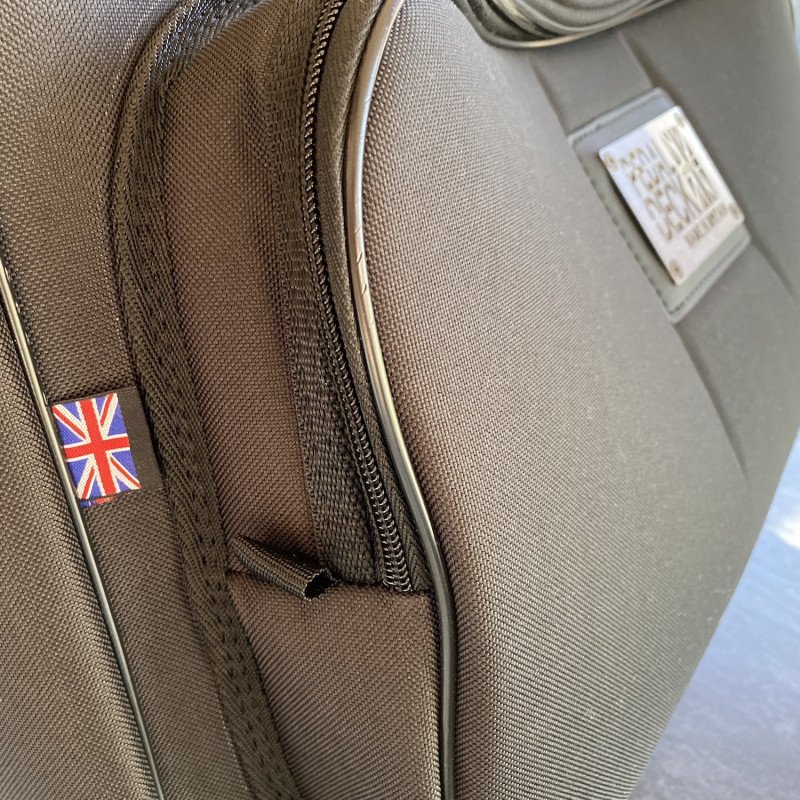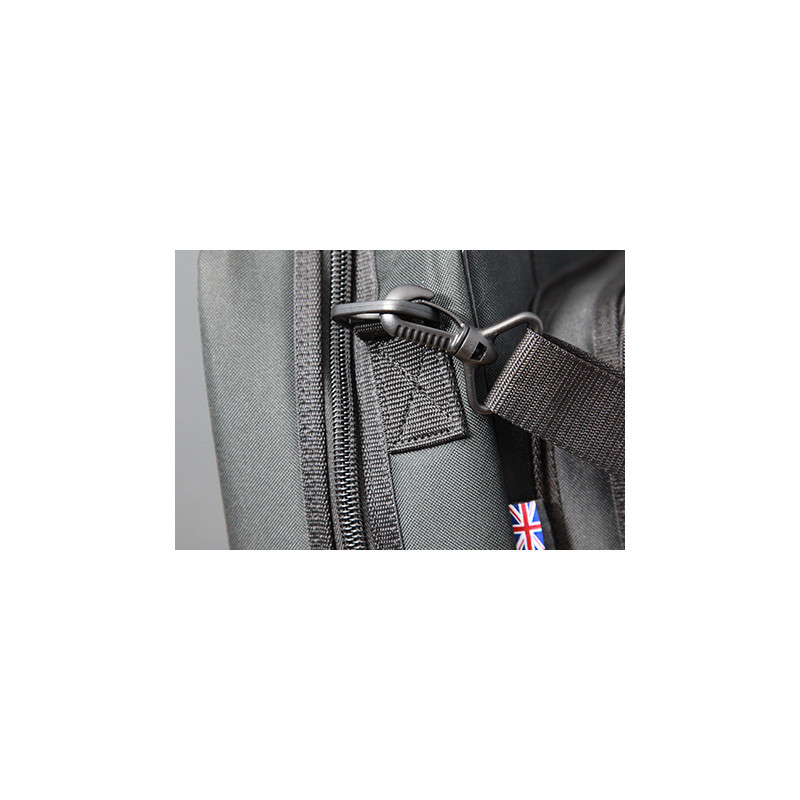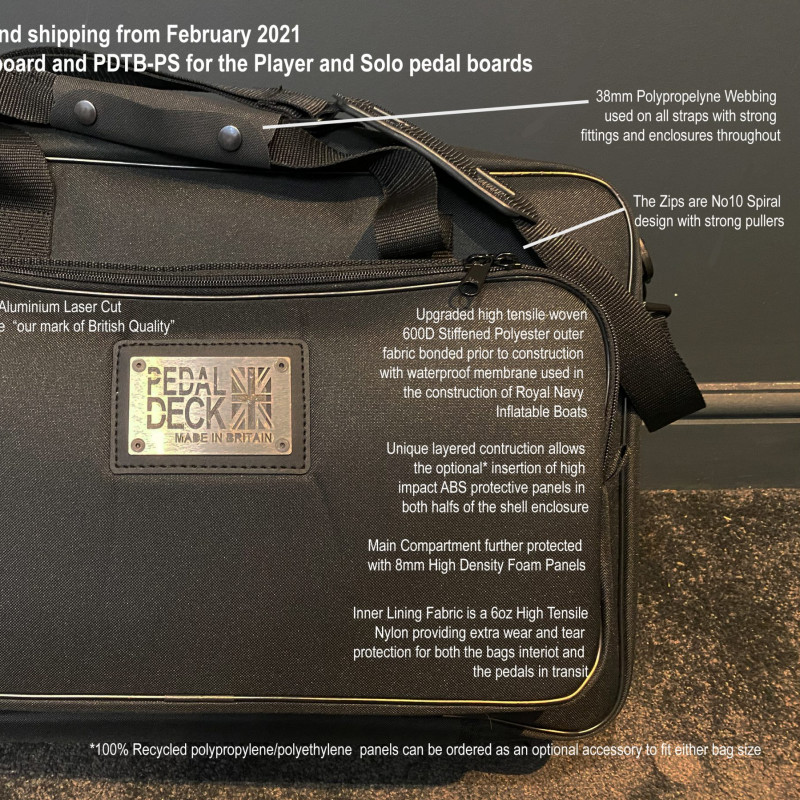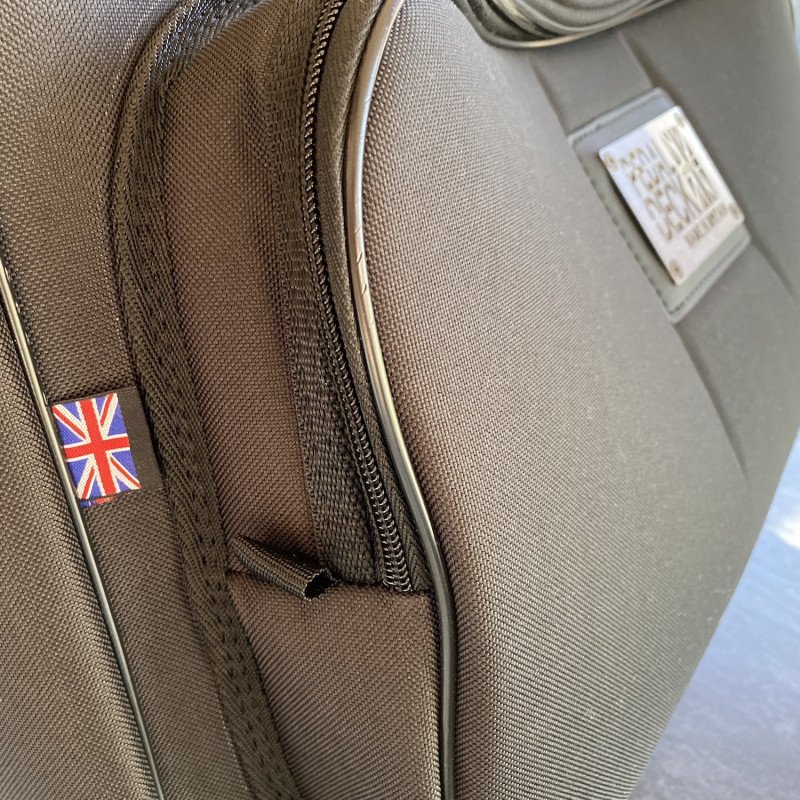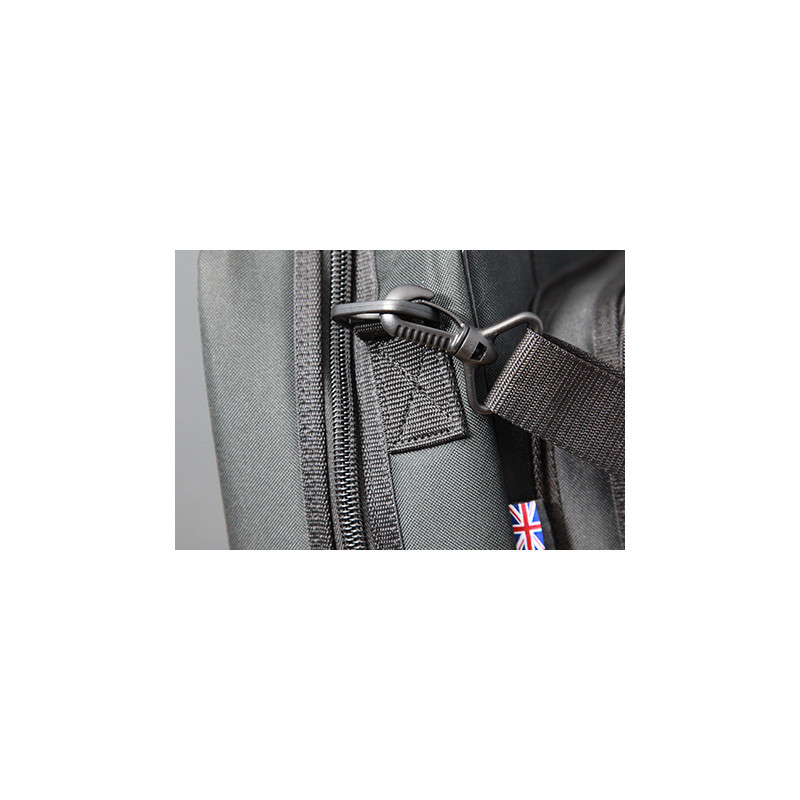 Product Buying Options
Pedaldeck Solo Pedal Board and Pedaldeck TOUGHBAG-S Bundle

Visit Website
Minimum Order Quantity: No Minimum
Additional Sales Information: This product is available to buy direct from our online store or from authorised retail partners in the UK
Product Description
TOUGH GIG TRAVEL BAG – TOUGHBAG-P
£95.00
TOUGH GIG – P.
Pedaldeck Tough Gig Travel Bag for Player sized Pedaldeck pedal boards
Designed and made in Britain for quality, reliability and durability on the road
Manufactured with an outer Shell of High Tensile 600D Polyester bonded to a waterproof membrane material as used in Royal Navy inflatable boats prior to construction.
All seams and joins are sewn in 40's and 20's Bonded Nylon thread for extra strength
Layered construction to bag strengthened with 8mm high impact foam bonded to strong ply card boards
Inner lining Fabric is 6oz High Tensile Nylon providing extra wear and tear protection for the bags' interior and the pedals in transit
Zips are No10 Spiral Design with extra strong pullers
38mm Military grade Polypropylene Webbing used on all straps with extra strong fittings and enclosures throughout
Large deep front pocket for additional cables and 'gear' protected with 6mm high density foam and brushed nylon linings
Every Tough Gig Travel Bag is hand made in the North West of England
Dimensions: 550mm L x 370mm W x 160mm capacity
Weight: Just 2.5kg for travel Bag
Pedaldeck boards first launched in 2014. Our mission was simple, take the staid old aluminium pedal board concept and improve it by solving some acknowledged challenges with existing products, reduce manufacturing processes and make available a competitively priced board that could be manufactured in Britain. We succeeded with our boards but our soft case travel bags were to prove a much bigger challenge.
The fact is that Britain can still globally compete for engineered product, but the textile sector and especially the bag and cases market had long since lost out to cheaper materials and lower cost labour of the overseas manufacturers. Finding a cheap bag maker prepared to meet our exacting quality and design standards proved impossible, and until 2021, we too sourced our Pro Gig Bag from China. It was a good bag, it was designed here in Manchester and we specified upgraded materials and new features that have proved really popular. But it never quite sat well with our team and the hunt continued to find a British made solution.
Something had to change if we were to succeed and then it became quite obvious when we started added up the value of our own effects pedals, isolated power supplies, quality cables and of course the pedalboard itself. It doesn't take too long to surpass £1000 invested in tone in an average pedalboard, so we came at our bag problem from a different angle.
Musicians and especially guitarists, appreciate quality and accept it comes at a price. Who doesn't love a custom shop Fender or a vintage Gibson or quality acoustics like Taylor Guitars and Martin, the sweet tone of a vintage valve amp and of course the plethora of guitar effects pedals from some of the best electronics geniuses on the planet that help us shape our tone to the perfect sound we crave on stage or at home.
The light bulb moment was that we didn't need to make a cheap bag, we needed to make the best bag for the job.
We needed to solve some travel challenges for gigging musicians, like weight, durability, portability and most of all protection for our precious pedals. Now not every musician travels by private jet to their next gig, so not everyone needs a flight case, if you are tight on space already in the back of the hatchback, or the dummer has taken up 80% of the van with his stadium kit on the way to the pub venue in the next village, then your choice a travel bags is important, but gear protection on the journey remains paramount.
Step up the all new British designed and manufactured Tough Gig Travel Bag from Pedaldeck
After 4 years of head scratching, material testing and working with an exceptional custom bag manufacturer with over 30 years experience in the North West of England, we hope we have made the pedal board gig bag that musicians have been waiting for.
Applicable Product Categories
Manufacturer Profile
ASA Network Limited T/A Pedaldeck UK
Creative Industries / Music