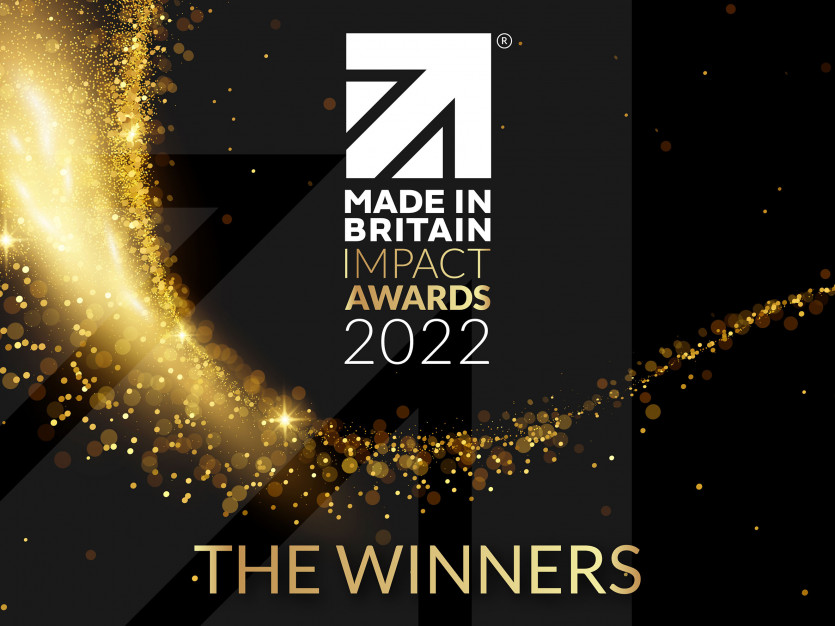 The Made in Britain Impact Awards gave our members the chance to share their stories and achievement so we could shine a light on the inspiring manufacturers who are leading the way in transforming the industry from the front, whilst providing every UK manufacturer with the chance to learn from the sector's most sustainable businesses.

Made in Britain CEO, John Pearce, said "During Made in Britain's tenth year, we were delighted to introduce the Impact Awards to recognise and celebrate the remarkable achievements of British manufacturers. Our community of members is made up of companies that have innovation, creativity and resilience in their DNA, and I'm excited for those who have been picked out for special recognition by our esteemed panel of judges"

The seven categories centred around sustainability, and green and good business, as we look to continue to support manufacturers on the road to a sustainable business. Every single category is vital in recognising and celebrating those manufacturers that are making significant sustainability progress.

The selected judges on the panel were all experts from right across the sustainability sector, and they had a tough job choosing our shortlist nominees and winners. The winners were revealed at our virtual ceremony on Thursday 1st December.

We are delighted to announce, the Impact Awards winners of 2022 are:

Leader of the year
Winner: Mark Jankovich, Founder and CEO, Delphis Eco
Shortlisted: Simon Adam, MD, WCM&A; Phillip Kalli, MD, Ideal Manufacturing

Presented by judge Caterina Agnoletti: "For this category, we were looking for a CEO or senior executive demonstrating outstanding leadership in sustainable manufacturing by driving forward innovative sustainable initiatives in their business and acting as a champion for sustainable business more broadly in their sector."

Rising star
Winner: Gary Stevens, Managing Director, Focus SB

Shortlisted: Joe Brady, Owner, Essence of Hartland; Jules Parker, Owner, Moot

Presented by Mona Vadher: "This award highlights the individual who shows clear passion and commitment to sustainability in their organisation. The judges looked for examples of how this person has shown initiative and led change from within [and] evidence of them building support for their ideas and gaining traction amongst their co-workers."

Employee engagement campaign of the Year
Winner: Applelec

Shortlisted: The Natural Fibre Company, Moot

Presented by Professor Chris Harrop OBE, ESG Strategy Director, Marshalls and Made in Britain Chairman: "The employee engagement award is for the organisation that has successfully engaged every employee across the business with its sustainability strategy. All three companies on the shortlist have achieved remarkable progress in this area - with Applelec the very worthy winner of this year's award."

Sustainability team of the year

Winner: Fill Refill

Shortlisted: Jersey Hemp, The Natural Fibre Company
Presented by Victoria Page: "The winner demonstrated a whole team approach to sustainability, including all 30 members of the business at every juncture. This brand is credited with putting people and planet first and prides itself on being the slowest growing refill brand in the UK, because everything they do considers their impact on the environment - and that's a very good thing."


Sustainable initiative of the year
Winner: WhiffAway

Shortlisted: Applelec, Dr Zigs
Presented by Dominic O'Connor Robinson: "This award celebrates initiatives or products that help users to live more sustainably. The winner of this year's award showed great progress and impact through their innovative design already, but it was the demonstration of the journey that they are on, setting bold future ambitions within an overarching framework that set them apart."

Packaging product of the year
Winner: LINIAN

Shortlisted: Packaging Products, PVA Hygiene Ltd
Presented by: Sarah George: "Well done to all three of these teams – their projects are all examples of creative innovation that eliminates problematic plastics, and they are all projects which have significant and scalable impact. It was a close call but we decided to go for the entry that showed the team who were willing to go above and beyond the initial project, using their learnings to inform a broader assessment of how other packaging formats could be made more sustainable."


Innovation of the year
Winner: bio-bean

Shortlisted: Hexigone Intelli-ion, PFF for IMPAC-T, Dr Zigs

Presented by Emily Auckland: "The judges were looking for a manufacturer that demonstrates remarkable innovation in the design and delivery of a product or service. The winner stood out for actively choosing to engage across the industry to see how they could extend the use of their product and help other businesses address the negative impacts of their own products."

Congratulations to our winners! They will be receiving unique glass bowl trophies created by iconic British brand, and Made in Britain member, Dartington Crystal.

Members can now replay the full ceremony by logging into the Members' Area.
We're planning to see the Made in Britain Impact awards make their way into the annual diaries of everyone who cares about the successful growth of our sector. Thank you again to every who entered and took part this year.